TVS Apache RR 310 BS6 Road Test Review
---
The updated RR 310 impressed on the race track. But does it do so on the road as well?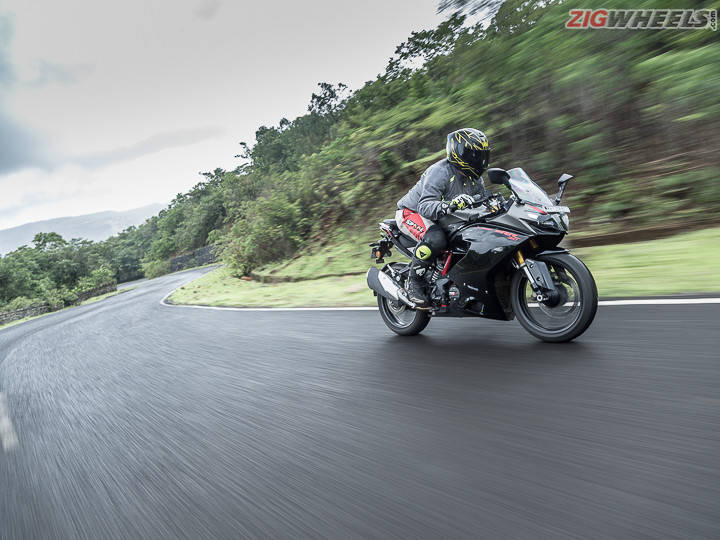 We rode the updated, 2020 BS6 compliant version of the TVS Apache RR 310 on the race track before this recent three month lockdown. It really impressed us on its home turf, as it always has. But previous iterations of the bike always seemed to have missed the mark a little when it came to riding in the real world. So during the entire lockdown, and a little after, we've had a burning question -- does this BS6 version finally redeem the RR 310's image in the real world? To understand that, we needed to ask a few more specific questions.

Has the performance become better?
The TVS Apache RR 310 has always been a fairly quick motorcycle. Quicker than its Bavarian counterparts and almost as quick as the Austrians. In the switch to BS6, the power and torque figures have remained unchanged - the 312cc single-cylinder liquid-cooled motor still puts out 34PS @ 9700rpm and 27.3Nm @ 7700rpm. But unfortunately the actual performance has not. It's 0.17 seconds slower to 60kmph and 0.31 seconds slower to 100kmph compared to the BS4 bike. This all comes down to the fact that the engine tune has been softened a little to make the engine kinder to mother nature and that it's now 4.5kg heavier than before.
It's the same story in roll-on acceleration as well. It is a little slower in the 30-70kmph and 40-80kmph runs in 3rd and 4th gear respectively compared to its predecessor. But the big change here is the switch to a ride-by-wire throttle, which has made the engine response a lot crisper. Sure, the motor does run lean to comply with BS6 norms, so you need more throttle than before to get going. But once you're on the move, you really won't notice these differences and will only be able to measure them with testing equipment such as a VBOX… or if you happen to have a drag race with the BS4 bike. It's got the same get-up-and-go attitude that made us like it when it first came out.
| | | |
| --- | --- | --- |
| Acceleration | BS6 TVS Apache RR 310 | BS4 TVS Apache RR 310 |
| 0-60kmph | 3.03 seconds | 2.86 seconds |
| 0-100kmph | 7.31 seconds | 7.00 seconds |
| 30-70kmph in 3rd gear | 4.07 seconds | 3.54 seconds |
| 40-80kmph in 4th gear | 5.22 seconds | 4.48 seconds |

So what's really new?
The really big change, of course, is the ride-by-wire throttle and the benefits it brings with it. Apart from finer throttle control, the RR 310 gets riding modes. In fact, the Apache RR 310 is the only bike in its class which gets riding modes. There are four of them - Urban, Rain, Sport and Track. These modes not only change throttle response, but they also affect engine power output and ABS settings.
Also Read: The New TVS Apache RR 310 BS6 Has Enough Gizmos To Rival The Bonnie Street Twin
The BS6 RR 310 also gets a new 5-inch colour TFT screen that shows a plethora of information such as turn by turn navigation and call alerts, all thanks to Bluetooth connectivity, along with stuff like a lap timer, and even an acceleration and top speed recorder. The display itself feels really rich too; it changes the layout and colours based on what mode you're in, and can even automatically or manually switch between day and night modes. And then there's the new top-notch switchgear -- it's really smartly designed and feels extremely premium to the touch. This switchgear and display combined can really give even big bikes a run for their money.

Do the riding modes actually make a difference?
Riding modes definitely make sense on a bike with say 100-plus PS of power on tap, where you don't want ferocious acceleration all the time. But on a 34PS bike, it would be silly to say you need them. Especially when you consider that Urban and Rain modes limit the power to 25.9PS and torque to 25Nm, and lowering the redline to under 9000rpm! Heck, even top speed is limited to 125kmph, a fact we verified on our VBOX. These riding modes also improve torque response at lower rpm ever so slightly, with the bike feeling a teeny-tiny bit quicker from 3000rpm to 6000rpm. But the difference is so marginal -- in the range of a tenth of a second, that you need to VBOX to actually find it. Where we think these lower power modes make a noticeable difference is in fuel efficiency, which we recorded at 33.1kmpl in the city -- 2.1kmpl more than the previous bike.
So is it a better everyday bike then?
In a word, yes! More than the improved torque response, it's GTT+ (Glide Through Traffic Plus) that makes everyday riding easier. We've seen this system before on TVS' other bikes such as the new Apache RTR 200 4V. At very slow speeds, it increases the rpm slightly to prevent the engine from stalling. It also allows you to set off from a standstill without using the throttle, as long as you ease off the clutch lever. While this system only works in the first three gears of the RTR 200, on the RR 310, it works in all six. In fact, the RR can easily chug along at 35kmph on its own in 6th gear without any throttle input.
But what has always made the RR 310 a great everyday bike is that even though it's clearly a sport bike -- born and developed at the race track -- it's not at all overly committed like a certain orange machine. The handle bars are high enough and positioned not too far from the rider. Even the pegs aren't too rear set and there's enough room for girthy riders as well.

Has it finally dealt with those vibration issues?
We had mentioned in his track review that thanks to new engine mounts and a new ECU tune, vibrations were reduced. On the road, when you've spent long hours in the saddle, you feel the difference even more. At 100kmph in 6th gear, with the RR's motor ticking away at 6000rpm, you can feel almost no vibes. It's not a butter-smooth motor by any means, but you can easily sit at that speed all day long. At 120kmph, near 7000rpm, you'll feel some vibes on the footpegs and handlebars. But there's none of that buzzing on the tank or seat that you got with the previous bike. Even the windshield is now separate from the front faring and is mounted with four bolts. So there's no plastic-on-plastic buzzing from the windshield either. All this means, it finally makes sense to take the RR 310 touring. Although in our test, we did record a slight drop in highway fuel efficiency, though it's not enough to deter anyone from hitting the highway.
| | | |
| --- | --- | --- |
| Fuel efficiency | BS6 TVS Apache RR 310 | BS4 TVS Apache RR 310 |
| City | 33.1kmpl | 31kmpl |
| Highway | 34.45kmpl | 35.9kmpl |

Has it become more fun to ride?
The beauty of the RR has always been its great balance of everyday rideability, performance and handling prowess. Since aside from the throttle-by-wire, there are no mechanical changes made to the RR 310 in terms of engine, chassis and suspension, you would imagine this aspect has remained unchanged. Actually though, it has improved dramatically thanks to the new Michelin Road 5 tyres which come as standard OEM fitment. Now, these tyres really are remarkable. They seem to provide endless grip when leaned over, egging you on to push the RR 310 as hard as you can into corners. In fact, you'll find yourself pushing the limits till you ground the feelers and feel the need for more rearset footpegs. Very little seems to faze them, including dusty or wet tarmac. The confidence these tyres inspire along with the friendly, quick-steering nature of the RR 310 now puts it among the top of our track-bike list.

These tyres have also improved the braking performance of the RR 310. While the braking hardware has remained unchanged, there is a slight retune to provide better brake bite, although it's the rubber doing all the heavy lifting. From 80kmph, it stops a full 6 metres shorter than the previous bike! ABS calibration is great too, and you can really feel the difference the riding modes make -- with Track providing least intrusion to Rain providing most. That said, brake lever feel doesn't seem to have improved much from before.
| | | |
| --- | --- | --- |
| Braking | BS6 TVS Apache RR 310 | BS4 TVS Apache RR 310 |
| 80-0kmph | 31.44m | 37.49m |
| 60-0kmph | 16.90m | 20.69m |

What's changed visually?
Nothing really! The design is over two and a half years old, but it still manages to look fresh. And it's the new black and grey paint scheme that does the trick. It looks really premium thanks to the lovely metallic grey paint on the tank, new graphics and the red trellis frame. The red bike though looks almost identical to the previous generation.

Would we recommend one?
| | |
| --- | --- |
| Price | Rs 2.40 lakh (ex-showroom Delhi) |
As much as we loved thrashing the earlier bike around the race track, it was just a little bit difficult to recommend. The main concern, more than anything else, was the lack of refinement that made it difficult to live with. This has certainly been addressed with the BS6 bike. But with these improvements and all the added features has come a jump in price -- the BS6 bike now costs about Rs 12,000 more than the BS4 model. Thankfully though, it's chief competition, the KTM RC 390, has also become more expensive thanks to BS6 and the RR still undercuts its price by Rs 13,000. But regardless of the price difference, we would certainly recommend the BS6 RR 310 to more people than we would the RC 390. The RR had always been the better-rounded package compared to the RC. But now with all its issues addressed and features added, it has finally become the bike it was always meant to be.

UPDATE: TVS has hiked prices for the Apache RR 310 BS6, and you can find the new prices here. Nevertheless, our verdict about the bike remains the same even after the recent price hike.
TVS Apache RR 310Video Review
Add Your Comments

More on TVS Apache RR 310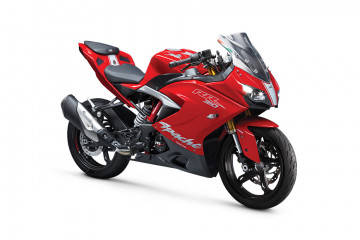 Rs. 2.4 Lakh Onwards
Ex-showroom, Delhi
View August Offers
View On Road Price
TVS Apache RR 310 Alternatives