Suzuki V-Strom 650 XT: First Ride Review
---
Suzuki's V-Strom 650 XT is promising to be big on adventure on a moderate price tag. Is it really game for continent hopping?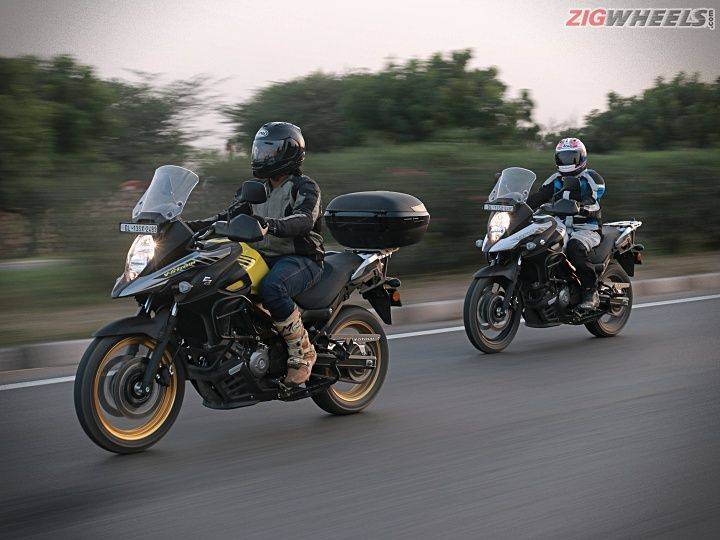 Adventure motorcycles you want to hop onto and disappear to South America on aren't cheap. The cheap ones aren't right for journeys that are measured in months or years, not hours. For the mango-biker the stretch from the sensible singles to the gallant multi-cylinder ADVs has been a gaping abyss. That void has been addressed somewhat feebly by Kawasaki's alloy wheel-equipped, sub-seven lakh rupee Versys 650.

But to get truly adventurous, the ticket would have to rise to well over Rs 12 lakh. And Suzuki's V-Strom 650 XT with its spoke rims and Rs 7.45 lakh price tag is promising to carry us to our dream location without emptying our savings account. Can it?

Looks about right!
For a couple of reasons, yes. It is quirky, like any adventure bike worth its salt is expected to be. Like on other Suzukis the distinctiveness is courtesy the vertically stacked layout for the headlights. The design mash up of organic ('busa) and geometric (GSX-R) lines results in a look that suggests it has time-travelled from a couple of decades ago. The lack of LED elements in the 'lamp grates at our millennial sensibilities. Look at the large turn indicators and it seems Suzuki was maybe going for an old-school effect after all.

However, this third-generation V-Strom has seen design refinements to improve its slickness, and in this yellow colour we are willing to overlook its, erm, quirkiness. Also, the golden spoke-rims, 19" front and 17" rear, mark this version as the more rugged Versys XT. In white, the second colour on offer, the rims are finished in black. Apart from the handsomely stickered tank and few plastic shrouds, the V-Strom is light on panels. As it should be. But the other reason the V-Strom makes a mark is that it feels substantial, like a big bike should. It certainly won't look any less impressive when parked next to more expensive adventure motorcycles. While shorter rider will be comfy, there is just a hint of stretch in the reach to the 'bars but that allows taller riders to find a comfy stance on the V-Strom too!

It's loaded, huh!
The V-Strom asks for an eighty thousand rupees premium over the Kawasaki Versys 650, but offers great value in return. The spoke wheels, 19" front and 17" rear, are special as they accommodate tubeless tyres! The Bridgestone Battlax Adventure A40 are on-/off-road ready tyres, which raises the safety levels and peace of mind when you choose to go off-road. In the thick of it all the plastic engine guard is capable of tackling light bumps and bangs, as will the knuckle protectors. A 12v charging socket is standard and will help keep your GPS device juiced up to find your way back. Nestled next to that is an analogue rev counter and digital readouts that display average and real-time fuel consumption, range, air temperature and the traction control setting.

Apart from the wheels and tyres the V-Strom's other serious advantage is the three-level traction control. Changing levels even on the go is a breeze and you can select from "Off", Level 1 - for everything other than rainy days, which is when you shift to Level 2. But there are some misses too: The front suspension is non-adjustable telescopic forks and the windscreen can't be adjusted on the go as it requires tools to change the height.

The luggage?
Suzuki is offering five accessories in India, four of which were fitted on our test bikes. The most obvious of these is the 55-litre top box. This plastic case has a couple of cool tricks: It can pack in two full-face helmets and allows you to detach it from the bike with just the press of a button. The test bikes also sported a main stand, partial chain guard and crash protectors. Bundled together, these cost Rs 77,000 rupees, versus Rs 89,000 if bought separately says Suzuki.

What's the fifth accessory?
A low-seat option that slashes seat height from to 815mm, which wasn't fitted to our test bikes. This is a must-have for shorter riders because at 216kg the V-Strom is only 12kg lighter than the V-Strom 1000. The 835mm seat height and the weight meant that 5'6" ol' me was careful to get a firm foot down when shuffling around at low speeds. Suzuki is also working on other accessories like a metal bash plate for the engine, which will be a must-have if you intend to go off-road a lot.

Not for off-road then, huh?
Even shorter riders will adjust to the V-Strom's weight in one short session and it will cease to be a stumbling block. But the Suzuki has some limitations: For instance, the 150mm travel on the front suspension is quite limited by adventure bike standards, with even the Himalayan offering 200mm of travel. The 170mm of ground clearance is firmly in the road-biased Versys's territory, whereas the Himalayan claims a staggering 220mm of ground clearance. The absence of serrated edges for the footpegs will be missed when you get into slushy stuff.

On the upside, the suspension absorbs poor surface gracefully and doesn't crash when maxed out. Standing up on the pegs feels natural and intuitive as your legs hug the slim waist. As you dig deeper you will find that the V-Strom's torquey engine won't run out of breath while hauling you over loose surfaces; the ultra-long wheelbase and the tyres will broaden your sense of confidence further. So you can off-road with some care, but you can rough-road with abandon!

Is it a highway trooper?
Yes, it is, and how! Be it the city or the highway the 645cc, liquid-cooled, V-twin engine is willing to pull forward without clawing for a downshift. From 2500rpm to the near-10,500rpm redline the V-Strom sweeps forward relentlessly. Such is the torque from this engine that you can get going from as low as 30kmph in 5th gear without a fuss. If you have any concerns regarding this 90-degree V-twin engine's refinement, let's put those to rest too. The engine is smooth but has a pulse that makes it feel characterful, and not in the least bit annoying. Sure, if you decide to make a mad dash for it you will feel a buzz from pegs and seat after the 8000rpm mark. But we wouldn't expect this to be a bother, just like the exhaust note. The new slim exhaust, which makes space for panniers, emits a soft pulsating note that isn't tiresome on the long haul.

You really could spend all day at 120kmph with the engine spinning at a smooth 5500rpm in top gear, demanding stops only to refuel. But with a 20-litre fuel tank and indicated fuel efficiency hovering in the mid 20s the V-Strom will demand these stops sparingly. The stability of the chassis and the suspension's confidence will keep you calm in the saddle for longer. The generous seat is well cushioned and ought to accommodate a pillion with ease too. However, the 6500km service intervals might slow down your Bharat Darshan ride a bit.

If your usage is primarily in the city, then no problem. The abundant torque, Suzuki's anti-stall tech, light clutch and slick six-speed gearbox will take the edge off of this chore. Our stint with the V-Strom had limited city usage, but we expect it to manage the heat well too.

Sports Adventure Tourer?
Drop expectations a couple of notches from Tiger 800 or Multistrada levels of dynamism and you will get along just fine with the V-Strom 650. The twin-spar aluminium chassis looks industrial but it creates a keen enough motorcycle. With just a hint of pressure the Suzuki, like most modern ADVs, chows into its quota of twisties therapy. Considering that these tyres are designed to clock many kilometres, the grip on offer was admirable, with only a hint of protest coming in during braking. The 310mm twin discs at the front use two-pot calipers; these help shed speed with vigour, but instead of a light pulsing at the lever, the ABS intervention can be felt quite obviously at the lever.

Time to ADV?
The V-Strom 650 XT isn't an extreme off-roader, aside from which, despite a few misses, it is hard to fault. Throw anything at it and the V-Strom's ability, versatility and character impress with a quiet confidence. Even in this first meeting it becomes clear that the price tag is justified too. So, if you have wanted to travel far and wander wild Suzuki has now made it possible to go sniffing for your XL-sized adventure without breaking the bank.
More on Suzuki V-Strom 650XT

Rs. 8.85 Lakh Onwards
Ex-showroom, Delhi
V-Strom 650XT Alternatives
See what our community has to say!
NEW
India's largest automotive community