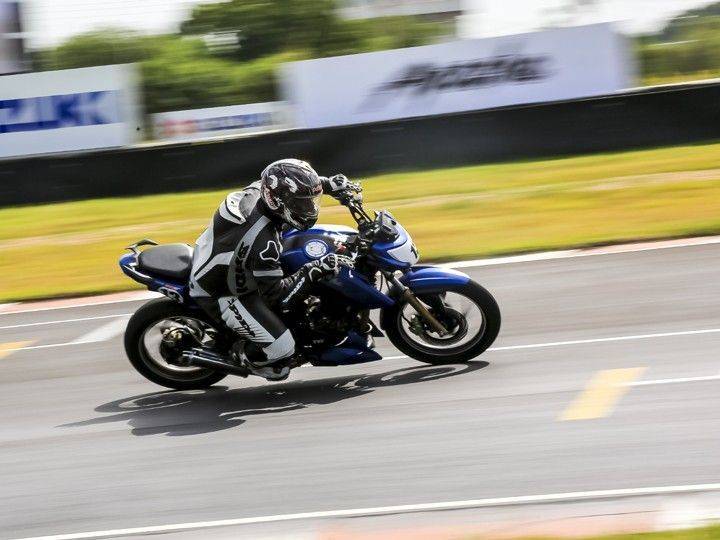 In a progressive step, TVS Racing has announced a training academy and one-make racing series for women riders of the country. This is a welcome move by the Indian two wheeler manufacturer as it gives women a dedicated platform to enter the world of motorsports and prove their mettle. At first, 25 women will be select from the training camp and then 15 will be further shortlisted to compete in the first edition of the TVS Ladies One-Make Series 2017.
What is it?
TVS Racing organises their one make championship at the Madras Motor Race Track and at the Buddh International Circuit in Noida. This time around, they are specially inviting women riders and are organising an all-women racing championship.
Eligibility
Any women rider who is over 13 years of age who has been riding a motorcycle for at least two years is eligible to apply for the program.
What is the selection process?
At first, 25 applicants will be shortlisted based on their riding experience. These 25 women riders will undergo a one-day training and selection camp in Bangalore on May 24th. This will include 6 theory sessions followed by a practise session on the track and ends with a short race. Out of the 25 selected riders, the top 15 women will be shortlisted to compete in the first edition of the TVS Ladies One-Make Series 2017 which will consist of 3-lap races.
Who will be training?
Training and selecting these women will be one of India's most renowned motorcycle racers, Rajini Krishnan. TVS has tied up with Rajni Academy of Competitive Racing to overlook the training and selection process. TVS Racing champion riders Jagan Kumar and Harry Sylvester will also be part of this academy as instructors. A formal training school for this series will commence from June 2017 and will take place on the race-spec TVS Apache RTR 200.
What are the charges?
It's free! The training and selection process is absolutely free. But, once you qualify, you will have to pay the regular fees of the one-make championship.
Race
There will be four 3-lap races in the TVS Ladies One-Make Series 2017 as a part of the One Make Championship across the year. The winner will be declared the TVS Ladies One-Make Champion.
How to apply?
You will need to get in touch with the TVS at 9790948821. Also, you can contact them via social media platforms and get in touch with the Rajini Academy of Competitive Racing.
Should you apply?
Absolutely yes!
This is a great platform for you to get a taste of motorsports and find out if you belong in the world of competitive racing. What's even better is that if you qualify, you directly enter the one-make championship. Also, it's hard to forget the fact that this opportunity to find out if you can be a racer has knocked on your door for free.
Recommended Read
- TVS Apache RTR200 Media Race - Living the dream