Torture Tested! Red Bull Ace Of Dirt Is Yuva Kumar
---
Inaugural edition of off-road racing event that mashes up different genres crown Group B rallyist Yuva Kumar as winner, wins a chance to train with India's Dakar Rally pioneer C S Santosh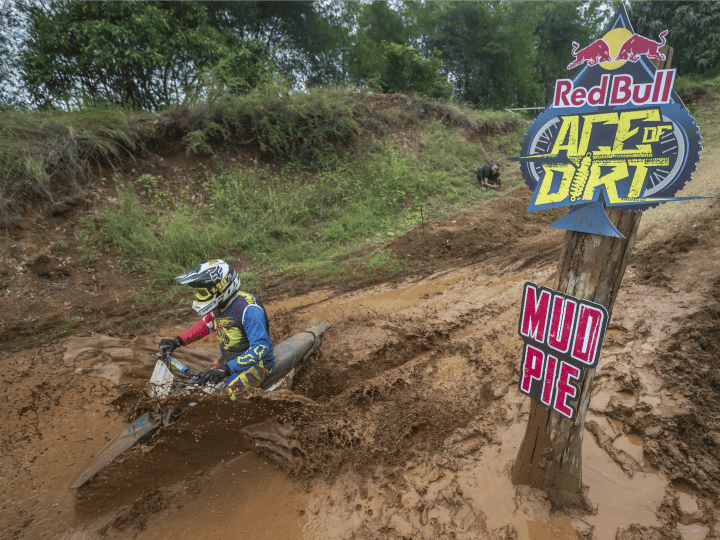 The off-road circuit combined enduro, motocross and dirt-track to create one tough course.
The invitation only event had 32 riders from disciplines across off-road motorcycle racing and rallying including national champions.
Playing field was leveled as rally-kit equipped Hero XPulse 200 was used by all riders from the semi-finals.
The dramatic 4-rider final heat saw many ups and downs between eventual winner Yuva Kumar and runner-up Naresh VS.
To those aware of enduro events like the Erzberg Rodeo and Red Bull Romaniacs, the Red Bull Ace of Dirt would seem a bit familiar despite it being lower in intensity than those events. Featuring obstacles both man-made as well those using the natural terrain, including a lot of mud, the inaugural edition of the Ace of Dirt concluded at Big Rock Dirtpark yesterday evening with Group B rally rider Yuva Kumar winning ahead of Naresh V S and A. Sathyaraj.
Featuring logs - and not just on straight sections, even on slow and tight turns - tyre mines, ramps including see-saws, a downhill approach into a mud pit (termed mud pie) and a drm maze, the course called on the riders to do more than just twist the throttle.
"It isn't just about going fast," said CS Santosh, India's Dakar Rally trailblazer. "The riders need to look ahead and plan their path through these obstacles in addition to trying to beat the other riders."

In other words, something that goes beyond just riding through jumps or around corners, which is something Indian off-road riders tend to encounter in supercross events and rallies.
Creating such a course was Santosh's idea, as this would give riders a taste of what it takes to compete at the highest levels of cross-country rallying.
"If you look at the entry field of the Dakar right now, you will find a lot of riders who come from an enduro background," said Santosh. "It is something that translates well into cross-country rallying."
Given that this was the first time for these riders to be tackling such an event, it proved to be hard going for many, especially in qualifying and heats.
"I could see a lot of people still just trying to muscle their bikes and power through the obstacles," Santosh, who was overseeing the running of the event and also giving pointers to the riders. "An event like this focuses more on technique, which is what I was hoping to introduce to these guys, all of whom have had experience in specific disciplines but never one where there is more onus on technique."

Thirty-year-old Sohail Ahmed saw a clear difference in how to approach the Ace of Dirt in comparison to the disciplines he is used to. Ahmed is a multiple national supercross champion in Group C and Group B, and a Group B champion in the Indian National Rally Championship too.
"In supercross you can get to use third or fourth gear and in rallying you can go as high as fifth gear," said Ahmed. "But here you can't go beyond second gear with all these obstacles, you have to find a good rhythm on the bike otherwise you will fall."
The challenge of the course was not that great for 37-year-old Sanjay Kumar N, however. 'Tribal Sanjay,' as he likes to call himself, won this year's Dakshin Dare cross-country rally and last year's Sjoba Rally. He was also third overall at last year's Desert Storm.
"They can maybe make it more difficult," said Sanjay. "I would like it tougher."
Some riders struggled going through the water in the Mud Pie obstacle on their carburetted bikes and others struggled on obstacles like the logs due to low ground clearance. Others found it cumbersome to take turns in heavy bikes. This is how it went through qualifying, heats and the quarter-finals when the riders were on their own bikes.

From the semi-final onwards, though, we got to see the eagerly anticipated Hero Xpulse 200 Rally Kit bikes in action. The bikes had been identically prepared by Hero MotoSports and it made a difference to the riding that was instantly visible.
The entry list of 32 riders was whittled down to just four finalists after 19 heats across qualifying, heats, quarter-final and semi-final heats.
The semi-final heats featured many instances of riders falling behind early after getting it wrong in an obstacle but then making up time as those ahead of them had their own struggles.
This trend continued in the final where local favourite Yuva Kumar took an early lead, which he then lost to Naresh V S as he almost went rear over front when he ran straight into a log obstacle. Naresh passed Yuva, who fell to third behind Sathyaraj before making up time and moving up into second.
Then, in a final twist, Naresh got stuck in the tyre obstacles and stalled his bike and struggled to start it. In which time Yuva took the lead back and held it until the finish.
Add Your Comments