Maruti Suzuki 'Service On Wheels' Doorstep Car Service Launched
Aug 29, 2019
Views : 2591
---
Similar initiatives are already being offered by carmakers like Hyundai, Tata and Toyota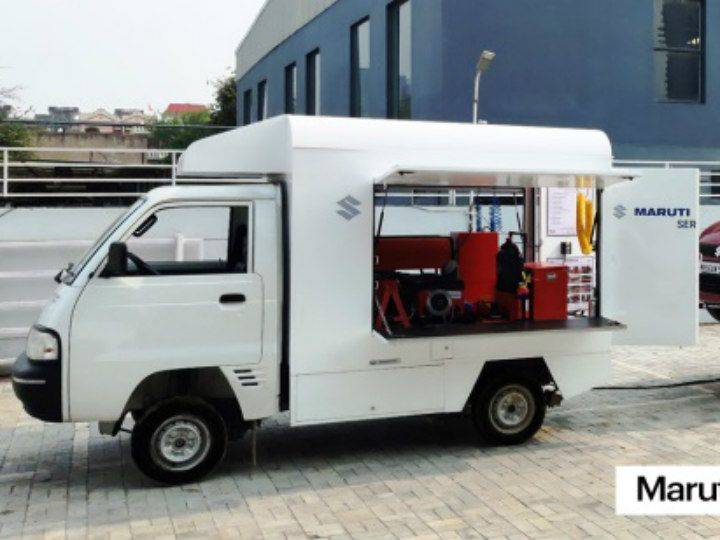 Mobile 'smart workshops' will be adequately equipped to carry out paid and free services.

Repairs, oil changes, inspections and filter cleaning can be performed.

It will be offered on all vehicles in Maruti Suzuki's lineup.

It will complement Maruti's service network that spans more than 3,600 workshops across 1,800 towns in India.
In response to the trend of doorstep car services, Maruti Suzuki has launched its initiative called 'Service On Wheels'. As the name suggests, this will utilize new mobile 'smart workshops' to undertake service and repairs for cars away from the service centres. All Maruti passenger vehicles are covered under this new service. Furthermore, customers can avail both paid and free services for their cars with this formant. The Service On Wheels vehicle will be equipped to handle repairs, oil changes, under-body inspections and filter cleaning. These services will be available for all engine options in the carmaker's lineup – petrol, diesel or CNG.

Maruti claims that Service On Wheels will add on to their service network that consists of over 3,600 workshops across 1,800 towns and cities in India. This initiative will rival similar services offered by the likes of Tata that provides overall maintenance and regular checkups. Hyundai also provides a similar set of services but also offers car wash and detailing at doorstep. Mercedes, on the other hand, offers a thorough inspection of the vehicle along with a comfortable mobile lounge for customers to bide their time. Toyota too offers breakdown services and minor repairs. Read the official press release for more information.
Press Release:
New Delhi, August 28, 2019:
With an endeavour to offer hassle-free car ownership experience and enhance customer convenience, Maruti Suzuki India today announced a distinctive initiative – 'Service on Wheels.' It is a smart workshop on the move to offer customers the option of availing Maruti Suzuki service at their doorsteps. Service on Wheels is equipped with all modern tools and technologies to undertake service, repairs and other related jobs for all Maruti Suzuki passenger vehicles.

This Service on Wheels will boost the existing strong Maruti Suzuki service network of over 3,600 workshops across more than 1,800 towns and cities. This will not only benefit Maruti Suzuki customers located in far flung areas but also the customers in urban areas who are unable to visit the workshop due to paucity of time.

Commenting on the launch of Service on Wheels, Mr. Partho Banerjee, Executive Director (Service), Maruti Suzuki India, said, "We are delighted to announce the addition of Service on Wheels, a unique service for our customers. A workshop built on a four-wheeler is designed to meet the entire service needs of our customers. Customer satisfaction has always been paramount for Maruti Suzuki, and Service on Wheels is a testament to that."

Service on Wheels encompasses both paid and free services as offered by a standard Maruti Suzuki Service Centre, along with repairs, under body inspection, oil changing, filter cleaning and much more. The offering is accessible for all engine variants including petrol, diesel and CNG in the Maruti Suzuki portfolio.
Add Your Comments