Kia Motors Is Displaying The Soul EV At This Spot In India
---
Kia Motors opens immersive experience centre in India; displays the 2020 Kia Soul electric vehicle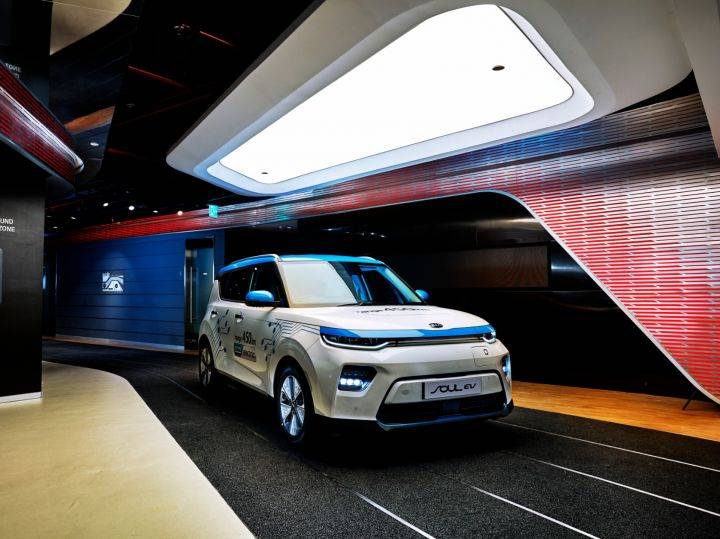 Kia Motors has opened it's first BEAT360 hub in Cyber Hub, Gurugram.
It houses a surround media zone, mixed reality zone, and a cafe.
Customers can also find the Seltos and Soul EV on display at the hub.
Kia will set up similar experience centres in other Indian metros.
The company also held a 'Design Tour' to showcase Kia's portfolio and vision for the Indian market.
Kia Motors arrived in India on August 22 with the Seltos. Just three months later, the company has set up an immersive experience centre called the BEAT360 in Gurugram. If you have been a fan of the Kia brand but were waiting until it brought an electric vehicle (EV) to the country, then you're in luck. Kia is now showcasing the 2020 Soul EV at the newly-opened centre in Gurugram, Haryana. This is its first such centre outside South Korea.

The Seltos is currently Kia's only offering, but the company has stated that it has received 50,000 bookings for the car in the last 2.5 months. The Seltos is a connected vehicle with telemetry and remote control functionality. It competes with the MG Hector, another connected car. Kia announced in July that the next vehicle to come to India will be the Kia Carnival MPV. The Soul EV hasn't been seen shown in the country since the 2018 Auto Expo, where it appeared just two months after its worldwide launch at the Los Angeles Auto Show. While Kia has no immediate plans to launch the Soul in India, the experience centre offers you a taste of the future vehicle.

The BEAT360 centre in Cyber Hub has an eye-catching and inviting entrance to reach out to as many people as possible. The venue also houses an 11-metre wide surround screen where viewers will be able to see Kia's vision for future products. Digital registrations will allow viewers to quickly book and view the different zones.

Kia also announced the success of the Seltos SUV, saying that it has already sold 13,990 vehicles since its launch in August. The company received an impressive response not just with bookings, but also with views on its online ad campaign for the Seltos.

Kia also conducted a 'Design Tour' covering 15,000km as an outreach for customers spanning 26 cities. The company has also introduced Indians to two of its global sporting programs and partnered with the Bengaluru Football Club to connect with customers.
Add Your Comments