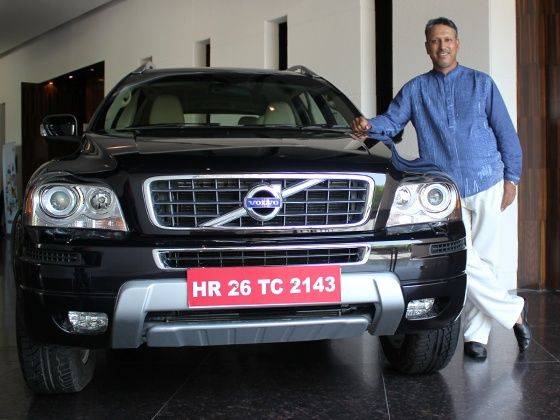 Volvo Cars' longstanding association (since 1984) with golf is understandable as it is a sport that the Swedish car maker's customer base in the western world takes to rather well.
And it's much the same story that Volvo is aiming to write in India. With top executives and wealthy industrialists hooked to golf, Volvo's association with the sport will give it the miles amongst potential Volvo customers across the nation.
To further strengthen the brand's association with Golf in India, Volvo has appointed two-time Volvo Golf Tournaments winner, Jeev Milkha Singh as its first brand ambassador in India.
Singh broke into the top 100 golfers list in October 2006 with a career best position of 28th in the world rankings from where the titles kept coming, until he finished as the highest non qualifier at the 2012 Open Championship at Royal Lytham & St Annes Golf Club. With that, Jeev Milkha Singh has become the most acclaimed Indian golfer in the world and the most successful Indian golfer in European Tour history.
"I am excited to be a part of the Volvo family and today I stand proud to be representing Volvo cars as its brand ambassador. I have a longstanding relationship with Volvo. I redeemed by career by winning the Volvo Masters in 2006 making my country proud by being the first Indian to win in Europe and since then have not looked back," said Jeev Milkha Singh.
Tomas Ernberg, Managing Director, Volvo Auto India, said, "The association came in very naturally to both of us and we came in to the synergy. Both Volvo Cars and Jeev Milkha Singh represent perfection and continual growth. Volvo and Jeev share enduring association since April 2006 when he won the Volvo Master and became the second Indian player to win on the European Tour. Further strengthening our relationship we are extremely proud to announce Jeev Milkha Singh as our brand ambassador. As a part of this association Jeev will be driving the Volvo XC90 that will provide him safety, comfort, luxury and ample boot space for his Golf sets."
At the moment Volvo sells four vehicles in India, namely, the S60, S80, XC60 and the XC90 with prices ranging between Rs 26.47 lakh (ex-showroom Delhi) for the entry level variant of the S60 sedan to Rs 48.50 lakh (ex-showroom Delhi) for the XC90 SUV.
Volvo will be adding the V40 Cross Country to its India model line-up in June 2013. The Volvo V40 is expected to be priced around Rs 30 lakh and will take on the likes of the BMW X1 and Audi Q3 once it is launched.
It is also worth mentioning that Volvo sold 276 units in the first quarter of 2013 which is a 140 per cent jump on a Year-Over-Year basis. Ernberg stated that Volvo is looking to sell 1,100 units in 2013.
Also read: Volvo plans to start CKD operations of cars