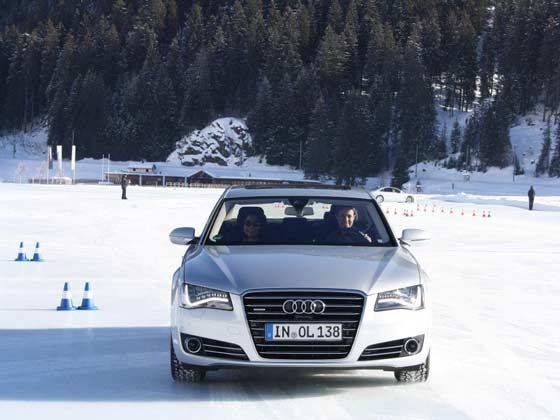 Turning from an isolated ski town into an icy cold setting for the planet's most influential business, politics and scientific talks, Davos Switzerland is once again playing host to this year's World Economic Forum. And offering respite to our Indian tycoons participating at this year's conference is Audi, which recently invited the corporate honchos for an exclusive Ice Experience at the town's Seepromenade.
Business leaders from India, the likes of Anant Bajaj (Joint Managing Director, Bajaj Electricals Ltd), Sanjiv Bajaj (Managing Director, Bajaj Finserv Ltd), Adar Poonawalla (Chairman of Poonawalla Group) and Daljit Singh (President, Fortis) participated in this year's drive experience.
The C-suite executives got an opportunity to experience first-hand the thrill of driving the German luxury car brand's flagship Audi A8 model and its more versatile Audi S4 Avant over ice and snow. Besides this, the visitors from the Ice Driving Experience could also test drive the Audi R8 Spyder, the Audi SQ5, and the Audi A7 Sportback.
Commenting on Audi's continued association with the World Economic Forum, Michael Perschke, Head, Audi India said, "The World Economic Forum brings together leading personalities from across business, politics and science. As an official partner of the WEF, Audi has the opportunity to demonstrate our 'Vorsprung DurchTechnik' philosophy to these opinion leaders. It is a privilege for Audi India to host some of India's most prominent leaders at the exclusive Audi Ice Experience in Davos and provide them with an exclusive drive of the Audi A8 and Audi S4 Avant."
In 2012, Audi India posted a solid performance selling a total of 9,003 cars, thereby recording an impressive growth of 63 percent.