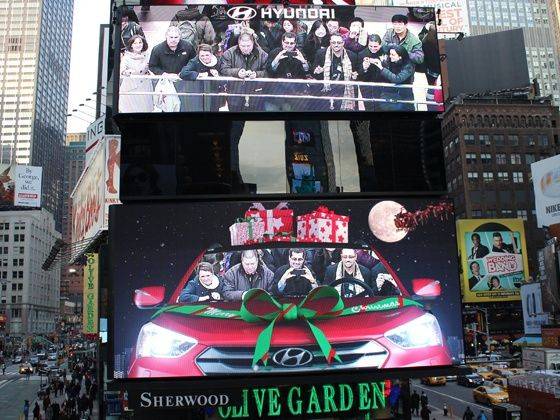 Korean car maker Hyundai has installed a billboard at the heart of Times Square in New York, one of the world's busiest commercial districts. It is no ordinary billboard. Called the 'Live Image Show', the cameras connected to the billboard captures people's images and show them live. Unlike wide-angle shots that capture random people, Hyundai's cameras zoom in on a handful of people to make them the centre of attraction on the billboard, that also displays people travelling in Hyundai vehicles. The cameras are set up on top of the TKTS ticket booth (the famous Red Stairs).
"Times Square is one of the world's most famous tourist spots, where people, including our customers, travel from afar to create unforgettable moments," said Won-Hong Cho, Chief Marketing Officer at Hyundai Motor Company in Seoul. "We wanted to create a special moment for our customers at this special venue - a brilliant moment."
Hyundai launched its interactive billboard in New York last year with `Hyundai Race' that allowed people to connect their smart phones to the billboard and play a racing game live. The project based on Hyundai's new brand direction called `Modern Premium,' aims to offer customers innovative experiences to connect with the brand.