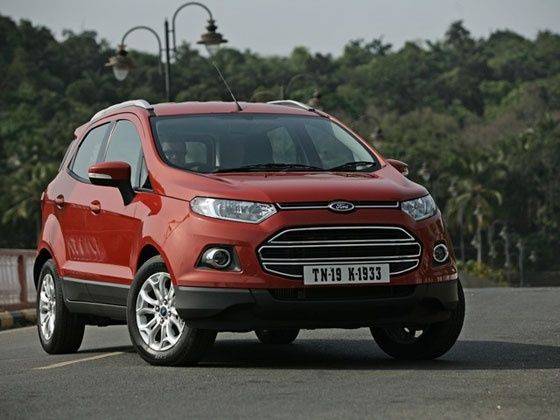 Just two weeks into the launch of its much heralded sports utility vehicle EcoSport, US car maker Ford Motor Company has "voluntarily recalled," 972 units of diesel EcoSport due to potential concern regarding the current positioning of a glow plug module, which is used for regulating the functioning of a glow plug.
Glow Plug is a critical component is used only in diesel powered engines. It is used at the starting the engine. It is an external component fitted to a diesel engine to warm the engine's combustion chamber so that the fuel burn efficiently.
"As part of routine checks, we discovered a potential concern with EcoSport diesel variants related to the Glow Plug Module which requires relocating the module," Ford India spokesperson said.
"We are contacting customers to take their vehicle to their Ford dealership to have the work carried out. No accidents or injuries have been reported related to this issue and this is a proactive, voluntary recall action to ensure customers' safety and satisfaction," the spokesperson added
The glow plug module was located near the front bumper of the compact SUV. The module will now be remounted in a more protected area within the engine bay to avoid the component from catching moisture. .
For Ford, the EcoSport is billed as the comeback vehicle to build its presence in the Indian market. The development is expected to be a setback for the U.S car maker, which has put a lot at store for the vehicle.
Experts say, the recall could potential impact the brand image in the short run.
V G Ramakrishnan, MD, Frost & Sullivan South Asia said, "It is a small problem, and they could have avoided this. It will hit their image. It may shake the consumer confidence. Although the problem is not a big one they could have lived without it."
This is the second major recall from Ford India. It recalled 1.28 lakh units of Figo small car and Classic sedan in August of 2012 on the steering and rear suspension issue.
Over the last one year, automakers in India have recalled over 1.6 lakh cars and 11,500 bikes since a 'voluntary recall code' was adopted in July 2012 at the behest of Society of Indian Automobile Manufacturers (SIAM).
Auto majors such as Honda, Toyota, Nissan among others have been proactively recalling vehicles.
Also read: Ford EcoSport : Special Coverage