Dusting Off The Cobwebs: The Grassroot Level Of Indian Motorsport
Jan 19, 2020
Views : 1531
---
A hot and humid Mumbai, two days of racing action and a variety of categories.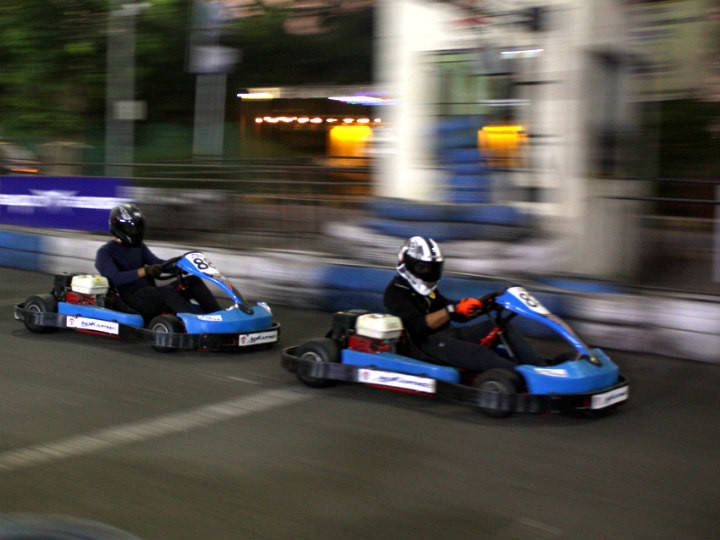 For most people, the end of the week is a time of leisure, relaxation and a switch off from weekday duties. However, the weekend period from January 11 to 12 was anything but that for the city of Mumbai, budding racers and me. The third and final round of the IndiKarting Clash Of Karts took place at the Ajmera IndiKarting Circuit. Series founder Rayomand Banajee gave us a quick brief before we got behind the wheel.
"IndiKarting was started with the intention of growing grassroots motorsport in India," said Banajee. "We started the National Series in 2016, then backed by JK Tyre and Tata Motors. It immediately became a hit and was the largest karting series in India ever.
"We have continued to grow every year, with a continuous increase in the number of newcomers. We also started Mumbai's first motorsport facility with the large hearted Ajmera Group and it brought back kart racing to Mumbai after a gap of 10 years!"

Banajee also spoke about how karting and IndiKarting was meant to build a grassroots infrastructure. "Although everyone knows karting is the first step into motorsport" said Banajee. "It has not been easy in India due to the lack of infrastructure, well organised and affordable racing. IndiKarting sets up circuits and also organises races in a manner that makes it easy for anyone to participate, with no investment and less hassle."
Now that the basics have been covered let's get down to business. This was my first competitive karting race after 2016. Sure, it isn't the monstrous Rotax Max 2-stroke beast that I've been accustomed to, but these 4-stroke karts, are the very machines that started it all for me.

As I reached the circuit, the racing weekend had already kicked off for the Pro-Juniors, Pro-Seniors, Masters, Open, Amateurs and the Women's category. First came qualifying followed by quarter and semi finals to sort out the final grid. The media category consisted of representatives from eight media outlets, including yours truly for ZigWheels. We were allotted a five minute practice session, shortly followed by qualifying. However, all that had to wait until the end of the day, so I got to witness some good old fashioned racing from the other participants. And I have to say, it was a healthy competition overall.

The time finally came for me to dust off my cobwebs starting with the warm-up. Since this was my first time racing at this track, the first few laps were just to find the limits of grip. It was quite tricky, as tackling turn 2 and turn 6 felt like I was driving on ice. In the end, my practice went fairly well, with a sub-30 second lap time that was close to seven tenths faster than my nearest rival.
I was pretty confident of my pace for qualifying, considering how practice went. However, I was handed a reality check, as my best lap was not only more than half a second slower than in practice, but I was beaten to pole by just a tenth of a second by Athish Mishra who was representing Evo India. It was a little hard to digest, but feedback from some of my former racing colleagues revealed that, I was simply overdriving in pursuit of a good lap time. Maybe that was down to me being used to a faster two-stroke and also a bit of rust after a three year gap. Nonetheless, it was time to move on from this quickly and look ahead to the races.
January 12 saw the Clash Of Karts weekend come to its conclusion, with action-packed races and championship deciders. The race format for the Media category was pretty cut and dried. Race 1 consisted of six laps and Race 2 consisted of 10 laps. We had to wait till the end of the day for our races, prior to which Banajee conducted the drivers briefing for us. A pre-race briefing is more or less a reminder for drivers to behave themselves on track despite the urge to just go hell for leather.

It was finally time for Race 1, with me lining up second on the grid. Not the best of getaways as I dropped to third, but I regained the place within the first lap itself. As the race went on, the rust started wearing off and by the halfway point in the race, I snatched the lead from Athish and went on to take a well fought win.

The grid for Race 2 was based on the finishing order of Race 1, so I started on pole, with Athish 2nd and Saurav Gamare from Exhibit Magazine. This time I got the perfect start and never looked back. The cobwebs were well and truly gone and at the risk of sounding cocky, I was pretty dominant. Such was my lead that as I entered the final sector on the final lap, the rest of the drivers were yet to start the last lap.

While the race weekend was a great comeback experience for me, the other participants also had their fair share of fun themselves. Rahul Deshpande, who took to Pro-Senior title, said, "Overall Indikarting clash of karts is a brilliant experience for both the experienced and inexperienced alike. "

Speaking of how this series benefited him, he added, "Indikarting is an event that not only provides a spectacle for the competitors and spectators alike but it also plays a vital role in helping budding racers stay on their toes. Indikarting is an extremely professional and brilliant display of teamwork, the personal investment of Mr. Banajee and Mr. Ajmera towards excellence is clearly seen here. Motorsport is an extremely niche sport in India and thus access to proper equipment for beginners is short Indikarting bridges this gap and provides an economical and professional facility for budding racers and promotes their growth; even experienced racers and national champions have benefitted from having a Karting track in their hometown, helping them stay in touch with their racing side."

Another happy chap in the paddock was Pro-Junior champion Shaurya Kapani. He said, "The races are very competitive and racing at IndiKarting helps you learn a lot and gives you a lot of experience. You can learn to overtake learn, new lines amongst other experiences.

In addition to agreeing with the competitors feedback, I also understood another important advantage of the IndiKarting series. It is an important platform for racers starting out to master their skills in the most basic karting level. Since there is a steep jump in performance, in jumping into a 2-stroke kart like a Rotax Max, mastering 4-stroke karts is crucial to make the transition a lot smoother. While the series' current objective is to provide an affordable platform for grassroot level racing, it would be great if someday, even for a season, they look into bringing in more powerful machines. It could really help in preparing young racers for ultra competitive series in the international arena.
Add Your Comments