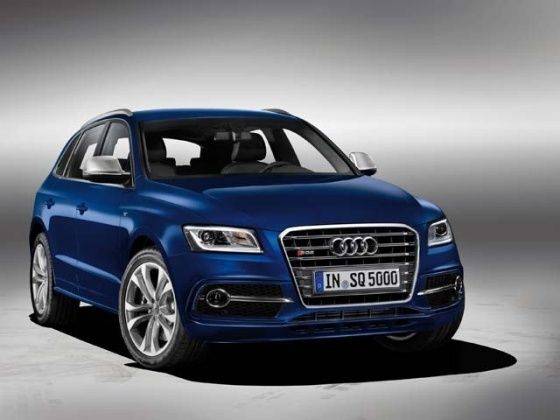 Audi will be showcasing its limited edition SQ5 TDI at the 2012 Paris Motor Show. The SQ5 TDI is the first ever diesel Audi to sport the 'S' badge. Limited to just 50 cars the production run for the SQ5 will begin by early 2013. The speciality of the Audi SQ5 lies under its hood.
The 3.0-litre bi-turbo diesel engine in the Audi SQ5 delivers 313 PS of power and 650Nm of torque and propels it from 0-100 km/h in 5.1 seconds. The TDI engine can tug the 2.4-tonne behemoth around pretty fast, but its frugal too delivering a combined mileage of 16.66kmpl. The Audi SQ5 uses a thermal management system, engine start-stop system and a regulated oil pump, which helps in keeping the mileage figures high.
Inside, the instrument dials on the Audi SQ5 are grey and include a 3D-design S badge, the needles are white and the pedals and shift paddles have an aluminium-look finish. The SQ5's interior is finished predominantly in black, but the headlining is optionally available in lunar silver. The power-adjustable sport seats are leather-upholstered as standard, complemented by brushed aluminium inlays within the cabin.
The Audi SQ5 features Sport suspension which lowers its body by 30 millimetres to deal with the added oomph. The standard 20-inch wheels feature a five parallel-spoke design and are fitted with 255/45 tyres. Black brake callipers with 'S' badging complement the vehicle's styling package.
The Audi SQ5 sounds like every other 'S' model thanks to a specially developed sound actuator in the exhaust system which enriches the exhaust note.
The Audi SQ5 TDI will be priced at € 92,000 (Rs 64,61,889) in Germany.