Audi SQ2 Unveiled Ahead Of Paris Motor Show Debut
---
The smallest SUV in Audi's lineup gets a bucketful of power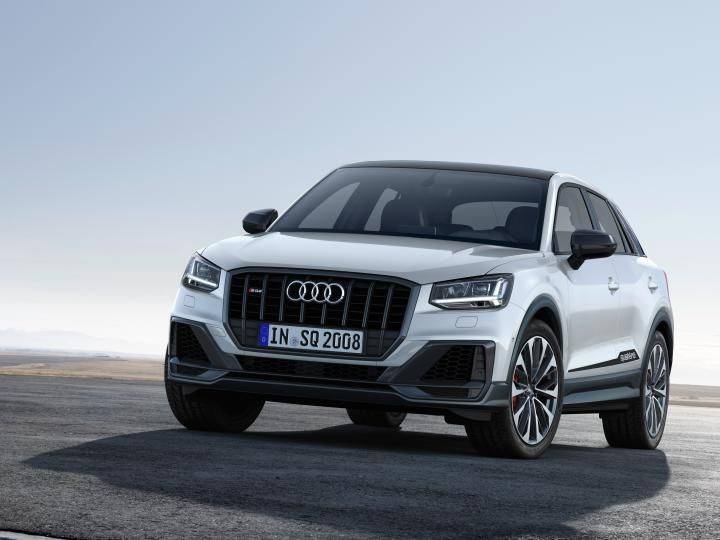 Audi's little brat of an SUV, the Q2, has been given the S treatment. In Audi speak, this means that it's a bit more ferocious compared to an everyday Q2, but isn't as outright bonkers as it can be. S-badged models from Audi have always been the middle ground between a commuter and an outright sportscar, and the SQ2 isn't any different.
For the SQ2, Audi has worked on the 2.0-litre TSI motor. What we presume is a lot of tinkering later, they've managed to yank out 300PS of power and 400Nm of torque from this tiny four-cylinder engine. What's even more impressive is the fact that all of that 400Nm is available right from 2000rpm, all the way up to 5200rpm. That's plenty to give it a 0-100kmph time of 4.8 seconds (yeah, an 'entry-level' Audi SUV with a sub-5 second time) and a top whack of 250kmph. Making these times possible are Audi's signature 'quattro' all-wheel drive tech as well as a 7-speed dual-clutch transmission.
Audi's quattro system can transfer up to 100 per cent of the torque to the rear wheels should you need it. When you're cornering hard, it'll also send power to the wheels with most grip while braking the inner wheels to give you a tighter line. Isn't that sweet! Even the steering on the SQ2 has been recalibrated for a more direct ratio at high steering angles. The final piece of the puzzle is the suspension setup, which makes the SQ2 sit a full 20mm lower than the standard Q2. Oh wait, we almost forgot, the sporty SUV gets larger brakes too. 340mm discs at the front and 310mm discs at the rear - just to ensure you don't end up in a bush.
An S-badged Audi has to also look the part. So it gets a host of changes including a different grille, sportier looking front and rear bumpers as well as racy-looking wheels. It also gets a front splitter and a diffuser at the rear that's home to quad tailpipes. On the inside, the SQ2 gets sport seats and a sport steering (with optional paddle shifters). Since this is the Q2's sportier cousin, the beige in the interior has been replaced with black with subtle touches of brushed aluminium to liven the place up a bit.
Audi's SQ2 makes its first public appearance at the Paris Motor Show that begins tomorrow. We think there's a fair chance of Audi bringing this to India. Audi's betting big on 2019 for India, and the SQ2 could fit well into the plan.