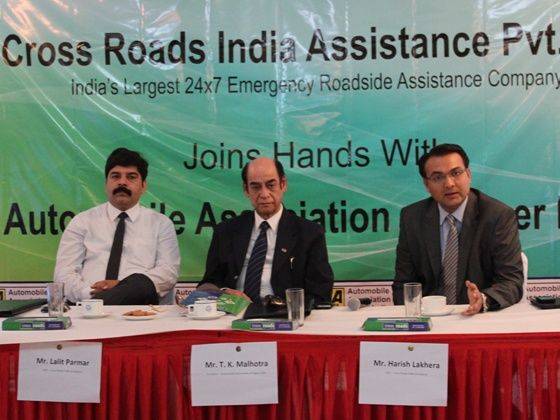 The Automobile Association of Upper India (AAUI), an NGO engaged in road safety awareness and Cross Roads India Assistance (CRIA), a 24x7 roadside breakdown assistance provider have announced that they have entered into a strategic tie up.
Under the agreement, CRIA has become the single service provider for all road side assistance requirements of the AAUI. All AAUI members will be entitled to free availability of CRIA's 24x7x365 services in case of problems with their vehicles. CRIA shall provide branding to AAUI on their website as special service partners and market its products on its website as well. AAUI will be CRIA's preferential partner for all events it carries out related to social awareness, training, etc.
In return, AAUI will provide exclusive service partner status as well as co-association to Cross Roads on all possible forums including breakdown assistance of member vehicles in neighbouring countries.
"The objective of this partnership is to deliver better customer experience and strengthen AAUI's member services and customer support. Cross Roads India Assistance are the leaders in road side assistance. The customer focused approach to business and stringent quality standards of Cross Roads India Assistance made them our preferred choice for this strategic tie –up. We hope that this tie-up coupled with a world-class service will add value to our overall client offering. Cross Roads will manage the breakdown services, membership queries etc for AAUI. We are confident that we will exceed our member's expectations and create customer delight," said T. K Malhotra, President, AAUI.
Founded in 1999, Cross Roads India Assistance assures its members that it will attend to a distress call in less than 30 minutes. It would also be worth mentioning that CRIA is not tied up with any workshops for repair work, its motive is simple, to get a vehicle running in the minimum time possible, something that is managed by their trained man force. In case a vehicle needs to be taken to a workshop CRIA has flatbed tow trucks and wheel-lift tow trucks to take vehicles to the nearest workshop or to a workshop preferred by the customer.
Speaking on the occasion Harish Lakera, Chief Executive Officer, Cross Roads India Assistance said "We are delighted to partner Automobile Association of Upper India. The Association is well patronized by high officials of the Government, members of the public and the business corporate. Cross Roads India Assistance shall act as a single window for all queries related to Road Side Repair Assistance for the elite clients of AAUI. With this strategic tie up we will continue to explore new areas of opportunities within the broad framework of this association. We would work together by synergizing the expertise, knowledge and network of both the organizations by focusing on providing road side assistance to all the members of AAUI and ensuring road safety to members of the organization".
Cross Roads India Assistance is currently present in 23 cities with a 4.5 lakh customer base across the country and services 1,100 motorists daily. CRIA also attends to the needs of its members in case their vehicle has a flat battery, runs out of fuel, flat tyres and in case the keys are locked inside the vehicle by accident. The annual charge for all the services provided by CRIA to its members is Rs 699.
Cross Roads is also looking to expand its presence to 30 cities and increase its fleet of service vehicles from 150 to around 300 by the end of 2014 with an investment of Rs 30 crore.