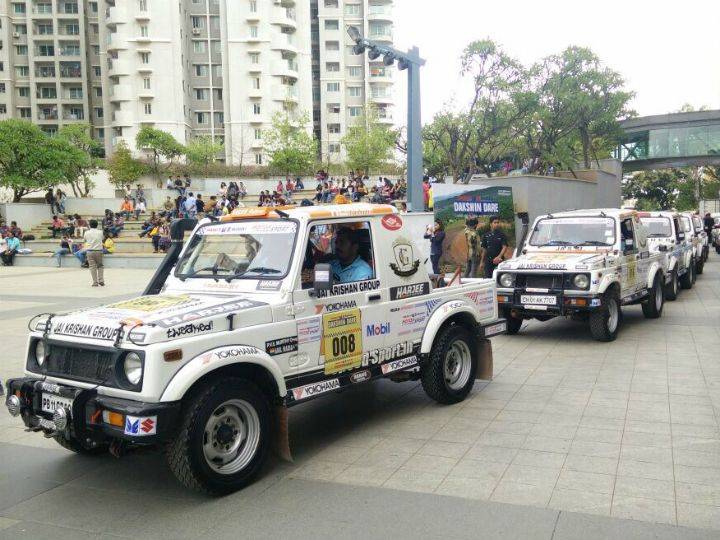 The 9th edition of the Maruti Suzuki Dakshin Dare was flagged off at Orion Mall, Bengaluru yesterday, July 16, 2017. With each passing year, the rally has continued to grow from strength to strength amassing around 170 participants this year in all categories.

Leading a pack of about 32 cars in the Ultimate Cars category, Suresh Rana and navigator Ashwin Naik in their Grand Vitara will go head to head against the likes of Sandeep Sharma and Karan Arya in their Maruti Suzuki Gypsy. On the other hand, Jagmeet Gill and Chandan Sen in their Vitara Brezza are expected to give a stern challenge to Karthik Maruthi and Sankar Anand aboard the S-Cross in the Endurance Cars class. However, the absence of Raj Singh Rathore's Isuzu D-Max V-Cross does ease things up for Rana and co.
In the Ultimate Bikes class, TVS Racing's Abdul Wahid and R Nataraj are expected to be at the helm of affairs, leading a pack of 29 bikes. This class has also been given a miss by some of the famous names like TVS Racing's Aravind KP and Hero MotoSports Rally's CS Santosh, as they prepare for international events before participating in the Dakar Rally.

Women participation in the rally has also gone up as compared to last year, with as many as 10 of them participating in this year's event. Among them, only Anu Rana will be teaming up with another woman, Meenakshi Purohit, while other notable names like Bani Yadav, Suchi Thakur and Harshita Gowda will be with male co-drivers.
Speaking on the choice of a new route, Jaidas Menon, President, MotorSport Inc (organiser of the event), said, "Every year we want to try something new; explore newer terrains. And Maharashtra is a new territory since the Dakshin Dare has never been there." He also highlighted how he expects this edition of the rally to be tougher than before. Menon also pointed out how particular the organisers are about the safery of the participants. "Before the start of each stage, participants will be informed about patches where they need to be cautious. For instance, if a situation hadn't occurred during the rekee stages, it won't go unnoticed and will be brought to the driver/rider's attention prior to the start of the stage."

We will be at the stage while the rally is underway. Do stay tuned to ZigWheels to follow the rally as it unfolds and don't forget to follow us on Instagram and Facebook for behind the scene action.