Ferrari After Schumacher: A Graveyard Of Red Boyhood Dreams
---
After Fernando Alonso at the end of 2014, it's now Sebastian Vettel leaving Ferrari with unfulfilled ambitions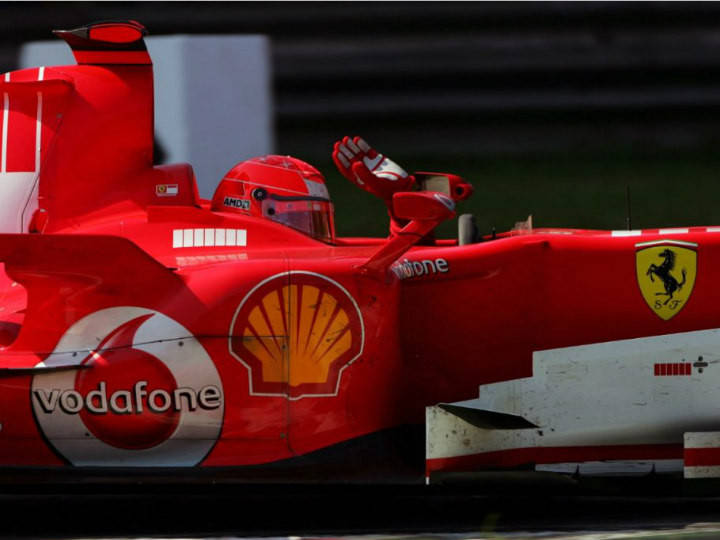 The end of the 2006 Formula One season signalled the end of the Michael Schumacher era at Ferrari, the German ace having announced his retirement before the season had even ended. Fernando Alonso and Renault had beaten Schumacher and Ferrari in a straight fight and won back-to-back drivers and constructors titles. Ferrari's technical director Ross Brawn took a sabbatical for 2007. In response, Jean Todt also started taking a back seat and then finally relinquished his team principal position to Stefano Domenicalli in 2008. Despite these high profile exits, the Schumacher-Todt-Brawn (and let's not forget Rory Byrne) dream team had left behind a stable structure. It was expected for Ferrari to be in the hunt for world titles on a consistent basis. Fast forward to 2020, the team finds itself in an odd predicament.

You can discount the 2007 season as Kimi Raikonnen and Ferrari took the drivers and constructors titles-- the latter only on account of McLaren being excluded after the fallout of 'Spygate.' Kimi and Ferrari reaped the rewards of a championship winning structure. Timo Glock's crawling Toyota on totally worn out tyres at the end of the 2008 Brazilian Grand Prix denied Felipe Massa the driver's title. Ferrari won that year's constructor's crown on merit unlike in 2007. A significant change in F1's technical regulations and the introduction of hybrid power units proved to be a test that Ferrari was not very well prepared for. The team has not won a driver's or constructor's title since 2008. Two drivers who had won multiple titles with other teams came to change the team's fortunes, but couldn't get the job done. How did Ferrari - F1's oldest and most successful team - manage to end up in such a situation?
The Alonso Era (2010-2015)
We start off with the 2010 season where after a difficult 2009, Ferrari brought on two-time world champion Fernando Alonso to partner Felipe Massa. On paper, it looked like one of the strongest driver lineups on the grid and started off in perfect fashion.

Alonso won on his debut with the team with a 1-2 finish at the season opening Bahrain Grand Prix. The season itself was very competitive with four drivers - Alonso, Mark Webber, Sebastian Vettel and Lewis Hamilton - having a chance to win the driver's title at the final round of the season in Abu Dhabi. Ferrari's F10 racing car was equally matched with McLaren's Mercedes powered MP4-25 and Red Bull's Renault powered RB6. However, at the final race of the season, a costly strategic error by Ferrari left Alonso stuck behind Vitaly Petrov's Renault R30.
The disruptive airflow, commonly referred to as 'dirty air' from Petrov's car left Alonso unable to get close enough to the Russian to make that crucial overtaking move. Alonso lost the title by just four points to Vettel and his failure to pass the Russian led to F1 introducing the stop-gap measure of the Drag Reduction System (DRS) from 2011 to stop a much faster car from being stuck behind a slower one.

It was still a strong start to Ferrari and Alonso's partnership, with expectations for things to get better in 2011. However, Red Bull adapted best to F1 - for the first time in its history - getting a control tyre supplier in Pirelli who had specific instructions on how to make their tyres in order to encourage overtaking and lead to teams making multiple pitstops. Red Bull's exhaust-blown diffuser, which channeled the Renault engine's exhaust below the floor of the car and to its diffuser to create extra downforce was also a trick that caught out the rest of the F1 grid, Ferrari included.
The 2011 season was a write off with 10 podium finishes and just one win for Alonso compared to five the previous year. The Spaniard was fourth in the driver's championship and Ferrari third in the constructors standings. It seemed like 2012 would be worse based on pre-season testing.

However, Alonso, one of the seven different drivers to win the first seven rounds of a very competitive season, had a forty point lead in the driver's championship over Red Bull-Renault's Mark Webber by the Hungarian Grand Prix. Hungary was the eleventh of 20 rounds of the 2012 season and the last race before F1's traditional summer break. He had won three of those eleven races and scored six podium finishes.
As had become the norm since 2009, however, Red Bull - thanks to having the deepest pockets in F1 and Adrian Newey - came back after the summer break ahead of the other teams in the development race.
Despite a sloppy final race of the season in Brazil, Vettel's sixth place finish was enough to give him the title by three points over Alonso who finished second. In retrospect, being taken out at the opening corner of the opening lap of that year's Belgian GP by Romain Grosjean certainly cost Alonso dearly. Constructors wise, the team did improve to 2nd, albeit with a massive gap.

In 2013, Ferrari started off well, but yet again dropped off over the course of the season against Red Bull and Mercedes. In the end, Alonso still finished 2nd but it was a massive gap in the end, with Ferrari going down to 3rd in the constructors standings.

The less said about 2014 the better, as far as Ferrari are concerned. F1's resolve to follow global automotive trends led to the introduction of the 1.6-litre, V-6 turbocharged-electric hybrid formula that remains in effect. Mercedes AMG F1 got a jump on everyone and won 16 of the season's 19 races, with Red Bull-Renault winning the remaining three.
Despite Kimi Raikonnen returning to Ferrari to partner Alonso, the team only scored 2 podiums and suffered its first winless season since 1993. It didn't help that Alonso had started to throw his weight around within the team and rubbed up the management structure at the team the wrong way. A disgruntled Sebastian Vettel - who didn't score any of Red Bull's three wins in 2014 - was willing to join the team Michael Schumacher, his childhood hero, had raced for.
On the management side, CEO Luca di Montezemelo resigned and Stefano Domenicalli was replaced as the team principal by Maurizio Arrivabene. The restructuring was put into effect by the late Sergio Marchionne. Marchionne had little time to put up with Alonso's bickering within the team and Vettel's eagerness to join Ferrari allowed him to make what seemed, on paper, to be an upgrade by securing the services of the German.
The Vettel Era (2015-2020)

With expectations relatively modest for 2015, Vettel and Ferrari exceeded them with 3 wins to take Vettel and Raikonnen to 3rd and 4th in the drivers standings and 2nd place in the constructors standings despite the obvious deficit to Mercedes. A positive comeback for the prancing horse. As the team had a positive 2015, the pressure was back on for 2016. But that championship challenge never really materialised, with a variety of factors such as a poor development curve, reliability and strategic errors leaving Ferrari winless and 3rd in the constructors standings. Vettel dropped to 4th in the drivers standings. To be fair, you could cut Ferrari a little bit of slack since the token system of engine development that year did limit its attempts to claw back the engine deficit to Mercedes.

Another set of technical regulation changes to high downforce cars in 2017 with relaxed engine development restrictions, presented a huge opportunity for Ferrari to mount a proper title challenge to Hamilton and Mercedes. It started the season in style with victory in Melbourne, Bahrain and Monaco courtesy of Vettel. It wasn't without controversy though: as the Azerbaijan Grand Prix saw Vettel and Hamilton come to blows under safety car conditions, potentially costing the race win. Nonetheless, Vettel and Ferrari were closely matched with Hamilton and Mercedes heading into the summer break. But Ferrari's championship challenge imploded afterwards, with Mercedes outdeveloping them and the team being mired with incidents like the Singapore Grand Prix crash and reliability issues in Japan and Malaysia. Eventually Hamilton and Mercedes took the title that year, with Vettel and Ferrari settling for 2nd that year.

The 2018 season started out relatively low key for Ferrari especially in Australia. But some lucky circumstances led to Vettel again taking the opening salvo for Ferrari. This time, though, Ferrari looked far stronger with a string of pole positions and wins at Bahrain, Canada and Silverstone. Going into the German Grand Prix, Vettel and Ferrari led both drivers and constructors championships ahead of Hamilton and Mercedes. But Hockenheim was termed by many as the race where the championship race went back into Hamilton and Mercedes favor, as Vettel crashed out of the race in damp conditions while leading the race, eventually handing the race win to Hamilton who started from 14th on the grid.
While Vettel did bounce back with a win at Spa, that was to be his final win of the season. While Ferrari did hit a development conundrum with its 2018 challenger and questionable strategy calls, the second half of 2018 was littered with mistakes from Vettel. The German driver had spins in Italy, Suzuka and USA during wheel-to-wheel combat. Yet again, Hamilton and Mercedes triumphed with Vettel and Raikonnen 2nd and 3rd, and Ferrari finishing 2nd again. Many argue that this season was Ferrari's best shot at the title, but unlike Alonso, Vettel also played a crucial part to Ferrari's title challenge fizzling out.

For the 2019 season, Ferrari put Mattia Binotto as team principal with Charles Leclerc replacing Kimi Raikonnen to partner Vettel. Leclerc's arrival pretty much guaranteed that there would be a tough intra-team competition right from the off. But another technical regulation change meant that Ferrari started on the back foot with a car that was more suited to low downforce circuits. The first half of the season was mistakes galore from the team and its drivers as race wins at Bahrain, Baku, Canada and Germany were thrown away. All this amounted to a tough first half of the season. But Ferrari had some hope for wins at Spa and Monza. It did come with Leclerc, but not in an easy way. Another surprise win came at Singapore with a 1-2 for Vettel and Leclerc. But the mistakes from the team kept on through the rest of the year. And with poor management of two fast drivers, the rivalry came to a head at Brazil with both drivers taking each other out of the race. In the end, Ferrari finished a distant 2nd to Mercedes with Leclerc and Vettel 4th and 5th in the drivers standings.

This year was a difficult one for the team, especially Vettel as he was beaten over a season for the second time in his career. Both by young drivers in their first seasons in the team. Also, with Leclerc on the rise, Ferrari extended his contract till 2024. This essentially putting Vettel's future in the team into doubt since his contract expired in 2020. While no racing has commenced in the 2020 season so far due to the coronavirus pandemic, contract talks ensued, but unfortunately no agreement came into place and Vettel will be leaving the team after 2020. Thus, Ferrari has gone through a second high profile world championship driver in the span of 12 years.
Although it is yet to be seen whether Vettel will walk away from Ferrari without a title after 2020, early signs don't seem to look good, with Mercedes being the favorite through preseason testing. So we could say it will be 12 years without a constructors title and 13 years without a drivers title post 2020.

Looking back, there were a variety of factors that have led to this situation. The major ones are Ferrari's lack of in-season development ability and questionable decisions within the team that has thrown away many potential championships. This scenario isn't particularly new: before the Schumacher era, Ferrari have had a history of turmoil with world champion drivers Nigel Mansell and Alain Prost also failing to fulfill their red boyhood dreams over the late 80s and early 90s. This puts into perspective how valuable Michael Schumacher and his team were as they were the ones that broke Ferrari's long title drought.

With Carlos Sainz signed up as Vettel's replacement from 2021 onwards, Ferrari looks to be going back towards a fresh start and another long term project with one of the youngest Ferrari driver lineups in 50 years. Could this fresh start be what Ferrari needs to break this title drought, or is the early-90s drought set to repeat itself ? Only time can tell, and we haven't even gone racing yet.
Add Your Comments