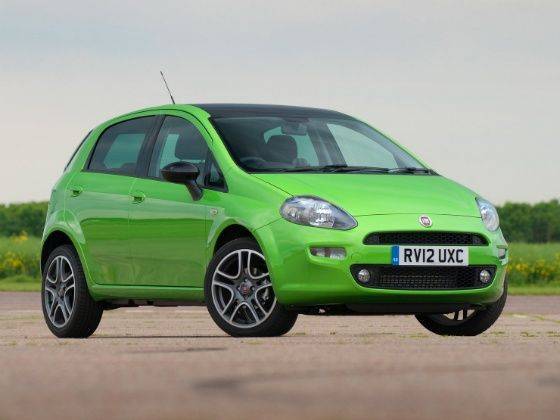 Fiat India has promised to launch four new products by the end of 2014. Their first new product of the year, the new 2014 Fiat Linea has already been launched (Also Read: New Fiat Linea Diesel: Review) and will soon be followed by the launch of the Fiat 500 Abarth and the Fiat Avventura. The 500 Abarth is the sportier, tuned version of the uber cool Fiat 500 hatchback whereas the Fiat Avventura is a new cross hatchback from Fiat. (Also read: Fiat Avventura: Preview)
At the 2014 Indian Auto Expo, Fiat promised us that there will be four new cars that will be launched in 2014, the new Fiat Punto being the last. Although not much is known about the new Fiat Grande Punto, we can speculate that the facelifted version will look identical to the new Punto that is available in Europe at present. The new Fiat Punto will be a cosmetic upgrade with new headlights, bumpers, taillights and a new interior.
The new 2014 Fiat Punto will have a new sportier bumper with a sportier and more mature look as compared to the current car. The new two-piece mesh grille incorporates a new black mesh design with inbuilt fog lamps. One of the most significant changes though is the addition of the two new light consoles in the bumper, which house the indicator and parking lights. The biggest change on the rear end though is the new badge placement. The word 'PUNTO' is spread out in the centre of the tailgate just under the Fiat badge giving the car a newer, sportier look.
Just like the new Linea, the new Punto will also get a brand new dashboard. The new dashboard will incorporate the same symmetrical look from the Linea and will feature new AC vents and a central command system. We also expect Fiat to offer a rear AC vent in the new Punto along with features like automatic headlights, rain sensing wipers, etc.
The new Punto will continue to have the same engines as the current generation car. A 1.2-litre and a 1.4-litre petrol engine making 68PS and 90PS respectively and the ever-faithful 1.3-litre turbocharged diesel engine making 75PS or 90PS will power the new Punto. We might also see Fiat slipping in a surprise by bringing the 1.4-litre MultiAir, turbo petrol engine or the smaller 0.9-litre MultiAir engine to power both the new Punto and the Fiat Avventura.
Judging from the number of dealers Fiat has been appointing in such a short period of time and the number of service centres being set up for future customers, 2014 certainly seems to be an important year for Fiat India. We expect the new facelifted Fiat Punto to be launched sometime mid-2014 along with the new Fiat Avventura and the Fiat 500 Abarth.