Jawa vs Royal Enfield Classic 350 vs Benelli Imperiale 400: Comparison Review
by

Ruman

Nov 4, 2019
Views : 66005
---
Which modern classic of the three should you make your own? Read on to find out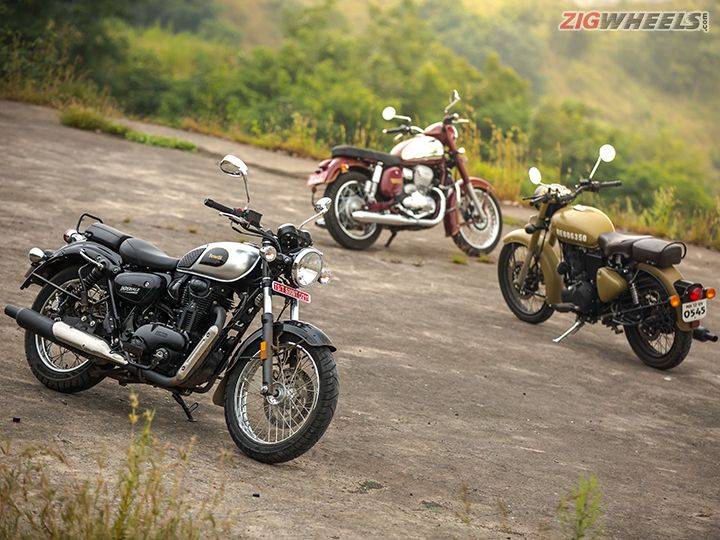 Get latest updates on
the automobile community
The backstory couldn't be any more fascinating: Ten years ago, Royal Enfield struck gold in the form of the Unit Construction Engine. It was denounced almost immediately by purists who took pride in showing off their oil-stained jeans as if they were battle scars (in a way, they were). And then the unthinkable happened. In a country we thought was obsessed with fuel efficiency, 350cc single-cylinder motorcycles began flying off the shelves. The numbers were beyond even insane.
Also read: Jawa Road Test Review
It took one decision (a bold one, in hindsight, although not many of us believed so at the time) to turn the fortunes around of a motorcycle company which, until 2009, was the domain only of those with a fondness of kick-starter-induced sprains and greasy fingernails. Say what you may about this love-it-or-hate-it brand of motorcycles, but you cannot deny it credit for bringing about the revival of, ironically, its erstwhile rival from the sixties - Jawa. And now, Benelli wants in on the fortunes as well, with the new Imperiale 400.

This class of motorcycles banks heavily on visual appeal - the all-important first impression - but it's Jawa that has made the strongest effort in this regard. While Royal Enfield has simply continued with its original template, with some very appealing paint finishes in recent times, Benelli had the least heritage pressures to oblige, except that nameplate it revived from Motobi - a brand of motorcycles spawned by one of the more rebellious brothers in the founding family. Jawa, though, took on what was undoubtedly a resurrection project like never seen before. The new Jawa looks exactly like the one your father lusted after (or owned, if he was fortunate enough). Well, almost, except that Alsatian stance (courtesy the 16-inch rear wheel and the consequently lower-sitting rear fender) of which there is only a hint. Even the twin-port exhausts look like the ones on the original. If only Jawa could have found a way to make it release a cloud of blue smoke as well!

The Imperiale has no such expectation to live up to, but the front half looks just so brilliant. That black fender, tall, 19-inch front wire-spoke wheel, a perfect headlight dome with a chrome bezel, that slim and long fuel that would look completely apt on a yesteryear AJS or Norton… it looks like a '50s bike, not merely an imitation of one, especially if you see one in the flesh. The blacked-out engine (oddly, with the Leoncino mascot engraved into it) is somewhat muscular-looking, but could do with some machined-metal highlights if not a splashing of chrome at the very least. The exhaust unit, too, is completely bereft of chrome (the aluminium-finish heat shield is a small mercy), although it surely is going to be easier to keep intact. It's from the centre of the Imperiale and rearwards that the design comes across as a bit… hasty? Chinese? I don't know what the right word is, but it does a great disservice to what could have been the most stunning motorcycle in its class. And don't even get me talking about that ultra-wide rear fender!

In the details, it's the Jawa that is the most diligent. I wouldn't call it a very high order, but relatively, it's the neatest. The Imperiale is well put-together but it's the electricals that take away from the visuals, with cables running amok and no apparent effort having been made to keep them out of sight. Still, throughout my week-long stint with it, involving a lot of involuntary abuse courtesy the state of our roads, not one thing came loose or even rattled. The Classic 350 is simply a generation old (or several, if you please) and the lack of attention to detail is therefore not so much a result of RE's incapability, but the standard of the original design. Sure, it's quite long in the tooth now, and RE didn't have to wait ten long years to go about setting things right, but that's another story.

All three motorcycles feature round headlights, but Royal Enfield and Jawa have their signature domes to house them within while Benelli has chosen to leave the headlight independent, with the exposed underside of its twin-pod instrument cluster begging for a small windshield. Speaking of instrumentation, it's the Imperiale that's the only one to offer a tachometer, and an overall layout that mimicks the Bonneville T100/T120s. The secondary speedometer arc (with mph reading) is a cool addition, and the digital inserts offer two odometers (the second one reads in miles), two trip meters and a central fuel gauge (not very dependable). It's also the only one here to offer a gear position indicator.

The Classic's instrumentation is strictly bare basic but perfectly legible, although in place of a fuel gauge, all you get is a low-fuel warning lamp that lights up with about 3 litres to go. The Jawa's instrument pod is the prettiest of the lot… in pictures. In the real world, its horizontal orientation deprives you of easy reading and not helping matters is the colour scheme that has no evident understanding of the term contrast. It also tends to allow condensation to form on the inside of the lens after so much as a wash. Then there's the analogue fuel gauge, which somehow has a mind of its own. It beats me because the analogue fuel gauge is nearly as old as the automobile itself and it's seemingly impossible to get it wrong in this day and age.
I understand it's unfair to say 'looks are subjective' after you've read nearly a thousand words about exactly that aspect. But allow me the liberty this once. Having said that, the Jawa is the one that'll compel you to wheel it into your house, while the other two are significantly bigger and burlier to allow for such an indulgence. But a motorcycle is not a piece of furniture, no matter how pretty it may be. And in that scheme of things, it's a better idea to evaluate them in the sort of environment they were designed for - the open road.
Engine:

The Classic 350 sets the tone for the sort of ride we've got lined up ahead of us. Easy, nothing too immediate, and with the destination far enough to let the Earth complete roughly a half a rotation on its axis. At 90 kmph, the Classic is a vibrating blur, although it doesn't seem to mind it - it's not vibrating itself loose or anything, it just does this sort of thing. The 346cc, 2-valve, air-cooled motor (the only one here with a carb) feels in its element at 60-70 kmph - and it produces the right sensations to lure you into staying in that zone. But since our highways are a fast-ish environment, you don't want to be a hazard. So you put the 20.7PS to good use and maintain 90, at which point the Classic still feels at ease; in fact, the Classic always feels at ease, just so long as you give it time to get there. Thanks to the 28Nm of torque it produces, you can also stick in 5th gear through almost the entire course of a long ride

The Jawa is the polar opposite. It's got a far superior engine than the other two - a 293cc, DOHC, 4-valve, fuel-injected, liquid-cooled (you get the drift?) unit with a 6-speed gearbox that features a slipper clutch. With 28.3PS and 28Nm of torque on offer, its numbers are clearly the strongest. At 90kmph, with a pronounced buzz enveloping the handlebar and footpegs, it wants you to go faster - not slower - and even with 120 on the clock (it literally is one), it wants you to keep pushing. And I found myself naturally obliging, although I often had to dismount the comfortable perch of 6th and downshift, to make rapid overtakes happen. But on the whole, the Jawa kept prodding me to get to my destination, fast. It seemed disinterested in any of that quoteworthy stuff you see on the t-shirts of some passionate motorcyclists. 'It's all about the journey, not the…' However, its engine feels (and sounds) quite generic and is entirely devoid of any retro-motorcycle sensation. So, you're only reminded of the sort of motorcycle you're riding when you look at it.

I'll admit, I had the lowest expectations of the Benelli; they've done awful single-cylinders so far - the TNT25 was forgettable, at best. And it surprises the most. No, not in relativity - it genuinely impresses the most. This 374cc, air-cooled, 4-valve, fuel-injected motor follows the same long-stroke or undersquare architecture as in the Classic 350, with an identically low compression ratio of 8.5:1 as well. However, it feels - and I am not exaggerating - as if it were a low-displacement twin, like a sort of scaled-down Interceptor 650 even. There's nothing crude or rudimentary about it. It is, in fact, the refinement benchmark amongst these three and has such a premium, soft way in which it goes about business, it's remarkable. At 90, 100 kmph even, it just about purrs in 5th (top) gear, with the tacho hovering under the 5000rpm mark. It makes you question the authenticity of the specification sheet Benelli supplies - in a very good way - because you simply don't expect a 21PS single to behave this way. Sure, it lacks the get-up-and-go factor of the Jawa, but it instills a sense of travel and joy of being on the road. I'll give you this - even after a rainy, 400km riding day, I found the flimsiest excuse to go on a short spin on it again. That's doing motorcycles right, in my humble (if only unwanted) opinion.
City - performance, comfort, parking:

In the sort of environment these motorcycles will spend most of their lives - the city, that is - the same sort of theme continues. The Classic, with its healthy gearing, is easygoing so long as you don't expect it to outrun KTMs (or anything, for that matter) although you have to learn to adapt to its lethargic responses. The gearshifts are of the long-throw variety and if you're jumping on from a modern motorcycle, you will have to learn to back off a fair bit.
The Imperiale is in a similar vein, except it has more to offer. While smoothness and refinement is a recurring theme with the Benelli, it either goes eerily quiet when ridden gently, or begins to sound like some sort of deranged Bullet when you start taking liberties such as hard acceleration, with mild pops and crackles being emitted from the tailpipe. With gentle inputs, it feels sublime although if you get pushy, the first real flaw rears its head - the gearshifts. The Imperiale requires the longest throw, and even the distance between the peg and the toe-shifter is quite long, which makes frequent gearshifts a bit of a chore. Thankfully, it doesn't demand frequent gearshifts although enthusiastic urban riding will find you wedged in neutral every time you shift from first to second.
Acceleration

The Jawa is the best city bike of the three - period. It requires no learning or adaptation, and its overall compactness and lightness (170kg, kerb!) make it perfectly nimble for the urban cut-and-thrust. With that sort of high-energy motor at your service, you can average faster speeds than the traffic around you as long as you stay in the right gear. It's almost a sort of sleeper motorcycle, because nobody expects a bike that looks like it to be as fast. It goes from 0 to 60 kmph in just 4.07 seconds (5.06s for the Imperiale, 6.72s for the Classic) and is quicker in every other aspect of acceleration as well. On the flipside, Jawa's choice (or limitation - the foundation is still the Mahindra Mojo's motor, remember?) of working with a short-stroke motor severely restricts low-speed tractability, and this is not the sort of motorcycle you'll enjoy puttering around town on empty Sunday streets.
Fuel-efficiency:

The Jawa is also the most fuel efficient. Blame it on the 6-speed gearbox or the most modern mechanicals, but the Jawa rules in the efficiency department, even if not by a substantial margin. In the city, it returns 35.6kmpl while the Imperiale returns 35 and the Classic, 35.3 kmpl. On the highway, the Jawa increases its lead by going 41.2km to the litre, while the Classic emerges second, returning 38.7 and the Imperiale is the least efficient, at 34.3 kmpl. What sweetens the Jawa's efficiency deal is its fuel tank, which is the largest in this company, at 14 litres. The Classic's tank takes in 13.5 litres (including a 2.5-litre reserve capacity) while the Imperiale's tank is the smallest, at 12 litres. It is, therefore, the Jawa that offers the longest range - and, thus, warrants fewer breaks over a long riding day.
Comfort, Handling, Ride, Braking:

Or maybe not. The overall configuration and architecture of a motorcycle plays a pivotal role in how long-distance friendly it is and here, it's the Imperiale that comes to the forth. It is the longest, heaviest motorcycle in this test (at 205kg, it is heavier than even the 194kg Classic 350) but with it comes stability and a sense of fatigue-free aptitude for long-distance riding. It responds with composure to steering inputs and its larger wheels (same as the 19/18 front/rear as the Classic, but larger than the 18/17s on the Jawa) inspire confidence, especially over not-so-ideal surfaces. The telescopic fork virtually glides over bad roads although the gas-charged shock absorbers (featured on all three) are set on the firmer side; they aren't back breakers, but are visibly firm even at the lowest preload setting. This does impact the Imperiale's cornering ability, if you take an enthusiastic approach at least, resulting in a fair bit of wallowing. The one major fault in the Imperiale's package is the front brake. It is entirely devoid of progression (the only adjustable brake lever in this class is of very little utility) and feels wooden, which is not ideal for panic braking. In urban confines, the one irritant in the Imperiale package is the positioning of the footpegs (dead centre and wide-out), which aren't spring-loaded, so walking the bike out of a tight parking slot, for instance, can give your shins a tough time if you're anything shorter than 5'11.

The Classic proves its popularity (if you excuse the fact that there has been no real alternative…) in this environment, by providing a close-enough sense of composure. However, with anything beyond sterile inputs, the Classic begins to show its age, with its responses being less than predictable. However, over rough roads, the Classic nonchalantly plods on, letting its suspension do all the hard work. It still is a fun bike to ride, and it is always fun to watch a 'Bullet' being ridden enthusiastically, and thankfully, it has the brakes to help you return to sanity, with good progression and decent bite.
The Jawa fares decently in stability and agility, and it's the best to throw around into a set of corners. It also rides quite well, even on bad roads, where its potential as a scrambler shines through, although at present, its suspension seems to offer relatively limited travel. With two heavyweights aboard, it can bottom out (and graze its underbelly on speed breakers, although not in a nasty way), and given that long-distance riding involves less than ideal roads almost everywhere in India, this is something you will have to keep in mind. Thankfully, it's got the most modern-feeling brakes around, so you will at least be able to slow down quickly enough to avoid something unpleasant that may have made the highway its home - like a cow, for instance.

However, what impacts the Jawa's touring ability most is its smallness. Given the relatively small distance between the seat base and the footpegs (same goes for the pillion), you will find yourself wanting to stretch out at shorter intervals. The seat itself is flat and devoid of any contours, and while the soft cushioning is subjective to the rider's weight, it's still less than perfect. It gets worse for your pillion (especially if he/she is anything larger than a size-zero supermodel) because the seat simply isn't long enough, and there's no real grab rail except a crevice under the seat. In comparison, the Imperiale and the Classic are about two sizes larger and the split seats they offer are far more conducive to two-up riding. I also found the Imperiale's riding position most well-balanced, with the centre-set footpegs and the easy-reach handlebar. The Classic's handlebar is too flat and low and while the Jawa's handlebar feels great (and mimicks the original), I found myself tugging at the bars, especially under heavy acceleration.
Prices (ex-showroom)
Verdict:
Now imagine, after all that reading you've been doing, if I told you 'motorcycles are subjective and therefore, you must pick what you like.' Not going to happen. The three motorcycles here, each an achievement in its own way for providing you as analogue an experience as the modern era will allow them to, couldn't be more dissimilar. The cheapest of the lot, the Classic 350 (Rs 1.46-1.64 lakh) is still a wonderful motorcycle, even if greatly imperfect. It has achieved a lot in its decade-long lifetime, including kick-starting the retro motorcycle revolution, perhaps globally. Now, however, its time is clearly up and thankfully Royal Enfield is going to roll-out an all-new generation of Classics, which is expected to build on its goodness and iron out the niggles.

The Jawa is the superior motorcycle in comparison to the other two. It does nearly everything better, and what it doesn't, you could forgive it for just how stunning it looks. Its Rs 1.64 lakh price tag is fair, too - it's literally a collector's item going for a steal. But, at the end of the day, it's a motorcycle in a segment that demands functionality as much as a full spectrum of sensory, emotional experiences. And it is here that the Jawa disappoints. Sure, it's in character to play the reincarnated Jawa - fast, taut and gorgeous - but it lacks the state-of-mind-altering personality the other two motorcycles possess so richly. It works superbly as a classically styled alternative to a conventional 200cc bike, though, and if Jawa could step up the few practicality aspects it doesn't deliver on as strongly, then it has the potential to broaden its appeal.
That leaves us with the Benelli Imperiale 400. You don't expect Benellis to win comparison tests but, as is evident, all it takes is a really good motorcycle. The Imperiale is no more perfect than the other motorcycles here, but its character elevates the riding experience beyond the sum of its components and their respective functions. Here is a motorcycle that positions riding pleasure as something omnipresent, rather than something set at a certain point in its powerband or torque curve, and that's what makes it so impressive. Benelli India has done well to localise it and keep its Rs 1.69 lakh price tag competitive, but it would be wiser to address at least the more function-based issues (front brake, rear suspension) if it desires to strengthen its reputation as a manufacturer with a serious India-focus. All eyes on you, Benelli. Hope you enjoy the pressure!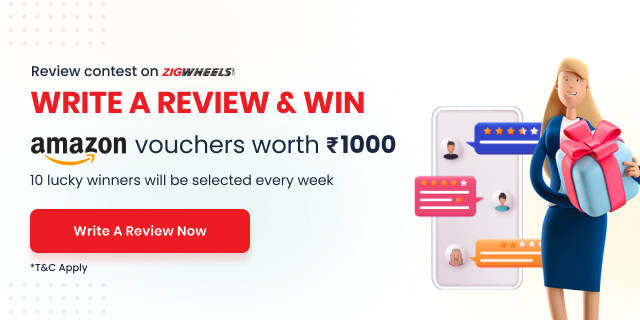 See what our community has to say!
NEW
India's largest automotive community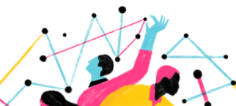 3 Other Things You Might Want To Do