Tata Safari vs Hyundai Alcazar: Same Same But So Different!
---
Yes, they're 7-seater SUVs that are priced close together but the differences between these two go beyond just their looks. Here's what a visit to the showroom may not necessarily make apparent.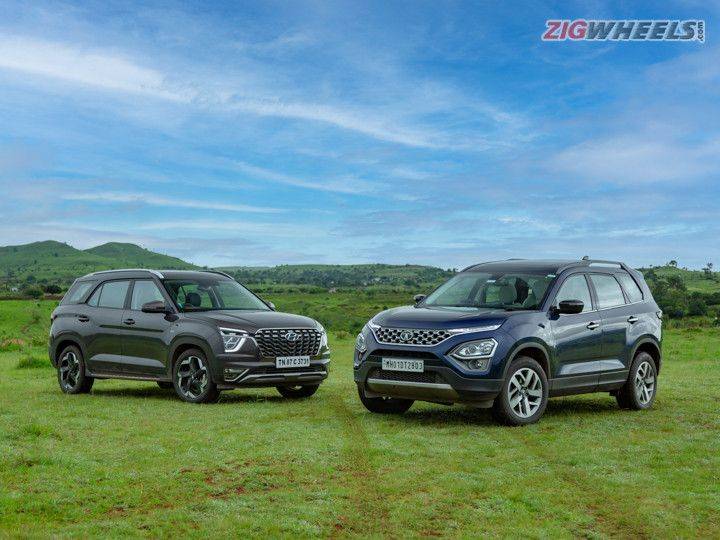 Feed My Eyes!
If it was just a matter of practicality, you could probably go ahead and pick up a sensible MPV. Since you've made the more emotionally appealing choice of getting an SUV, chances are, the want is for something that's more of an attention grabber on the road.

It's the Safari that satiates this need better. Not only is it significantly larger than the Alcazar, every design element on it is more muscular and aggressive. Just see one coming at you in your rear view mirror and you'd find it best to move out of the way.

Is that a bad thing for the Alcazar? Well, your perspective decides. Yes, the Hyundai has a notably smaller footprint but that just makes it a breeze to use in traffic. Just drive both cars through the worst monsoon traffic in both Mumbai and Pune, like we did, and you'll realize having a lot of 'street muscle' isn't much use when there's no room to flex. If you're upgrading from a hatchback/compact sedan, the Alcazar will feel like the less daunting choice. The Safari is a big SUV and feels like it in every scenario.
Talk SUV To Me

Let's simplify this section with a little QnA
I love long distance highway drives. What should I get?
The Safari. With its taller driving position and impressive ability to soak up highway undulations, the Tata makes for a brilliant long-distance tourer. It's honestly a challenge to drive inter-city and not just want to keep driving to wherever the highway takes you.
This isn't to say the Alcazar feels out of its element on the open roads. In fact, they're both very close when it comes to performance (the Safari's got more power and torque but it's also heavier). It's just that the Safari feels more planted at higher speeds.
| | | |
| --- | --- | --- |
| Performance Stats | Tata Safari Diesel AT | Hyundai Alcazar Diesel AT |
| 0-100kmph | 12.27 seconds | 12.93 seconds |
| 20-80kmph (Kickdown) | 7.39 seconds | 7.47 seconds |
I drive on bad roads a lot. What should I get?

Here too, we'd be inclined to recommend the Safari. There is some side-to-side jiggling you'll feel over low speed bumps, but when the going gets really rough, its added suspension travel helps it tackle broken roads better. In the Alcazar, smaller bumps are dusted off without an issue, but sharp-edged/deep potholes will be felt as jolts in the cabin.
There isn't much between them when it comes to ground clearance (Safari's 205mm vs Alcazar's 200mm), but the Alcazar's slightly softer suspension will compress with more ease when loaded, making the chances of bottoming out over a damaged road higher. Also, you're better off without the side-step. Its odd shape makes it difficult to use for the people who'd actually need it, and for those who don't, it just widens the gap to the seats for ingress.
I'm not buying a 7-seater just for the sake of it. I really need those extra seats. What should I get?

No prizes for guessing, it's the Safari again. It uses its large size to offer one of the best third row seats south of Rs 30 lakh. In fact, there's more room available across the seat rows vs the Alcazar, so seating adults is easier and more comfortable.

If you only expect to seat 7 on occasion, and primarily need an SUV for the city, the Alcazar just makes more sense. With all the rows in use, it also has enough boot space for two duffel bags, which, unfortunately, the Safari does not.
Easier maneuverability and proportions that are more city-sensible aside, the Alcazar is also more frugal to use.
| | | |
| --- | --- | --- |
| Fuel Efficiency As Tested | City | Highway |
| Tata Safari | 9.96kmpl | 16.99kmpl |
| Hyundai Alcazar | 12.50kmpl | 18.30kmpl |
And then there's one big trick the Alcazar has stored in its armory: features.
Of Gadgets & Gizmos

At first glance, there's a lot in common between the two:
| | |
| --- | --- |
| 18-inch alloy wheels | Panoramic sunroof |
| Drive Modes | Traction Modes |
| Auto AC with rear AC vents with 3rd row blower control | Rear USB chargers |
| Powered driver's seat | Ambient lighting |
| 2nd row captain seats | Smart-Key With Push-Button Start |
But it's the finer details that make a big difference.
The Alcazar's touchscreen offers a much better mix of quality resolution and responsiveness. The Safari's infotainment screen suffers from lag and the interface isn't as user-friendly either. Even the Android Auto/Apple CarPlay integration looks like an afterthought.

Similarly, the Hyundai's fully-digital instrument cluster looks more advanced and feels superior to use than the Safari's part-digital setup.

Not only does the Alcazar get a 360-degree camera, the camera quality of the reverse camera is much better.

Importantly, the Alcazar comes loaded right from its base variant. It's from the one-below-top XT+ grade of the Safari (Rs 18.61L ex-showroom) that the equipment levels start to match the base Alcazar Prestige (Rs 16.53L ex-showroom).
Hyundai Alcazar Unique Features
| | |
| --- | --- |
| Ventilated Front Seats | Air Purifier |
| Wireless Phone Chargers (1st & 2nd row) | Integrated Rear Sunblinds |
| Tumble-forward 2nd row seats | 2nd row Fold-Out Work Trays |
| Front Parking Sensors | 360-degree Camera with blind-view monitor |
An Obvious Choice?

Choosing between the Safari and Alcazar is tricky because while they are similarly priced 7-seater SUVs, that's where the similarities end. One's bigger and perhaps, more emotionally appealing, while the other comes across as the smarter city-car. One offers more cabin space, while the other gets a richer and more sophisticated features package.

It really is a case of two very similar SUVs catering to two very different audiences. So it isn't a question of one being more competent than the other but which competencies matter more to you.
Hyundai Alcazar Video Review
More on Hyundai Alcazar

Rs. 16.30 Lakh Onwards
Ex-showroom, Delhi
See what our community has to say!
NEW
India's largest automotive community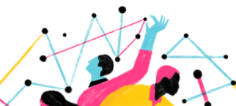 4 Offers Available