Citroen C5 AirCross Review: Comfort Makes Sense!
---
Citroen puts the spotlight back on comfort and practicality with its flagship SUV, the C5 AirCross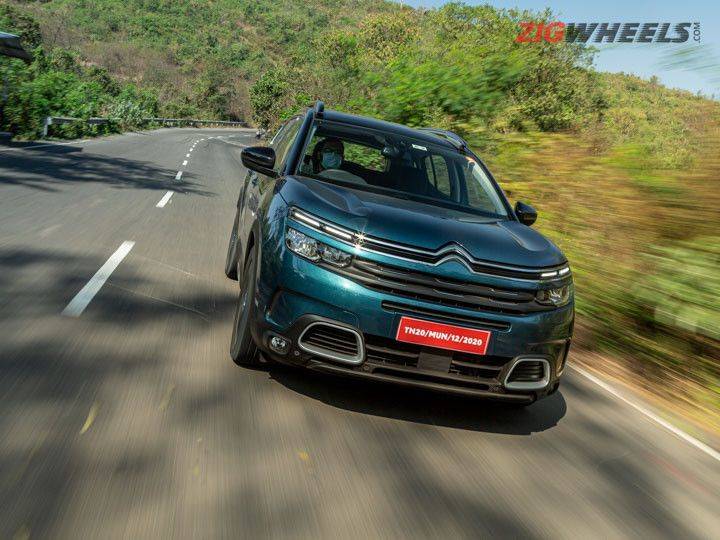 'What's next?', we inevitably end up asking, trying to wrap our heads around glossy new car brochures. Somewhere between pushing a cassette into a 'deck' and talking to your car to open the sunroof, we've constantly asked more from our four-wheeled pals. Amidst all this, it's worth wondering if we've lost sight of what vehicles were meant to be in the first place: a comfortable mode of transportation.
Sure, no modern car is uncomfortable per se. But once in a while, something comes along that rewires your expectations. Citroen's C5 AirCross is one such car.
What You Can't Put On The Brochure

The French have a way of telling stories and the C5 AirCross' brochure certainly paints a romantic picture. But, it doesn't really make you go wow. The only way you're going to appreciate what Citroen's largest SUV has to offer is when you spend some quality time with it. Its strength lies in what no marketing spiel can sell.

You'll probably dismiss words like 'Progressive Hydraulic Cushions' while flipping through the brochure. A 10-minute spin is plenty to make you think it's among the comfiest vehicles you've ever been in. From broken village roads and gravel to pothole-central cities and smooth highways, the C5 AirCross' ability to keep the occupants comfortable needs to be experienced. You half expect to be tossed around as you hit a bump. But none of that happens. A loud thunk over the worst surfaces is all you get. You also expect it to feel light, floaty and nervous as the speeds climb. None of that happens either. In fact, it masks speed brilliantly.

The brochure mentions 'double lamination' for the front windows and an 'acoustic' front windshield, which is perfect to be considered fluff. Right until you actually experience almost mid-flight airplane levels of silence while on the move. Just a rustle from the noisy AC blower is all you get. There's next to no road, wind or tyre noise. It's eerily silent to the point you'd want to catch a nap, and that brings us to the seats.

Citroen claiming the C5 AirCross has 'Advanced Comfort Seats' in the brochure is likely to be dismissed as fancy talk too. Much to our amusement, it seems like they're short-selling it. The wide and accommodating seats with a dense memory foam hug you like your momma. Whether you're crawling through peak hour traffic or out road-tripping with the fam, you could comfortably spend hours here without feeling the need to take a break.

It's a bit of a shame then that the AirCross doesn't have a particularly spacious cabin. In the co-driver's seat, the firewall intrudes into the footroom and the rear seat kneeroom is just about enough for a six footer to be seated behind another.

The party piece comes in the form of three individual seats that you can recline, slide ahead by 150mm, and fold. Citroen could've really amped up the versatility if the rear seats themselves were positioned further behind, even if it came at the expense of the 580-litre boot. That's because moving the rear seats to their further most position gets you an additional 140-litres of boot space (720-litres), but leaves only enough kneeroom for kids. You could fold the rear seats altogether for a flat floor and have 1,630-litres of room to shift houses. If you intend to use the AirCross as a family roadtripper, you can eke out some bonus shoulder room by pushing the centre seat slightly ahead. Even without moving the seats, there's enough width to seat three adults and headroom shouldn't be a bother either.
What The Brochure Will Tell You

...is that Citroen has barely left anything exclusive to the top-spec 'Shine' variant. You miss out on just three things if you opt for the base 'Feel' variant: LED headlamps, a panoramic sunroof, and a handsfree (powered) tailgate. Everything else, from the leather-wrapped steering wheel and auto headlamps/wipers to cruise control and puddle lamps are offered as standard.
It's also admirable that the safety kit isn't compromised on the lower variant. Over and above usuals such as six airbags and traction control, the C5 AirCross also gets a blind spot detection system. It also comes with a 'Coffee Break' warning that asks you to pull over if you've been driving over 65kmph for 2 hours straight.

It sees odd omissions, though. It's just the driver that gets a powered seat while the co-driver gets manual adjustment with a rather annoying jog dial to recline. The seats, comfy as they are, come without a ventilation function. It also misses out on wireless charging, 360-degree camera, and memory function for the powered seat.

Then it gets bits that seem like just a tick on the feature list. Take the 8-inch touchscreen, for instance. It does not have a home screen, the graphics feel dated, and it's generally lethargic to respond. It could also do with a better sounding music system than the 6-speaker setup it employs. You get 'shortcut' keys right below the display which exhibit some lag. Doesn't help that there are no physical dials for the dual-zone climate control and the touchscreen is the only way you can control the air-conditioning.

The 12.3-inch digital instrument cluster looks fancy with sharp graphics and gives you all the essential readouts. But that's pretty much it. We'd have loved to see navigation integration and more in terms of graphics and customisation in the form of themes.
Feel the Quirks Shine Through!

Is French. Has quirks. The biggest of which might just be the design for many. It's not conventionally SUV -- not boxy or squared off in any manner whatsoever. It has soft, rounded edges and a generally pleasant personality. It's in tune with modern times too with separate daytime running lamps up top and headlamps placed beneath. The sexy 18-inch alloy wheels (offered as standard) give the C5 a confident stance.

Smaller details round off the design well. We love how the chrome surrounds for the DRLs form Citroen's Chevron in the centre. The C-shaped chrome motif that surrounds the glass area is tastefully done too.
There are strong geometrical elements that give the C5 AirCross its signature. You'll find these shapes all over: from the muscular bonnet to the detailing in the bumper and right into the 3D effect for the tail lamps. If you pick the Pearl White colour, you get funky red accents too. It's also this particular white shade that makes the C5's size felt. In other shades, you won't immediately be able to tell the C5 is taller and wider compared to a Honda CR-V or a Hyundai Tucson.

In contrast, the AirCross' interior trades funky for classy. The upright dashboard, the symmetrical air vents, and the steel grey/black theme all tie together to make for a premium-looking interior. A chunky steering wheel (that gets a flat bottom and top), a fighter-jet-like gear lever, and cockpit-style central switches add a bit of fun to an otherwise clinical cabin. High-quality leather has been used on the steering wheel and the finish for the central armrest and elbow rests too. While the interior is par for the course, it isn't going to wow you like the new Compass in terms of sheer aesthetics and feel.

It's also rather odd that Citroen has incorporated soft-touch material on the door pad, but deemed it alright for the top of the dashboard to be hard plastic. There are a few ergonomic snafus too. The dashboard clearly is suited for a left-hand drive vehicle, with push-button start stop, gear lever, and the electric parking brake being on the left side of the centre console. Buttons on the left arm of the steering control the instrument cluster (and volume), whereas the ones of the right control the infotainment. It also features an oddly shaped glovebox and shallow door pockets. Most of the cabin's storage volume comes from a mini cupboard hiding under the front armrest. It'd happily accommodate a puppy. No, we aren't exaggerating one bit.
All said and done, the quirks are funny at best and mildly inconvenient at worst. None are deal breakers. Even if they were, getting behind the wheel would have you forget most of it.
For Fun's Sake!

Here's Citroen's trump card: a 2.0-litre diesel engine. With Volkswagen and Skoda saying auf wiedersehen to diesels in India and Honda pulling the CR-V off of life support, it's surprisingly the Citroen that's well placed to meet your thirst for torque. Let's speak numbers: 177PS of power, 400Nm of torque, 8-speed automatic, 230mm of ground clearance. Let's try words now: front-wheel drive.
The numbers might have brought a grin but front-wheel drive will raise a skeptical eyebrow. Citroen says it felt four-wheel drive was unnecessary for the vehicle's intended use. We agree. It features ESP-based traction modes instead (sand, snow and mud), in case you want to get adventurous. Unless you plan on plunging yourself into the Himalayas every now and then, you don't need four-wheel drive.

Say you need a comfy SUV to take to office every day and tour states when the boss permits, you'd be mighty pleased with what the C5 AirCross is capable of. Even in peak city traffic, 400Nm never felt overwhelming. No lurch, no lag. Just a responsive throttle knowing exactly what you need. While the engine is perfectly adept at crawling from one traffic jam to the next, you know it yearns to be out on the highway, munching miles for hours at a stretch. For it's genuinely capable of doing that, day in day out.

It's not just the motor alone that deserves recognition. The s-l-i-c-k 8-speed automatic more than delivers too. It's super intuitive, irrespective of the drive mode (Eco/Sport) you're in. You'd struggle to point out when it shifts gears at all - it's THAT smooth. Citroen has also thrown in paddle shifters (mounted on the column a la Lamborghini!) if you want to take charge. But we doubt you'd be better than the gearbox' logic. We weren't!
Here's the catch. Citroen clearly prioritises comfort over fun. The steering feels vague, the tyres protest a bit too early, and the C5 rolls its way through corners. But that's ONLY if you're trying to be Sebastian Loeb behind the wheel. If you want an SUV that attacks corners (do you, really?) you'd be better off looking at the Compass instead.

If the C5 AirCross finds a place in your family, we're sure the words 'road trip' are going to be thrown around before the weekend.
Rewiring Expectations

Let's address the elephant in the room. Citroen hints at a starting price of Rs 28 lakh-Rs 30 lakh. Which, bluntly put, doesn't seem all that appropriate for what's on offer. As it stands, it'd be good value for money around Rs 25 lakh for the top-spec Shine variant.
While we wait for Citroen to figure out the right asking price, we're glad the C5 AirCross isn't just another run of the mill SUV. It's got some quirks and a unique personality. It has its flaws too; it could do with more kneeroom, more features, and more polish in features such as the infotainment.

But where it delivers, it delivers in spades. The ride comfort is more than marketing gobbledygook, the seats are phenomenal, and the quietness of the cabin is genuinely relaxing. With that punchy engine, smooth auto and the mega cargo space, it is road trip-ready too! It also helps that the C5 AirCross knows how to stand out in a crowd.

All in all, it's among those SUVs that keep the family happy. If frills are secondary to your purchase decision and you want a big luxury SUV that lets you travel far and wide with the family in comfort, Citroen's C5 AirCross is practically purpose-built for the job.
Citroen C5 Aircross Video Review
Citroen C5 Aircross Alternatives
See what our community has to say!
NEW
India's largest automotive community