Mahindra KUV100 NXT Overview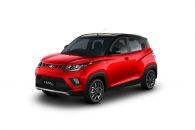 Mileage

Comfort

Performance

+ 3 more
Maintenance Cost

Safety

Features & Styling
Preferred For : Family & Daily Commute
37% of users have given a rating of 4.5 and above
3.7

Until first free service no problem in car.After each service we had a new problem wanted created by service center.

4.3

6 seater is a big advantage but boot space is less performance speed off road on road is good best compact suv

4.7

This car in my opinion is one of the best for less money.It has everything you need.It is very comfortable and smooth for long journeys.

2.3

My rating will go down if the number of year increases.This car seems to be an below average symbol to other manufacturers not to follow.

2.3

Very handy, Space is also good for tall people's.Maintanance cost is not that much high.Very comfortable front and rear seats too.
All KUV100 NXT User Reviews
3.3

Kuv100 car is good but it is noisy.Comfortable car.There are lot of manufacturing and usability mistakes.Car mirror is for seeing the backside vehicle.But the center back light is disturbing a lot.You can't see the backside vehicle properly.Since the height of the car is too high.You can't get the visibility of left hand side corner unless you keep the bumper in the front.You can't see the ground or car back tyre unless you have extra mirror.The fronr seat is having space and back seat is having less space.Very very difficult for getting in and getting out for people who are sitting back side too much of heat in the seat in the back seat it is because of too much of smoke.Maintenance cost is very very high and the dealer always says that no stock and no replacement even though you have shield warranty.13 kmph is the mileage you will get for diesel.It can travel at the speed of 140 km and has good braking system.Good bluetooth sense app to control the sound system and very music system.

5.0

Superb compact suv 👍 i m very happy with my car.... According to me..... In 8 lakhs budget kuv 100 nxt is a best car in this budget..... Definitely go for it..... Guys..... I have this car also..... I am a real owner of this car.... And sharing my experience.... With u..... 🤗 It's a best SUV.... And have excellent space, excellent power, and have very bulky and wonderful look ..... Noone car's under 8 to 9lakhs budget..... Can compare with this SUV..... Mahindra's one of the best product.....🤗 Well-done Mahindra ❤️ I bought this car on 20 Feb and really guys..... Nowadays I feel proud with my kuv 💯 nxt..... So.... Guys take a test drive.... And then go for it.....🙏 Betted then its competitors breeza, nexon etc...

3.0

Comfortable ride NXT 8 Diesel best power at 192N !AVG fuel NOT what Mahindra claim!Had to Tightened wheelsReplace brake cylinder Wipers shoddy Paint poor quality and chippingWind noise unbearable Windscreen must up when using heater function,never had this in a car beforeNavigation system, no updates and outdated and not user friendly.The clock! Moves all over or disappear due to other functionsNo basic temperature or other computerised feedback such add more basic cars do.All and all I only really enjoyed reasonable seating and the great power but both product and service overrated at the price.

4.7

I bought Mahindra KUV100 K8 6 seater petrol (not the latest kuv100 nxt) in JUNE 2016. It is a perfect family car. I have used it for four years, and it has not never disappointed me in any aspect except mileage (that too when I compare with swift). It is comfortable to be in, it can fit more people than any of it's near competitors can. Interiors are very good for the budget. Engine is good, AC is very good, Mahindra service is very good. I don't see any drawbacks in this car. I just love it. The way it looks, the way it feels like, Wow! I love my KUV100

4.7

Mahindra kuv 100 is very much capable of doing off-road. AC is the best one I have ever seen.Because of 3 cylinders cabin is little vibrating & noisy. But the performance of the vehicle is very good.Space inside the car is very good 😊I bought it in January 2017 & put the CNG in it within the 2000km from after market. Till today on August 12, 2020I have run it over 1,15,000 kms without any engine work.I love that car. I met an accident at 38000 kms although till now there is no issue,& it's built quality saved me completely. Thanks Mahindra 😊
All KUV100 NXT User Reviews