Honda City 4th Generation Overview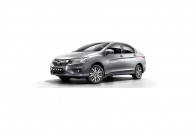 City 4th Generation Alternatives
City 4th Generation User Reviews
Mileage

Comfort

Performance

+ 3 more
Maintenance Cost

Safety

Features & Styling
Preferred For : Family & Daily Commute
51% of users have given a rating of 4.5 and above
5.0

Have driven 2, 56, 000 kms in the last 14 years.Mileage peak in highways at 22 km/l.Lowest in city drive at 14.X.

5.0

The car is very smooth and comfortable one in driving and very comfortable seating and luxurious one

5.0

Can't think beyond honda, Spoilt for choice.Maintenance is virtually free, Only problem is car lock which is way too fragile for a car like honda.

4.0

This is a family car my children like this car, My parents also like this car, Not so bad any how we need new model car for luxury life

3.3

Pulling is very bad.Mileage is also not upto the mark.Wish i had bought diesel variant.But the company has stopped the model.
All City 4th Generation User Reviews
5.0

How to be a good girlfriend relationships are very nice.They inspire people and make people have a positive mind.Many people nowadays wanted to be in a relationship because they think that when they don't have a partner, They will be lonely forever.Although this is not entirely true, Many people now are in a rush to be in a relationship.We can actually use online dating sites to find love, It is so easy now and we get to meet many people at a short time.But before we get romantically involved with someone, We should know first how to be a good girlfriend because as what i have observed, People don't know the true meaning of it.I have seen many men whose girlfriends are so out of control and are so spoiled.Here are some tips on how to be a good girlfriend.Be respectful.Respecting one's differences is a key to a long-term romance.Knowing that people sometimes do mistakes and still respecting them is a good way to strengthen the bond you have with your pair.Never blame your spouse for something that they cannot control.Always understand that some people have strengths and weaknesses.Always remember that respect begets respect so if you want your pair to regard you, Show that you do the same thing.Also, If you want to be a good girlfriend, Respect is the first thing that you should give to them before anything else.Distance yourself from tempting situations.The best way to prevent temptation is to stay away as far as possible from it.Do not put yourself in a situation that could potentially harm your relationship.Cut off all contact with that individual you are planning to have an affair with.If he or she is a coworker, Ask your manager to reassign you to another department or place.If you don't really want to hurt your pair, Do everything in your power to stay away from tempting situations.Being a good partner means that you are loyal to your pair, You do things truthfully and you never do things that might hurt the feelings of your pair.Share everything.In my personal experience, I can say that this is true because i don't feel awkward when i try to tell something to my pair.I also find it favorable when my partner shares something to me, I love supporting and listening to them about what they are going to tell me.Even when the truth hurts, They would always tell me if something is wrong or i did something that might have offended them and i didn't notice.It's always good to be honest.Be kind to each other.I make it a habit not to give trouble to my pair and i make sure that my words are not causing them pain.We always make it a habit to be gentle with our words to avoid further arguments.I consider the words i would say to my pair whenever i am angry because although i am mad, I don't want to call them names and hurt them on the process.You can read this article to know what kind of person are you based on your FAVOURITE dog breed.Dogs best life.Com.

1.3

Aug2, 2019I had purchased a Honda city/Grace in India Nov 2018. Now the car has been completed 17500 KMS.It's happened last night while driving. I was on red light after a trip of approx. 100 kms in the same date. I stopped the engine on red light for save the fuel. The red light changed into green and I pushed the start button with clutch, however the car wasn't start. The battery was giving the power and the motor was rotating but the engine wasn't start. I tried it several time, but the engine didn't start.The cops were come to me and help me to bring the car on a service lane. Then I called to service center of Honda locally. He replied, now the time is 7:30 PM (IST - India) and the service center has been closed, however you can bring your car at service center and will help you in morning, I said its ok. I asked again him, what should I do in this situation? He said please call a local mechanic, he may check the normal faults. There may be some fusing or some other small problem. During searching of local mechanic, I tried to lock the car by automatic key, but the sensors weren't working.Then I call a local mechanic, he check it. He told, the fuel motor isn't injecting the fuel into the engine. He requested me please put some fuel, may be the fuel tank is showing the fuel, and didn't have.I put the fuel of Rs 500/- in Indian rupees approx. 6-7 letter petrol. But the problem was the same. Then he told there is major problem, please call to service center or I can also fix it but I take it to my service center. I refused it and give him his service fee.Then I was waiting the Crane, It will tow the car to Honda service center.After an hour, While waiting I pressed the key lock button, but the car wasn't locking. However I was still trying the Key and pressing the button, after 5-6 try suddenly the sensors start working, I thought may be the car start. Then I sit on driving seat and press the button with clutch. The Car started, then I drove it and brought to home.it was too shameful for me, i had invested that much amount and a new car stopped on road.The problem was in fuel inject motor. this is a associated problem in all honda city car (new or old) and also in AMAZE too (confirmed by service dealer)

5.0

I have chose Honda VX Cvt after reviewing, testing almost all the cars available in the sub 20 lakhs. Cost of ownership - LOW comparing other cars which will make you 1.5 mill poor.Mileage - Receiving mileage of apprx. 15 kmpl on highways, 10 on city conditions (AC ON - Always)Comfort - Most comfortable sedan in the class or May be a class higher.performance - Yes, there is rubber band effect which is common for CVT but you can overcome it by using the paddle shift in Sports mode. The paddle shift will work on the normal drive mode for quick overtakes, I prefer downshifting on paddle shifts for tight situations/ either for engine breaking or Quick overtakes.ECO Mode - Will reduce the performance of the vehicle so I only use it while on highway cruises with Cruise control.Over all Experience - Excellent.

4.0

honda city need no review as it is so good. Being Honda car, its maintenance is little costly however it has really good engine and comfort. good interiors with good music system. car has required power and stability on road. in short, except maintenance, there is nothing to complain about. Be wary of the authorized service centre as they cheat and advice many more things which may not be required. read your manual about service requirements. the service cycle is 3 months or 5000 kms and you can get it serviced in 6 months if conditions suit you. however take care and go by manual of the car. go for minor service in 3 months and bigger service in six months. so you will be able to save some amount.

1.0

dear sir, issue reported on 23-06-2019 10.50 am ,i talked with service manger he is not willing to send an on road service vehicle & register with road side assistant vehicle . The on road assistance vehicle took the car @ 3.45 pm ( after waiting for for 6 hours ) .after delivery the vehicle by vision honda no one is there ... i waited in front of vision honda for a 4 hours.they are not willing to take service , after contacting honda customer care a number of times service engineer took for service @ 10.30 pm i received the vehicle after service now i want to inspect my vehicle whether it is flood effected one or used for test drive . dear honda car ltd i am going to consumer court for your on road service issue and your vehicle quality Complaints 1.dash board issue 3 times corrected but still same issue. 2. Gear box issue 23 jun 2019. After running only 4230 km....Waited 6 hours on road side..No response.today is 30 jun 2019 Brake issue and gear shifting issue need a valuable response against this case must change my vehicle and give me loss compensation. Experience is don't buy Honda car I am going for consumer court against Honda and dealership
All City 4th Generation User Reviews