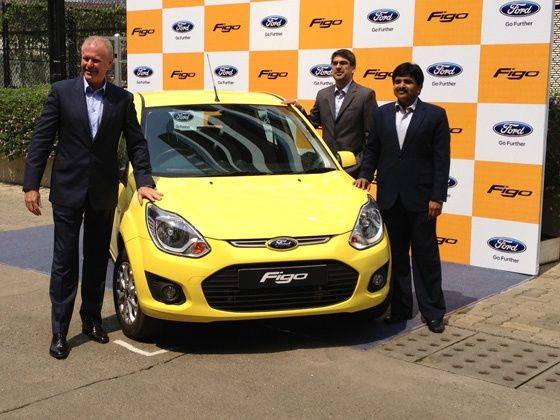 Kinetic maybe the Blue Oval's proclaimed automotive design language for the world, and one that has truly done wonders for the present generation Fiesta sedan plying on Indian roads for a while now, but it is indeed a much smaller entity that ultimately brought fame and subsequent fortunes to the American car maker here in India.
However, rather than letting the Figo rest on its many laurels accumulated over the past two years and still going strong, Ford has struck once again with the launch of a new face-lifted version of its Figo model that apart from carrying the company's more visually appealing Kinetic design will give newer customers 100 reasons (changes on the new car) to consider this next gen model.
A larger hexagonal grill, re-designed headlamps and tail lamps and several other styling cues now give the Figo a more pronounced exterior look. The insides were great even on the previous generation hatchback, but have improved even further on the 2012 model, which sports a second new instrument panel colour, 'Riviera Blue.' Comfort and connectivity features like a Bluetooth enabled music system with aux input etc largely remain the same as on the outgoing model, but a dedicated audio stalk behind the steering wheel now adds to the arsenal making it a more substantial interior package.
Speaking at the launch of the new Figo, Michael Boneham, President and Managing Director, Ford India said, "With the addition of all new exciting features in the New Figo, we believe our customers will truly find that Change is a wonderful thing."
Having already sold over 2.35 lakh units of the Figo in India and around the world, Ford has received quite a bit of feedback from its customers and made several changes on the refreshed model for 2012, which include a newer skin and looks, improved calibration of the engine for better pick-up, smoother gear shifts and added lumbar support in the seats with adjustable headrests. The improved sealing of the doors will now also make the new Figo's cabin a much quieter place to be in.
To support the growing number of Figos on Indian roads, Ford India has expanded its dealer network by 40 percent now expanding to 230 sales and service outlets in 123 cities across India. The company plans to raise this number to over 500 outlets by mid-decade.
On a closing note, Anurag Mehrotra, vice president, Marketing, Ford India said, "With the New Figo we have celebrated change by carefully listening to our customers and enhancing it with smart new features and improved looks. The New Figo will definitely add to Ford's amazing growth story in India."
Launched with the introduction of two additional shades, Bright Yellow and Kinetic Blue, the new Figo petrol will sell for a starting price of Rs 3.85 lakh (ex-showroom Delhi) and Rs 4.82 lakh (ex-showroom) for the base diesel variant.
New Ford Figo variant-wise pricing:
| | | |
| --- | --- | --- |
| Model | Variant | Price |
| 1.2 Duratec Petrol | LXI | 3.85 lakh |
| 1.2 Duratec Petrol | EXI | 4.23 lakh |
| 1.2 Duratec Petrol | ZXI | 4.53 lakh |
| 1.2 Duratec Petrol | Titanium | 5.02 lakh |
| 1.4 Duratorq Diesel | LXI | 4.82 lakh |
| 1.4 Duratorq Diesel | EXI | 5.21 lakh |
| 1.4 Duratorq Diesel | ZXI | 5.51 lakh |
| 1.4 Duratorq Diesel | Titanium | 6.00 lakh |