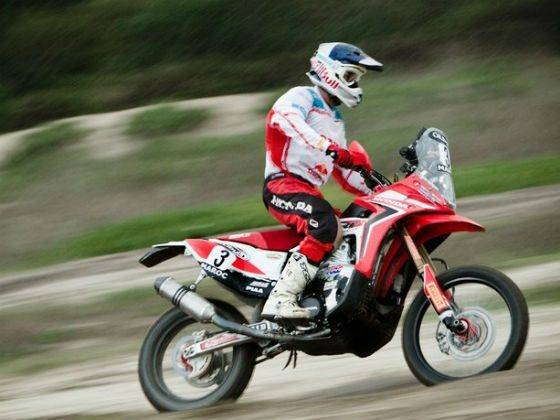 Team Honda Racing Corporation made its return to Dakar after 24 years, at the 35th edition of the event which started at Chorrillos in Lima on January 4, 2013, with a line-up of 183 bikes, 153 cars, 38 quads and 75 trucks.
The first 250km stage was along the coast from Lima to a 13km special stage in the Southern Peru desert near Pisco. The HRC team featured Helder Rodrigues, Javier Pizzolito and Johnny Campbell. HRC President Tetsuo Suzuki attended the event's opening ceremony and personally wished all three drivers at the race start.
Helder Rodrigues and Johnny Campbell finished the first stage in 29th and 49th places respectively, while Pizzolito finished 8th. He said, "It was a very good start for me, I enjoyed the small dunes and the prologue that will decide tomorrow's starting order. It was a nice warm up and I was feeling comfortable with the machine."
The second day featured a 242km special loop that started and finished in Pisco and included 85km in the liaison. This special stage was demanding with only one re-fuelling point at 81km liaison, 4km before the start of the special stage.
Helder Rodrigues started 29th and was in 4th when he ran out of fuel and team-mate Pizzolito came to his rescue, and they finished 15th and 39th respectively.
Helder said, "At the beginning there was a lot of dust but in the dunes I attacked recovering many positions. At one point in the stage I was third and I pushed till the end to assure me a good result but at 4km to go, I ran out of fuel and had to wait for Pizzolito who gave me his fuel. I'm disappointed but the Dakar is still long."
Campbell who finished 35th at the end of Day2 said, "It was a 100 per cent sandy stage, with some difficult dunes as they were very steep in the back and I had to be careful with the gas." The next stage will be from Pisco to Nazca.