Tata Micro Bullet-Proof Vehicle showcased at 2012 Defexpo
Apr 4, 2012
Views : 21490
---
Tata Motors showcased its innovative Micro Bullet-Proof Vehicle (MBPV) at the 2012 Defexpo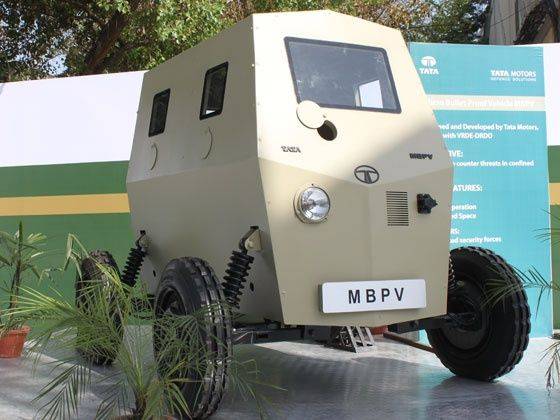 Defining a new level of protected mobility during indoor combat, Tata Motors showcased its 'Nano' for the defence forces, the MBPV. While the design may not be captivating, it is quite functional. Besides being bulletproof, all sides including the floor have angles to deflect bullets and roll-off grenades. The electric-powered vehicle can last up to six hours in an intermittent operation with a top speed of 20km/h, making it silent yet agile. With maximum payload capacity of 200kg it can carry two personnel with their equipment. The pivot turning and gradeability of 20 degrees enables it to go over slopes and climb stairs as well.
With a gross weight of 1,100kg, it has good all-round visibility and firing ports all around. It will be tested by the elite commando forces before it's put into operation. It has been jointly developed by Tata and VRDE-DRDO (Defence Research and Development Organisation).
Undoubtedly, the MBPV is one of the most practical yet effective anti-terrorist vehicles and Tata Motors plans to add to its array of vehicles for the defence services.