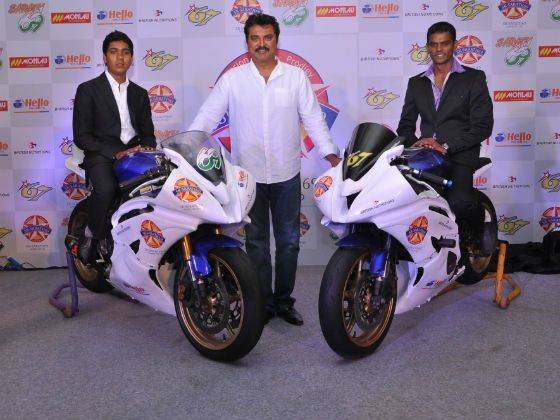 Sarath Kumar has been confirmed as a rider with Spanish Moto3 Champions Monlau Competicion for the 2013 Spanish Moto3 Championship. The announcement was made at the launch of SK-Sarath69, a motorsports management firm supported by South Indian actor and politician R. Sarath Kumar with the aim of promoting young motorsport talent.
The first Indian rider to race in a MotoGP race, Sarath will race in an international series for the third consecutive year, and this time with a team which is a front-runner on the grid. Monlau Competicion won the 2012 Spanish Moto3 Championship with rider Alex Marquez who is the younger brother of MotoGP rider Marc Marquez.
The 21 year old rider said, "It is a dream come true to race in the Spanish Moto 3 championship, considering the great riders who have participated in the same. Monlau Competicion is a winning team and I hope I can help them continue their winning ways. The more experience I get the more confident I feel and the faster I go. This is a huge opportunity for me so I hope I can make my country proud."
Jaime Serrano, Executive Director, Monlau Competicion, said, "India is definitely becoming a hot destination for motorsports and we are pleased to announce our partnership with SK-Sarath69 and their young rider Sarath Kumar. From what we have seen of him we are highly impressed and believe he has what it takes to go all the way. We will work closely in all areas to ensure he improves as a rider and is in a position to fight for victories."
Sarath made his MotoGP 125cc class debut with WTR-Ten10 Racing team in 2011 after which he participated in the Italian Championship 125GP Class in 2012, where he finished on podium at the legendary Monza circuit. The Spanish Moto3 Championship that he will race in 2013 has been a stepping stone for many of the current MotoGP riders such as Jorge Lorenzo, Dani Pedrosa, Casey Stoner and Marc Marquez.