OMG: Russians Build A Sweet Ford Focus Speedster At Home!
---
Custom built in a mechanic shed in Russia, this Ford Focus Speedster looks as gorgeous as any drop-top supercar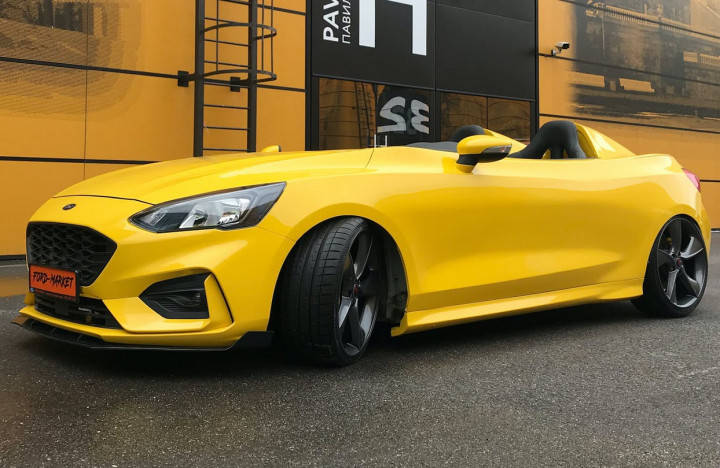 The Ford Focus is a premium hatchback that is majorly used as a daily driver. Just like other Ford cars, it is known for its excellent ride and handling capabilities. But, what if you expect your Focus to give that wind-on-your hair feeling you get in a drop-top supercar?

Say hello to the Focus Speedster, built in a humble shed in St.Petersburg, Russia, but with looks so good you might be fooled into thinking it rolled out from Ford Motor Company's very own assembly line. And while it might bear identity as a fourth-generation Focus, it's essentially a third-generation car underneath. So, why this massive project?

Apparently, the fourth generation Focus is yet to arrive in Russia. But this Ford repair shop was so obsessed with the driver-friendly hatchback that they decided to make one on their own! While it bears resemblance to the fourth-generation car, it's essentially a third-generation Focus beneath the skin.

While almost all the body panels are from the stock fourth-generation Focus, there was a considerable amount of rework that was needed to bring out this beautiful shape. Naturally, all the pillars, roof, windshield and the tailgate have been chopped. Then, the dashboard was shifted back by 50 centimetres to make the hood longer and the rear seats were removed. There are no doors as well and that means one needs to jump in to get in the car! Surprisingly, all of this has worked!

But does it have the guts to move its gorgeous looks? The Focus Speedster is powered by Ford's 252PS 2.0-litre turbo-petrol engine that's coupled to an automatic gearbox. While 252PS might not sound like much, a tune and few performance bits have been added in to extract a few more ponies. The exact figures are still yet to be known.

So can you get one of these sexy-looking Ford Focus? Unfortunately, nope. That said, we hope Ford takes a look at it and consider building a limited edition to satisfy Ford enthusiasts around the globe. Ford, are you listening?
Add Your Comments