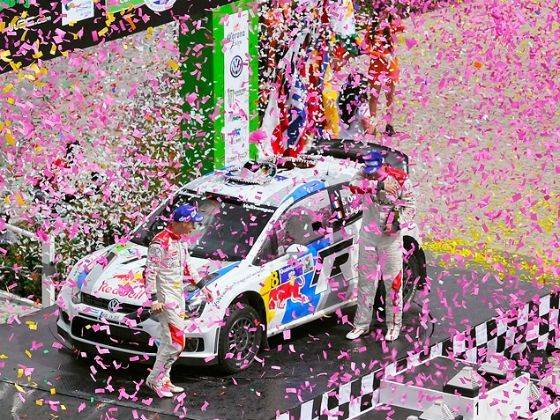 Volkswagen Motorsports' Sebastien Ogier took top honours in Rally Mexico after an impressive three-day drive in what was his first outing on gravel onboard the VW Polo R WRC. The Frenchman started the rally weekend a little cautiously and could secure only a fifth place in qualifying.
Although he took the lead in the super special stages on Thursday night, the VW Motorsport driver lost P1 to Mads Ostberg in SS4 on Friday. This was probably the only time that Ogier needed to get to grips with his Polo R WRC. The Frenchman bounced back strongly and put up a storming time in SS6, which gave him a lead of almost 13 seconds into the mid-day halt. Even after being comfortably in the lead, Ogier continued to push hard and increased his advantage to almost 30 seconds by the El Chocolate 2 repeat loop.
Ostberg's suffered from electrical problem on Saturday which made things even more comfortable for Ogier as he found himself way out front. Despite his lead, he didn't quite ease off and continued with his brilliant pace winning six more stages on Saturday. After taking the spoils in 14 out of the 20 stages on Friday and Saturday, Ogier simply had to cruise his way to victory on Sunday. Having said that, Ogier paced up when it mattered the most and took further three points home with a win in the event ending Power Stage.
Meanwhile, Mikko Hirvonen inherited second place after Ostberg's retirement but was in no position to challenge Ogier. Still, it was another impressive performance from the Finn that promoted him to third place in the Drivers' Championship. With Sebastien Loeb set to participate in only two more WRC events this year, it effectively makes Hirvonen the closest rival to Ogier.
After a promising run in Mexico, Thierry Neuville took third place – the first podium finish for the Belgian rally driver. The Qatar World Rally Team driver was constantly at Hirvonen's tail until Guanajuatito on Sunday morning, when the Belgian braked late for a corner and went into a ditch. He was lucky enough to not suffer too much damage on his car and finally settled for a third-place finish.
In fourth place was Citroen's Dani Sordo who had a rather unimpressive run especially on Friday and Saturday morning. But the Spaniard found his pace on the repeat loop on Day 2 from which position a fourth place was the best he could manage. Nasser Al-Attiyah finished fifth in his first outing with the Qatar World Rally Team.
Ostberg and Jari-Matti Latvala both finished the rally but only after using the Rally 2 regulation. Going off the path on Day 1, the Volkswagen Motorsports driver hit a rock and damaged his wishbone forcing him to continue his run using the Rally 2 rule. The Finn finished the rally in 16th place while Ostberg took 11th.
Ogier's win in Sweden and Mexico puts him at the top of the drivers' championship table ahead of nine-time champion Loeb. Rival Hirvonen is placed third on the championship table but is 44 points shy of Ogier's score. Volkswagen Motorsport, on the other hand, is second on the Manufacturers' Championship table behind the Citroen Total Abu Dhabi World Rally Team.