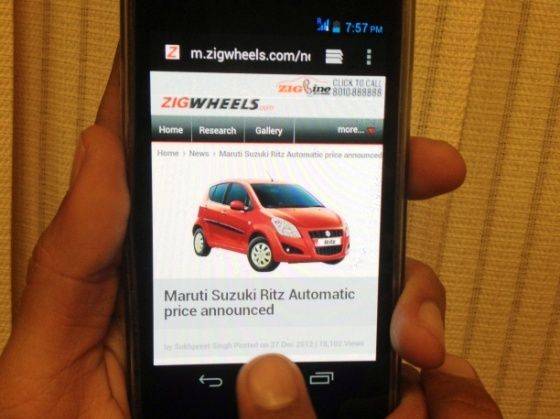 ZigWheels has launched a new mobile site to make your browsing experience quicker, simpler and more responsive. The mobile site features a simple, uncluttered look and has been conceptualised keeping in mind how users operate handheld devices in their everyday lives. It has been designed to provide a better user experience, with a focus on simplicity. We've kept our most popular tabs – New Cars & Used Cars & Bikes – on top of the homepage for quick and easy navigation. Users can surf through the latest automotive news, reviews, comparisons, photo galleries and more just the way you do on the main site, perhaps faster!
One unique feature of the mobile site is the ZigLine tab on the top right corner of the site. ZigLine is India's first car buying and selling helpline. On clicking the tab, the phone auto-dials to the ZigLine help desk, which offers expert advice to those wishing to buy or sell a car.
Overall, you'll find that the site loads up fairly quickly. We've optimised the code for a faster browsing experience. Since it's still in Beta stage, expect constant improvements and innovations to the site over the next couple of months.
We hope you'll enjoy using the new mobile site and if you'd like to share any feedback or suggestions, please post them in comments below. Happy browsing!