Hyundai's 911-Like Prophecy Concept Finally Makes Its Debut
---
Is an evolution of the carmaker's Sensuous Sportiness design philosophy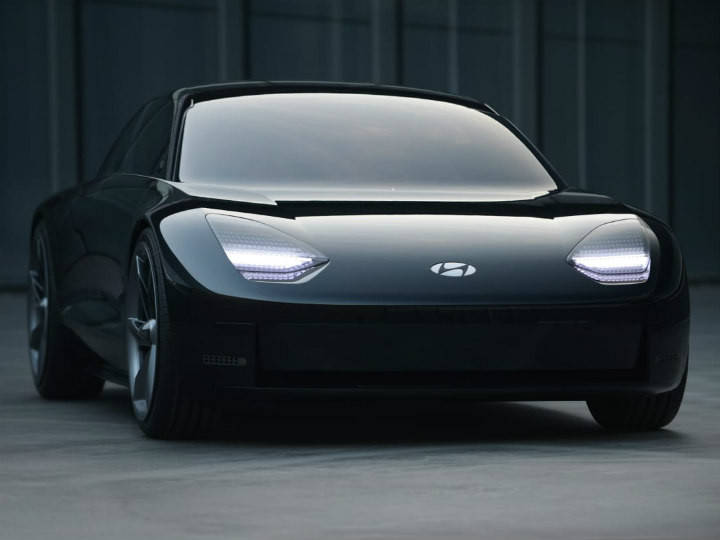 It resembles an early Porsche 911 especially at the rear.
Other design highlights include pixel headlamps, integrated spoiler, propeller-shaped wheels and vertical taillamps.
Feature highlights include a digital dashboard and autonomous driving tech.
Bits like pixel lights will make it to future Hyundai models.
Hyundai had given us a glimpse of its new concept EV called the Prophecy with teaser images and videos a couple of weeks ago. And now, the carmaker has finally unveiled the concept in all its glory. As the name suggests, it gives us a small glimpse into the future of Hyundai cars.

On the outside, it has a sporty coupe-like silhouette, an evolution of the Sensuous Sportiness design philosophy. At a glance, the Prophecy concept looks eerily similar to a retro Porsche 911, especially at the rear.

It also takes design cues from the 45 concept like the pixel lights on the headlamps, tail lamps and spoiler. Other exterior design cues include propeller-shaped wheels, an integrated rear spoiler and vertical tail lamps.

Head inside and you're treated to a sleek cabin that looks like something out of a TRON movie. Aside from digital screens spanning the dashboard, the major talking point of the Prophecy concept EV is that it features autonomous tech. Instead of a steering wheel, the driver gets two joysticks to control the functions of the car.

While we may never see a production version of the Prophecy concept EV anytime soon, some of its design elements like pixel lights will make their way to future production models.