Hyundai Begins Feasibility Study For Fuel Cell Electric Vehicles In India
---
Does this mean we can expect fuel cell Hyundai vehicles in India?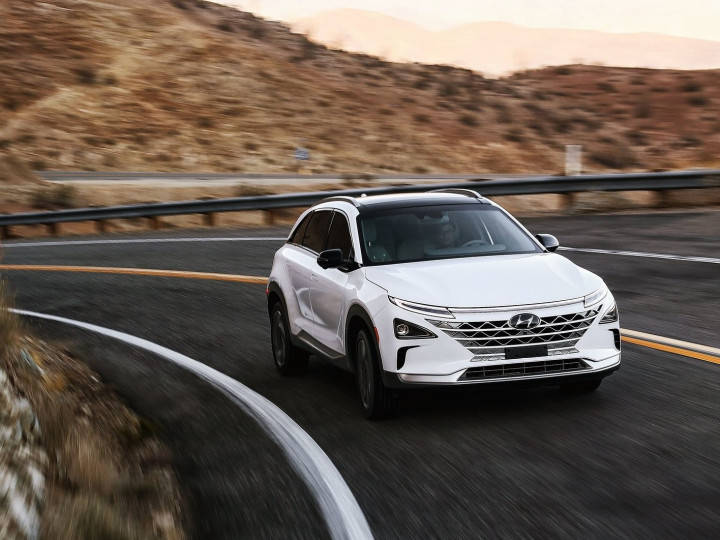 The Nexo crossover SUV is the carmaker's main fuel cell electric vehicle.
It has a maximum range of 611km (EPA rated).
Hyundai is aiming to enter the list of top three EV manufacturers by 2025.
The carmaker is also investing $52 billion over a span of 6 years.
Hyundai has expressed interest in bringing fuel cell electric vehicles to India and has begun a feasibility study to analyse the possibilities. The Korean carmaker has made this announcement with the vision for zero emission mobility in accordance with the Indian government's plan for green mobility. Meanwhile, Hyundai also pioneered long-range EVs in India by recently launching the Kona Electric.

If the feasibility study turns out to be positive, we might be looking at the Hyundai Nexo,the current flagbearer of hydrogen fuel cell vehicles from Hyundai. The crossover SUV has a maximum range of 611km (EPA Rated). It is powered by an electric motor that pushes out 163PS and 400Nm of twist. But the electric motor gets its charge not from batteries but from a hydrogen fuel cell. The Nexo actually serves as a replacement to the Tucson FCEV, which debuted in 2005 and went on to break the world record for the longest distance travelled by a fuel cell electric vehicle (778km).

Hyundai has also revealed its global roadmap for the future, dubbed 'Strategy 2025'. The main agenda on the plan is to transform the brand into a smart mobility provider by 2025. The aim is to become one of the top three EV manufacturers by 2025 with a target sales figure of 670,000 BEVs and FCEVs annually. An investment to the tune of $52 billion will also be pumped into the development of the new strategy over the course of 6 years.

The other manufacturer who is traversing the same path is Toyota with the Mirai FCEV, which was spied at Toyota's facility in Bangalore.
Fuel cell electric vehicles are still at a nascent stage in comparison to all-electric vehicles and it is too early to speculate on Hyundai's plans for India. Anyhow, more deets will come into the picture as time marches forward.
Add Your Comments