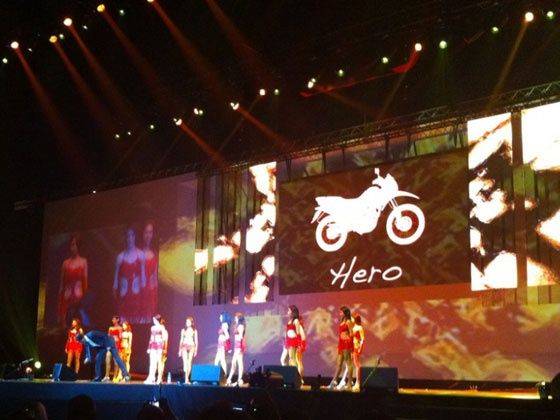 Hero MotoCorp, previously known as Hero Honda, has unveiled its first two products under its new brand name, christened as "Impulse" – an on/off-road motorcycle and "Maestro" – a 110cc scooter.


The debut motorcycle offering from the new-formed entity Hero MotoCorp treads into the un-chartered territory of on/off-road motorcycles, which makes a lot of sense for India conditions. A segment left absolutely untouched in the Indian motorcycle bazaar, an on/off-road motorcycle will be a good choice for work as well as pleasure.

A few days ago, pictures of an on/off-road motorcycle being tested in India surfaced on the internet and it was followed by a lot of speculation. We are glad to bring an end to all the speculation and confirm that Hero MotoCorp has officially unveiled its first motorcycle product called "Impulse" for India in London alongside an all-new 110cc scooter named "Maestro". The unveiling was done by Bollywood star Ranbir Kapoor who will also endorse the new brand.


Full technical specifications of the Impulse have not been disclosed by Hero MotoCorp yet but it is confirmed that the Impulse will be powered by a 150cc engine and it will come with nitrous gas-powered rear suspension. The bike is based on the Brazilian market Honda NXR150 Bros and has been in the pipeline for a long time. The front wheel is a full 19-incher while the rear makes do with a 17-inch diameter detail. The styling is typical to an on/off-road motorcycles with an under-seat exhaust and wide raised handlebars plus that seat sweeping over the tank in the best traditions of modern day on-off roaders.
A front disc, rear drum brake set-up is adopted and if the graphics are as racy and clean as the Brazilian market version does indicate, then this could just be the next new must-have bike for Indian youth. Hero MotoCorp indicated that the bike would have stud-type treads on both tyres but what remains to be seen is whether they are pure hard knobs for off-road use or is there the dual purpose on-off treadie which is just the right tyre to have for the country. Nonetheless this is a most welcome move and should hopefully spur many on to doing this sort of two-wheeled SUV for India.



Among other details on the Impulse, one can find an advanced digital instrument console upfront housing a "Service Due" indicator, tell-tale lights, clock and digital bar display fuel gauge. The "Impulse" will be available across Hero MotoCorp dealerships in five colour options - Black, Vibrant Blue Metallic, Sports Red, Leaf Green Metallic and Vibrant Orange.


Along with the brand unveiling and the launch of its first motorcycle, Hero MotoCorp also introduced a new scooter model named Maestro which I think has to be its take on the sporty Honda Dio. Quite natural then that unveiling it was none other than former Indian test and one-day cricketer Irfan Pathan! The Maestro is powered by a new generation 110cc V-Matic engine along with Advanced Microprocessor Ignition (AMI). The scooter is quite up market in its turn-out with a digital–analog meter console, trapezoidal head-light as well as a combi-brake system and tuff-up tubes. The pricing for both the products is still unknown but with these two launches, Hero MotoCorp has certainly grabbed the headlines in the Indian two-wheeler space bringing a lot of excitement with an interesting model in the form of the Impulse.
The new Hero Impulse is based on the Honda Bros (above pic)

As I see it both products seem to be a thank you going away gift from Honda to the new entity but that is only one part of the present scenario. Hero MotoCorp has ambitious plans to carry on the good work of the past quarter century. The new logo which the firm unveiled highlights the new face of India replete with the boundless energy of its youth coupled to the fabled 'can do' spirit. Speaking on the occasion, Hero MotoCorp's managing director Pawan Munjal said of the new logo design: "It is, in the true sense, the "Indian catapult" which signals the deeply rooted Indian values while also being poised to go for global expansion – a veritable leap of faith."


While Hero Honda has been cranking out half a million two-wheelers per month for the past four to five months, the ambition is now to crack a million two-wheelers a month mark and for that to be able to do it sans Honda seems to be a tough order. However, given the celebrations in London, it seemed that this was quite achieveable! Cue in Pawan Munjal again: "In the next five to six years, we are aiming for a Perfect 10 – annual sales of 10 million units and annual turnover of US$10 billion with overseas business contributing about 10 per cent to our total annual volume sales. We have identified key countries in Africa, South East Asia and Latin America as our potential markets. We should be starting exports to some of the countries in Africa towards the next quarter of this fiscal. We are enhancing our Research & Development (R&D) set-up, hiring the best talent, and exploring opportunities for collaboration with international design houses and technology suppliers."

It is no secret that the cash-rich Hero MotoCorp has fanned out across the globe trying to rope in design and engineering consultancies to be able to take care of basic product development after the final delinking with Honda happens in early 2014. One firm which has been visited more often than others has been Tokyo R&D in Japan set up by former Honda engineers and which also worked with Bajaj Auto in the early days to give shape and form to the Pulsar sports bike. Of course it is early days as yet but certainly Hero MotoCorp sans Honda will have a challenge on its hands, especially on the R&D front for new product development. Also there is no doubt about its hold in rural India and its ability to help basic mobility there. Whether it can translate this marketing ability from rural India to back of beyond in Africa and South America will be key to getting the volumes Munjal and company have outlined. Stay tuned for more.