With every win, we put the 'Men in Blue' on the pedestal above our Gods, while a lose make their effigies burnt. Our curiosity to know more about their lifestyle, their desires, their passions always remains intact. Getting a step closer to their private lives, we bring to you their passion for automobiles and the cars they like to drive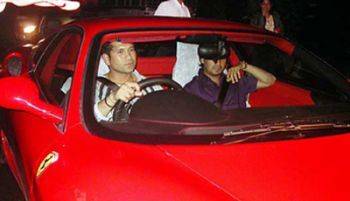 Sachin and his Modena
First and foremost let's talk about the living legend Sachin Tendulkar. We all are aware about the fiasco that happened when Sachin was awarded the Ferrari 360 Modena when the batting maestro had requested a custom duty waiver on the car. The Modena was gifted to him by FIAT, after the Mumbai batsman equalled the late Don Bradman's tally of 29 Test centuries. It is said that though Sachin Tendulkar usually likes his car to be chauffeur driven, sometimes he also takes wife and kids out for a spin in his Ferrari. The only condition... is that he had to find time to do so from his busy schedule. Besides the Ferrari, he owns two ultimate status-symbols, a silver-coloured Mercedes-Benz and a black Opel Astra, which he won in a Sharjah tournament.
Dhoni surely an automobile fanatic
Coming next is our Captain Dhoni whom we all fondly call Mahi. If any of us are remotely aware of cricket, chances are that we mostly do know about the captain's passion for automobiles. Be it the cars he owns or the bikes he drives. Recently the star cricketer bought a Hummer costing him a whopping 1 crore and it drove back from Delhi via Lucknow to his hometown Ranchi. Apart from the Hummer, Mahi also owns a Mitsubishi Pajero. However inside news is that Dhoni's passion lies more in riding bikes than with four wheelers. MS also owns a Harley Davidson, which he brought after India won the T-20 world cup. In his garage he also has a Yamaha 650 sportsbike as well as a Kawasaki Ninja.
Yuvraj Singh loves his BMW M3
Let's talk about our lover boy Yuvraj Singh. Apart from his passion for girls, he is utterly passionate about cars. The stylish cricket is a proud owner of BMW M-5, BMW M-3, and also a Merc. Yuvi says that among all the cars he loves his BMW M3 convertible the most. The hard hitter cricketer was also awarded with a Porsche 911 after his famous six sixes in the T-20 World cup by the Vice President of the Board of Control for Cricket in India (BCCI), Lalit Modi. Porsche 911 and a gift? Now now, we should surely envy them shouldn't we?
Harbajan and his Hummer
After the Indian skipper got his shinning silver Hummer, controversy kid, Harbajan Singh followed his suit. Our off spinner is so much in love with his new baby, that he has posted photographs of his new acquisition in his blog. So much is our Bhaji is love with the Hummer that he didn't wait for the registration of the car and thereby was fined by the Chandigarh police for driving the gas guzzler without a registration number. But then again, doesn't controversy and Harbajan always seem to have a love affair? And yeah apart from that our off spinner also owns a Ford endeavour and hordes of bikes and cars that he was awarded for his cricketing skills.
Gautam Gambhir loves speed!
This cute boy from Delhi is also obsessed with cars. The Indian opener made headline when he test drove the 1600cc Formula Ford car. This Delhi Daredevil player owns a Toyota Corolla and Maruti SX4 and a Santro. However, Gambhir prefers to be driven rather than drive himself. His dream car is to own a BMW model. Dream car? Well, one really wonders, with the fat pay cheques our crickets get, do they really need to dream about owing a car? Well well!!