Brabham BT62 Revealed, Should You Be Excited?
---
Simply put, yes!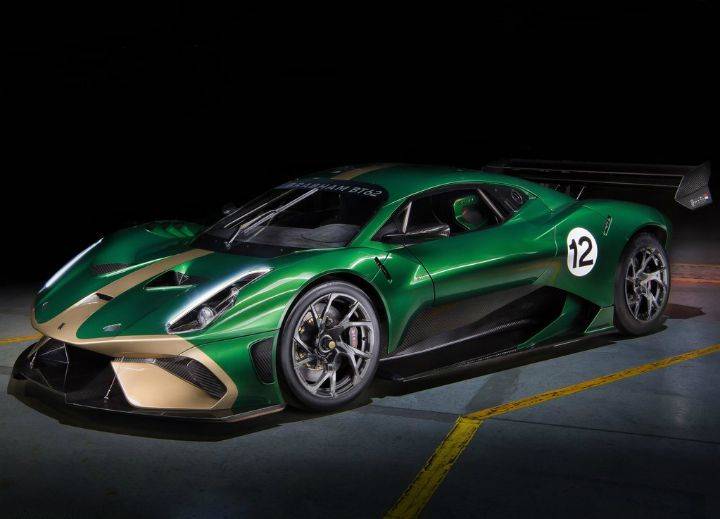 The Brabham BT62 is an all-new 'hypercar' from Australia-based Brabham Automotive. Exclusively designed to be used on the race track, this £1 million car is powered by a 5.4-litre, naturally-aspirated V8 developing 710PS of maximum power and 666Nm of peak torque. The aggressive looking aero elements, including the massive rear wing, develop up to 1200kg of downforce at vmax! All this propelling an amazingly light 972kg (without fluids or driver) body. This sounds like a McLaren Senna competitor!

Brahbam Automotive's first production model will have a limited run of just 70 cars, with the first 35 getting special liveries. Why? The BT62 marks the return of the 'Brabham' name to the world of sports car manufacturing and the 35 liveries celebrate each of the 35 F1 races won by one of the most iconic racing car drivers in the history of motor racing - Sir Jack Brabham.

Jack Brabham was born in a town in the state of New South Wales, Australia and was on course to become a great mechanic, working on everything ranging from motorbikes to Bristol Beaufighters military aircraft when he enlisted in the Royal Australian Air Force, before turning his attention to race cars.

Jack had his first taste of car racing when his friend Johnny Schonberg persuaded him to watch a midget car race, which were quite popular in Australia during the 1940s. Jack built a race car for Johny to compete in a local championship, but took over driving duties when Johny was banned from racing by his wife. Jack soon realised that he had a knack for driving too, winning championships in dirt tracks around Australia.
Jack moved to road car racing in 1951 after finding success with racing midget cars in hill climbs. Using a racecar from UK's Cooper Car Company (the same Cooper whose name adorn performance-oriented MINIs today), he improved his skill in track racing in Australia and New Zealand.

Cooper helped Jack Brabham begin his Grand Prix career in 1955, where he used a mid-engined 'bobtail' T40 race car made by them. While he did not win any races that season, he fought with legendary driver Sir Sterling Moss for third position at the Snetterton F1 non-championship race and found that he had what it took to race in the upper echelons of motor racing.
Four years later, Jack won his first championship driving a Cooper T51 powered by an uprated 2.5-litre, in-line 4-cylinder engine. Brabham won the 1959 championship with a slim lead of four points at the last race! Not only did he have to contend with drivers like Sterling Moss and Ferrari's Tony Brooks to win, he also had to push his car over the finish line as he ran out of fuel on the last lap! (pictured below, an exahusted Jack Brabham)

Cooper's T51, new T53 and Jack Brabham continued their winning streak in 1960, but Brabham knew there was more to be done to compete against manufacturers like Porsche, Ferrari and Lotus. Cooper's reluctance to keep developing their cars was hurting his chances at winning races, especially with rivals making more competitive cars.
In 1960, Jack Brabham and engineer friend Ron Tauranac set up their own race car manufacturing company, called Motor Racing Developments (MRD), which initially developed cars for those racing in feeder Formula championships like Formula Junior. The end goal was to compete in Formula 1, and that dream came true in 1962 when the Brabham BT3 made its competitive debut. Brabham ran his own Formula 1 team, the Brabham Racing Organisation, and also supplied his cars to customers participating in the championship.

Known for developing class-leading chassis and engines, Brabham became a household name in the racing circuit. In 1966, Jack Brabham won the F1 Championship driving the BT19 and BT20 - becoming the only driver to have achieved this feat in his/her own car. While Bruce McLaren and Dan Gurney have also won races in cars made by them, Brabham remains the only person who has won a whole championship in their own car.
Brabham continued his involvement in racing even after he officially retired at the age of 44 in 1970 and regularly drove cars till the age of 73. While his achievements are revered, his name was never as popular as that of his competitors like Sterling Moss or Jim Clark, maybe because he was a very shy person. He passed away peacefully on 19 May, 2014 at the age of 88 at his home in Gold Coast, Australia.

The Brabham racing team was instrumental in bringing many innovations to F1, including carbon brakes, using a wind tunnel to study and improve aerodynamics, carbon-fibre composite body panels, self-leveling suspension and in-race refueling and tyre changes!
It's most iconic F1 cars include:
the 1966 championship winning BT16 which won in spite of being underpowered and was piloted by Jack Brabham himself
the 1978 BT46B 'Fan Car' (pictured above) which exploited a rules loophole to use a big fan to suck it down to the ground and won a race in the hands of Niki Lauda
the 1981 BT49C which used a self leveling pneumatic suspension which skirted the minimum ride rules in F1 and used compressed air suspension to let the car ride lower at higher speeds
the 1983 BT52 which was the first turbocharged car to win a F1 championship, powered by a BMW engine and driven by Nelson Piquet

Many of the sports big names have been involved with the Brabham racing team and MRD in some respect in the past. Drivers Denis Clive Hulme, Dan Gurney, Jacky Ickx, Graham Hill, Niki Lauda, Nelson Piquet, Martin Brundle and Damon Hill have raced for the team. Bernie Ecclestone took charge of the Brabham team after both Jack and Ron Tauranac sold their shares to him after facing financial issues, and led the team to win two more championships. Gordon Murray, whom you may know for his involvement in making the McLaren F1, developed his race car designing skills and race direction tactics working for the team. Ron Dennis (second from the right in the image above), who helped develop McLaren into the supercar manufacturer it is today also worked as a machanic at Brabham racing.

The new Brabham Automotive company is run by David Brabham, Jack's youngest son who has won many racing laurels himself, including multiple Le Mans victories. It wants to continue the legacy of building technologically advanced but fun-to-drive cars which Jack Brabham began. With the BT62, it seems like Brabham will rise again from the ashes to join the racing elite with an aim to competitively race again in Road Racing championships like Le Mans by 2020. Isn't that reason enough to be excited?