Millionaire Bikers - The Cheapest Bike In This List is Worth Rs 48 lakh!
May 13, 2020
Views : 4120
---
Here's a list of the 5 most expensive motorcycles you can buy in India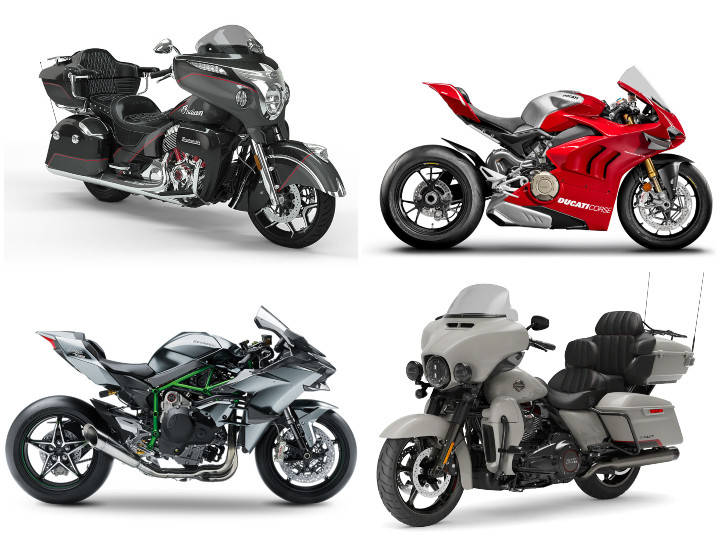 The Indian market has evolved a lot. From watches that cost as much as a house to scooters that cost more than premium cars, you can now get anything your heart desires if you have deep pockets. So if you are one of those extremely wealthy connoisseurs, here's a list of the five most expensive motorcycles available in India that might tickle your fancy. Also with the BS6 deadline looming large, we are sure most bikemakers would willingly chop off a few lakhs off their price tags. Let's start with the most affordable expensive motorcycle.
5. Indian Roadmaster Elite (Rs 48 lakh):

The Roadmaster Elite comes with all the bells and whistles you would expect from a full-sized tourer and then some more. It gets a special paint job that takes 30 man hours to complete and a stonking 600W stereo setup with which you could set up a party in the middle of nowhere. It gets a gigantic 1980cc Thunder Stroke 116 V-twin motor that delivers 168Nm of torque at 2800rpm! Know more about the Indian Roadmaster Elite here.
4: Harley-Davidson CVO Limited (Rs 50.83 lakh):

Another thumping touring option comes from Harley-Davidson in the form of its range-topping CVO Limited. The full-sized tourer raises the bar in terms of comforts with its plush arm-chair like seating for the rider and pillion. It not only gets a booming stereo system but comes with a Bluetooth headset which you can mount to your helmet. Like the Indian, it gets a huge V-twin lump in the form of the Milwaukee-Eight 117 1923cc motor that puts out 106PS and 166Nm of torque. Check out more details about the super tourer here.
3. Ducati Panigale V4 R (Rs 51.8 lakh):

If you prefer the closed confines of a racetrack more than the open road, the Ducati Panigale V4 R is the best track weapon you can buy. This homologation-special track-only motorcycle makes 6PS more while weighing 2kg less than the Panigale V4R. It gets MotoGP-style winglets, delivers 221PS (234PS with Race kit) from its 998cc V4 motor and weighs a scant 172kg (165.5kg with Race kit). Know more details here.
2. Ducati Panigale V4 25 Anniversario 916 (Rs 54.9 lakh):

If you love the Panigale V4 but are looking for something more exotic, Ducati also has the limited-edition Panigale V4 25 Anniversario 916. Limited to 500 units, it gets a unique race livery and exotic components. It gets the stiffer front frame from the Panigale V4 R, forged Marchesini magnesium wheels, titanium Akrapovic exhaust system and carbon fibre and machined aluminium components that together help the motorcycle weigh 4kg less than the standard Panigale V4. Unlike the Panigale V4 R, the Ducati Panigale V4 25 Anniversario 916 is road legal. More details here.
1. Kawasaki Ninja H2R: Rs 75.8 Lakh:

The Kawasaki Ninja H2R is a triumph of motorcycle engineering and is a must-have if you are a motorcycle connoisseur with deep pockets. Compared to others on this list, the H2R gets a modest 998cc in-line four motor but thanks to the use of a supercharger, it delivers a staggering 310PS (326PS with RAM air) and 165Nm. Given the massive power output and the fact that it can achieve a top speed of 400kmph, the H2R is a track-only superbike. Sadly Kawasaki had allocated just one Ninja H2R for India which has already been sold. But you can go for the equally exotic H2 Carbon which makes 231PS and 141.7Nm and as a bonus is road legal. It costs Rs 41.79 lakh.
Note: All prices mentioned are ex-showroom India.