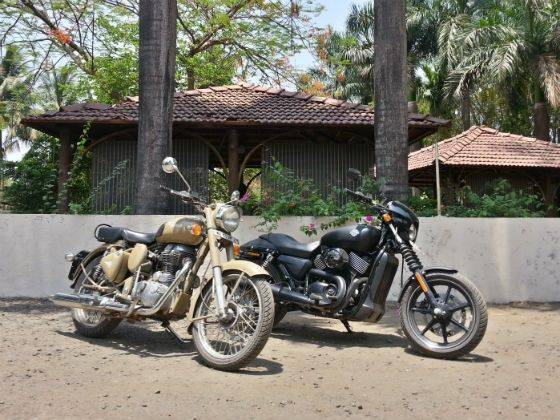 Okay. No matter how it sounds in the title, this isn't a contest, a comparison or whatever else you might want to call it. Because if it were - apart from the price, and possibly ease of maintenance - the Harley-Davidson Street 750 would win on every parameter. What this is then, is an attempt to find out if the new Harley makes for a good upgrade for existing Royal Enfield owners. Now, the new Street 750 has a lot going for it. It is a motorcycle with street presence. It has a lovely engine - torquey, easy revving and reasonably refined. It handles well, has comfortable seating ergonomics and is overall, a fun motorcycle to ride. And apart from the appalling brakes, there's all to like. But that's from a motorcycling journalist's point of view; mine. Would a Royal Enfield owner share my thoughts? Also Read: Harley-Davidson Street 750 Review
To find out, I have invited Ameya Deshpande for a ride. Ameya (name NOT withheld on request as he believes being talked about on the World Wide Web will help his cause in social circles; he is single) owns a Royal Enfield Desert Storm. But, Ameya isn't a motorcycle enthusiast as we know it; he isn't really passionate or even hugely interested in motorcycles. He sees them as a means; a means to full-fill his passion for riding, and riding long distance at that.Also, the only reason he picked up a Royal Enfield, he tells me, is because every motorcycle touring website he visited had a Royal Enfield in it. So, he concluded, it must be the best bike for the job. In fact, the first time he rode an Enfield was when he got on his Desert Storm while taking its delivery. He has now had the motorcycle for three years, and has managed an average of two long distance trips a year. Does he need something better now? He doesn't think so. But then, he doesn't know any better, for he hasn't ridden anything else.
So, on our 300km round trip on the outskirts of Mumbai which starts at Ghodbunder, I ask him to have a go on the Street 750 first. He chooses to follow my lead as we take to the busy but fast four-lanned NH8. The plan is to head past Virar and then find a connecting road which will lead us to the Nasik highway. This way we should get some fast, some winding and some poorly surfaced roads; a good mix to find out what a motorcycle capabilities really are. But, before I can get into the rhythm of riding this particular version of the Royal Enfield Classic, Ameya goes past and pulls over. We have pulled up for our first break barely half an hour into the ride.
But, as it turns out, he is hungry. So while we wait for our order of Misal Pav to arrive, I ask him about the Street 750 expecting child-like enthusiasm in his reply. He, however, sounds more annoyed than anything else. He is struggling with the sharp and alert throttle response of the Harley. He also thinks it's a little too quick. He tells me he saw 140kmph, and he wasn't even trying! But instead of feeling jubilant, Ameya's a tad harrowed. He clearly, is intimidated by the Street 750.
I can understand why. The Royal Enfield makes a little over 40Nm of torque while the Harley's curve peaks at around 65Nm. The difference in power is equally stark - the most you can get out of the RE is still under 30PS; the Street 750 on the other hand makes close to 60PS of max power. So, every time you open the throttle on the Harley with RE as reference, it is bound to shock you. Also, getting to 100kmph on the Desert Storm is an achievement; while on the Street 750 one has to consciously ride slow so as not to exceed that number. Ameya is also quite taken aback with the Street 750's brakes, but not in a positive way. He is actually afraid of them. "There are cattle on the road, you know, and this thing for all its speed, just doesn't stop!" he complains.
I hand him the keys to the Desert Storm, hoping he will see the benefit of a quicker motorcycle after riding the slower one. The sun is now on top of our heads, and it's hot and muggy. I assumed we would be pulling over in an hour's time, but Ameya is showing no such signs. He is actually enjoying his Enfield, cutting through traffic, not really slowing down for sweeping corners, and actually singing inside his helmet swaying to his own tunes. As the second hour draws to a close, we pull into a fuel pump. Neither motorcycle has a fuel gauge, just a reserve light. And coincidently, the lights on both our motorcycles light up at the same time. Interestingly, both bikes also only take in 10 litres of fuel.
I ask him how it was getting back on the Desert Storm after the Harley, and all that he prefers on the Harley Street 750 is its riding position. "The Desert Storm with its high seat and narrow handlebars feels like you are sitting on a bicycle after the Street," Ameya tells me. Hmmm... Now I knew he wasn't a motorcycle person, but that's not the kind of feedback I was expecting. He goes on, "I like the way the Harley looks, but what's with that headlamp and faring... And why is the fairing gloss black while the rest of the bike is finished in matte?" Interesting point that, but is this reason enough for him not to upgrade to the Harley?
"I see the charm of upgrading to the Street 750 from the Royal Enfield - you buy into the Harley brand, and it is fast - but I don't think it is worth Rs 3 lakh more," he tells me. I think he deserves another go at the Harley before he can make up his mind for good. After a couple of chais (not such a good idea in this heat), we head out again, this time back towards Thane on NH3.
And immediately I understand what he meant about the Desert Storm's riding position. You do sit high, and the handlebar after the Harley does seem a bit too narrow. But, there are other issues. The vibration for instance. Hit 90kmph and the vibes can be felt on the handlebar and the footrest; and even though Royal Enfield has made a number of improvements on the Desert Storm compared to its Bullets of yore, particularly in the suspension, swingarm and braking departments, compared to the Harley, the Desert Storm almost feels vintage. The Harley also rides better, is more confident and stable around corners and has better tyres. The brakes though, as Ameya alarmingly put it, are quite bad.
We are almost at the end of the ride, and since the time we joined the four-lanned highway, I have been struggling to keep up with Ameya and the Harley. I can see he is more confident about opening the throttle now and is enjoying going flat out on open stretches. And when we pull up for the final time, I can see him beaming inside his helmet. "I would love to buy this Harley!" he clearly is excited, but the conviction in his voice is still missing. And when I prod, he finally gives me the answer I guess I knew all along; an answer only a person who isn't passionate about motorcycles can conjure up. "For this kind of money, I can buy a car. And honestly, even though the Harley is better, the Royal Enfield works fine for me on long rides."
But I still have a feeling, the more he rides the Street, the more convinced he will be. He did have that twinkle in the eye after getting off the Harley; one you have if you are enjoying a new toy too much. For those still looking for an expert opinion about whether upgrading to the Harley makes sense or not? We think it does.