Aprilia SR 150 Race: Final Long Term Report
by Dhruv
May 15, 2018
Views : 9710
---
I've ridden the standard SR 150 in Delhi but wasn't quite convinced with its daily usage capabilities. Does the SR 150 Race come across as any different?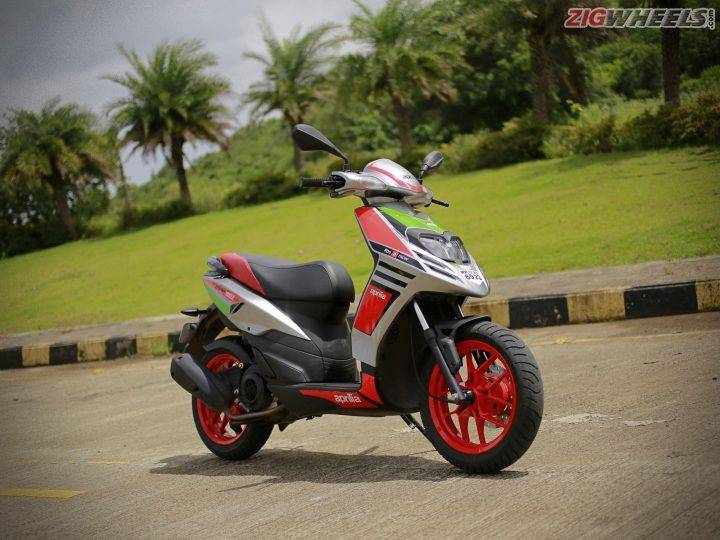 Having just moved from Delhi to operate from Zig's Pune office, I needed a ride for my daily commutes. Public transport is particularly non-existent in the suburbs where I stay and daily use of Ola and Uber didn't leave much scope for cash-saving. This is when Karan came to my rescue as he threw the keys to our Aprilia SR 150 Race long term scooter towards me.

The SR 150 Race is the quickest scooter in India and I was pretty excited to have it since my steed back in Delhi is a KTM RC390, which is a bit too hardcore for city use. So, for the same reason I wanted something friendly for city use, something that would get me to the office, help with the errands and get groceries. Did the Aprilia deliver on this front?

On the surface, the Aprilia SR 150 Race is aimed towards the college-going junta but it's still a scooter and needs to pack in a fair bit of practicality underneath. For a sitrep, I headed to my local supermarket and bought groceries for a month. Despite a relatively high and compact floorboard, I was able to squeeze a big shopping bag on it and the SR's rotating hook helped it stay put. However, the outer half of my shoe sole was dangling off its narrow floorboard. But I can certainly live with that since groceries are going to be just a monthly affair.

It's a sporty scooter and the word 'Race' says it all. Since there's no race track in the vicinity I was naturally itching to take it out on the highway. So I got up on the NH-4 on my way to Lonavala, and boy, was I impressed! The Aprilia SR 150 Race had no issues maintaining highway speeds and could even overtake some overladen Scorpios and Safaris at times. Going full throttle the whole time and retaining an odo-indicated speed of 100kmph was easy-peasy for the little Italian. But it all felt a little weird being a scooter and making high-speed manoeuvres didn't feel confidence-inspiring for the same reason. However, the full-throttle 145 km jaunt made it thirsty, very thirsty, returning a fuel economy of just 29.59kmpl.

There was another major grouse: The knocking from the engine that Karan pointed out in his earlier report hasn't subsided. It creeps in every time you start from a standstill and is annoying to the point of making me think that it might just fall apart -- and that's not something you'd want to hear. Due to this issue the CVT provides head nods during initial acceleration, reminiscent of some archaic AMT (automated manual transmission).

Upon inspection, the service advisor pointed out some issue with the gearbox and our long termer now stands parked at their service station. And with that, the SR150 Race has gone back to the company - a very anticlimactic adieu to a very fun scooter. That said, Aprilia has promised us the newer SR 125 as a replacement for our long term fleet, and we should be receiving it soon. I'm just hoping that our stint with the smaller Aprilia is less troublesome than the one with the SR150 Race. Fingers crossed!

Total km to date: 3600km
Date acquired: August 2017
Fuel efficiency: 29.59 (Highway), 31.1 (City)
Cheers: Braking and Power
Sneers: Reliability, Service quality, Storage space, Stiff suspension
Aprilia SR 150 Video Review
Add Your Comments