Aprilia SR150 Race: Fleet Induction & Long Term Review
---
The spunky new Aprilia SR150 Race has joined the ZigWheels fleet. We're about to find out how such a focused sports scooter fares in the real world, especially the monsoons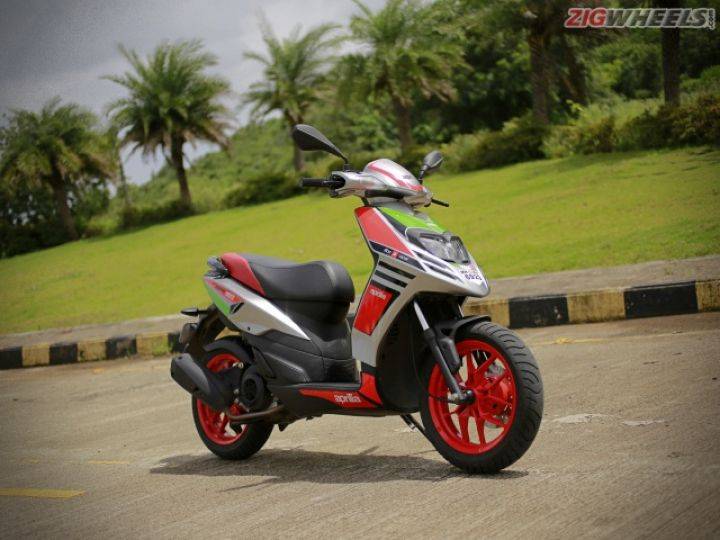 It's been 3 months since I joined the ZigWheels team as two-wheeler road tester. As the owner of a 2nd generation KTM Duke, I have always been used to riding something that keeps me engaged in my journey from home to office and back. At times though, the constant rush gets too much to handle, due to which I have recently been on the lookout for something more relaxed. So when I got to know that I am getting a long termer and it's a scooter, I was quite happy. However, my excitement was shadowed when the Ed told me that it's going to be the SR150, which is the only sports scooter on offer in India today. With some hesitation, I went to the showroom, picked it up and rode it around for a week now, and here is my report.

The Aprilia is easily one of the most stylish long termers we have in our fleet at the moment. The attention to detail in this scooter is admirable. However, it is also a sporty scooter, so it does miss out on the practicality factor. The floorboard, for instance, is wide and broad enough to only accommodate my feet, along with a medium sized carry bag hooked onto the clamp offered. I did try keeping my office bag there but with that placed, there was barely any room for my feet.

The SR150 is a sporty scooter, so it does miss out on the practicality factor. These include the shortage of adequate storage space, as can be seen from the under seat storage. It's only big enough to keep a small size half face helmet.

The first day and ever since, when I have to tackle the city traffic. I don't really have to worry about the gearing, as this an automatic scooter with the power to take on most motorcycles with ease. I was quite amazed by the braking response at first and took some time getting used to the rapid response from them, which feels reassuring indeed. The much essential rear brake lock on the brake lever is missing though.

The telescopic front forks and the coil spring suspension are tuned to offer a stiff ride. This makes it a great tool to take on corners, but as far as daily commutes is concerned, it does take a toll on your back, making you slow down over most bumps and undulations. Aprilia claims that the SR150 Race edition offers 66kmpl, but I am able to manage around 38kmpl in the city.

The Aprilia SR150 Race has been with us for almost a week now, and irrespective of its lack of practicality component, it's become one of the favourites from our lot. More on the SR150 Race later, as i continue to crunch miles over the month.
Total kilometres done: 1658km
Date Acquired: 29th August, 2017
Fuel Efficiency: 38kmpl (City)
Cheers: Styling, Braking, Power
Sneers: Storage space, Stiff suspension