Bajaj Chetak vs Ather 450 vs Revolt RV400: Battle Of The Electrics
by Alpesh
Jan 14, 2020
Views : 8986
---
We pitch the newly launched Chetak against the best EVs out there
After a long wait, Bajaj has finally launched the Chetak in India. Although we haven't ridden it yet (we are itching to get our hands on one), we are pretty impressed with its build quality and the numerous features on offer. However, there's another electric scooter in the market, which we think, is currently the benchmark in the e-scooter space. Yes, we're talking about the Ather 450. But to make things a bit more interesting, we're also throwing in the Revolt RV400 into the mix. 'Cause why not?
Also read: Bajaj Chetak: All The Important Details
How far can each go?
Chetak

Ather 450

Revolt RV400

Battery capacity

3kWh

2.7kWh

3.24kWh

Range

95km in Eco mode

75km in Eco mode

150km in Eco mode

85km in Sport mode

55km in Sport mode

80km in Sport mode

Charge time

5 hours - Full charge (5amp socket)

5.30 hours - Full charge (Dot)

4 hours 20min - 0-80 per cent

4.5 hours - full charge

3.5 hours - 80 per cent

1 hour - 80 per cent (Fast Charger)

3 hours - 75 per cent

'Kitna deti hain?' will soon be replaced by 'What's the range, bro?' Range is a very important factor when it comes to buying an electric two-wheeler. And in that regard, the Revolt RV400 takes the lead. It has the biggest battery of the lot and offers an insane range of 150km! However, that is a claimed figure as opposed to Bajaj and Ather's real-world range. While the standard Ather 450 might be behind the Chetak in this aspect, there's a new 450X variant, which could get a bit more range. But can it be on par with the Chetak? Well, we'll have to wait and see until the scooter is officially launched.
When it comes to charging, the Revolt RV400 is the clear winner. What also works in its favour is that it gets removable battery, which can be swapped in, like, 20 seconds? Meanwhile, the Ather 450 comes with a fast charger, while Chetak doesn't as Bajaj says it would deteriorate the battery cells quickly. The Chetak and the Ather 450 are quite closely matched when it comes to charging the battery via a normal socket.
What about powahh?
| | | | |
| --- | --- | --- | --- |
| | Chetak | Ather 450 | Revolt RV400 |
| Motor | 4.08kW | 5.4kW | 3kW |
| Torque | 16Nm | 20.5Nm | 54Nm |

This is where things get interesting. You see, manufacturers have tuned the motors as per their needs. The Revolt, which has the smallest motor, churns out the most torque, at 54Nm. Whereas the Ather 450 sits right in the middle even though it comes with a 5.4kW motor. The Chetak, with the smallest battery and the least amount of torque, trails behind the other two contenders in this list. The Revolt RV400 is positioned as an entry-level performance-oriented motorcycle, hence, the insane torque figures. Now, on paper, the Revolt RV400 might be the clear winner, but we have to test each one back-to-back to feel the difference.
Underpinnings:
Chetak

Ather 450

Revolt RV400

Front suspension

Trailing link

Telescopic

Upside down

Rear suspension

Monoshock

Monoshock

Monoshock

Front brake

Disc

Petal Disc

Disc

Rear brake

Drum

Petal Disc

Disc

Wheel size

90/90 12-inch at both ends

90/90 12-inch at both ends

90/80-17-inch front

120/80-17-inch rear
The suspension setup on the Ather 450 is a bit on the firmer side, and it filters out the road imperfections quite well. Now, we haven't ridden the RV400 to that extent; it was just a few laps around a small track. During that limited time, we found the RV400's suspension quite stiff. However, we will get to know a bit more on how this setup works on our roads when we get it for a proper road test.

The Chetak, on the other hand, gets a linked front suspension just like its namesake forefather and a monoshock at the rear. Considering that it's a family-oriented scooter, we think the setup could offer a plush ride, instead of a sporty ride like the Ather. Moreover, both scooters come with low-rolling resistance tyres for improved efficiency.
While Ather and the RV400 come with discs at both ends, the Chetak gets a drum brake at the rear. And yes, all three come with CBS as standard. In fact, the Chetak gets regenerative braking, which adds 2.8m to the range every time you go from 60-0kmph. Now, even the Ather comes with this feature, but the manufacturer hasn't revealed how much range can be extracted.
Features galore:

Every electric two-wheeler feels incomplete without a list of features. While the Chetak and the RV400 get a normal digital instrument cluster, the Ather 450 comes with a touchscreen display! Features like Bluetooth connectivity and smartphone integration are common among the three. However, if you dig deep, you'll see each one comes with a set of quirky features that separates it from the rest. For instance, the Ather has its full-colour display, the Chetak gets an electronic key fob, and in the RV400 you can change the 'exhaust note' via the app.
What about the price and availability?
| | | |
| --- | --- | --- |
| Chetak | Ather 450 | Revolt RV400 |
| Rs 1 lakh (Urbane) | Rs 1.07 lakh (ex-showroom Bengaluru) | Rs 98,999 (ex-showroom) |
| Rs 1.15 lakh (Premium) | | -- |

This trio of electric two-wheelers is quite closely matched in terms of price. The Ather 450 sits right in between Chetak's two variants. We have already ridden the Ather 450 and the Revolt RV400, and we can affirm that these two are among the best EVs out there. But, what about the Chetak? Well, we haven't ridden it yet, but we have pretty high hopes. After all, it represents 'Humara Kal.' Now, all these two-wheelers have one thing in common -- they are being launched in a phased manner. So, you might have to wait for some time if you live in, say, Goa or Punjab.
Bajaj Chetak Video Review
More on Bajaj Chetak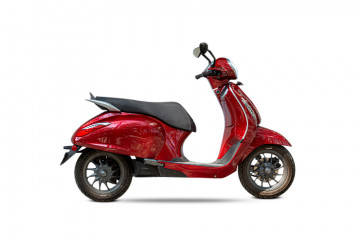 Rs. 1.00 Lakh Onwards
Ex-showroom, Delhi
See what our community has to say!
NEW
India's largest automotive community