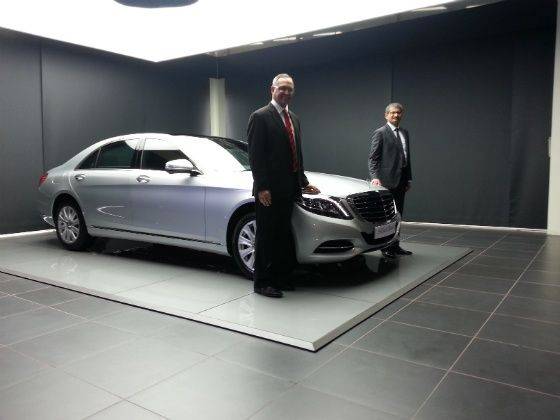 Mercedes has launched the diesel version of its well accepted and benchmark setting new generation S-Class in India for Rs 1.07 Crore. The S 350 CDI like its more expensive petrol twin, the S 500, is being assembled in India. And like the petrol version sports the same new age exterior design and class-leading interiors, be it fit and finish, quality of materials or the overall aura of richness.
The new S-class diesel which will go up against the likes of the Audi A8, BMW 7 Series and the recently launched Jaguar XJ 3-litre diesel, is powered by a 3-litre V6 Diesel engine. The engine develops a max power of 258PS and an even more impressive torque rating of 620Nm. The engine is mated to a 7-speed automatic gearbox which Mercedes likes to term as the 7G-tronic Plus. The automatic gearbox drives the rear wheels of the new S-Class diesel.
In terms of equipment, the diesel S 350 CDI isn't as well equipped as the launch edition of the S-Class that was introduced in January this year. For starters, the diesel S-Class is a five seater instead of a four seater. Now, this might have increased the carrying capability and practicality of the S-Class, but it also means some pampering bits which were part of the four-seater package have had to go as well. But, it isn't exactly short on equipment either is the S 350 CDI; it still gets all the comfort and convenience related equipment sported by its competition.