Who Says Electric Scooters Can't Be Exciting?
Nov 29, 2020
Views : 2570
---
Certainly not Kymco that has just taken the wraps off its F9 electric scooter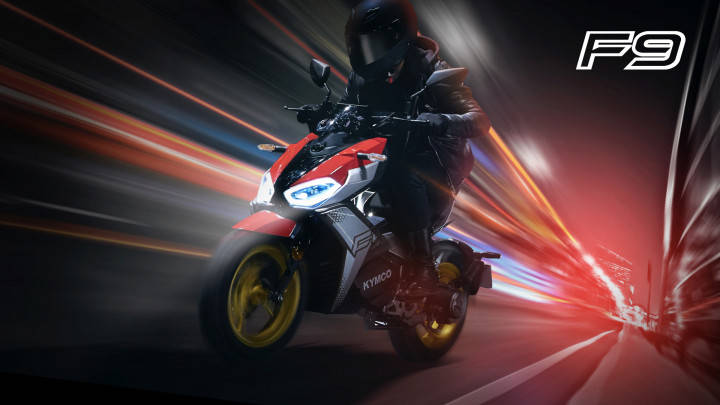 Most electric scooters, at least those that we get in here in India, are meant to provide an affordable commuting alternative to petrol-powered scooters. Sure, you have scooters like the Ather 450X, which provide a healthy dose of sportiness, but we aren't too certain if it's enough to convince thrill-seeking bikers to jump on the electric bandwagon. But Taiwanese scooter maker Kymco could just have the perfect solution. Say hello to F9, which clearly looks like a product of an electric love affair between a Ducati Panigale and an Italjet Dragster.

And just like the Panigale, which uses its incredible L-twin (or V4) engine as a stressed member, the F9 does so with its battery pack. While this means that the batteries are not swappable (a'la Kymco's Ionex tech, which you can read more about here), it certainly is a great solution to keep the weight down -- this funky e-scoot weighs just 107kg, despite packing a sizeable 3.84kWh battery pack (96V and 40Ah). To put that into context, the Ather 450X's battery pack has a capacity of 2.61kWh. That's enough to give the F9 a claimed range of 120km. Now, this might not be a fair comparison, but Ather claims only 85km for the 450X. And on top, Kymco also claims the F9 can be fast-charged in just two hours.

Of course, range and charging times aren't really the F9's talking points -- this bad boy is all about performance and there's plenty of that to be had. The motor makes 9.4kW of peak power and 30Nm of torque (the Ather 450X manages 6kW and 26Nm). And unlike pretty much all other electric scooters, which feature a direct drive system, the Kymco F9 gets a 2-speed automatic transmission. This, Kymco states, allows for a lot more torque to be available while setting off. So, the F9 accelerates from 0 to 50kmph in 3.0 seconds, which is 0.3 seconds quicker than what the 450X takes to get to 40kmph. And it can go on to hit a top speed of 110kmph. Not bad!

We guess the F9 will also be an adept handler, given its front telescopic suspension, rear motorcycle-like monoshock, 14-inch wheels and grippy tyres. That said, it does lose out on the practicality afforded by a typical scooter design -- there's no underseat storage, no floorboard (it's more like a step-through moped) and it's also got a single seat. But when an electric scooter is offering such an insanely fun riding experience, do we really care?


At this point, Kymco hasn't said anything about pricing and availability, but we expect the F9 will first be available in its home market of Taiwan and possibly in Europe later on. With Kymco's India plans on hold for now, we really don't believe we'll see the F9 here, or even anything similar, for the foreseeable future.