Curtiss Motorcycles' Electric Prototype Unveiled
by Niraj
May 17, 2018
Views : 6619
---
The company's first electric motorcycle features a radical design and will hit production lines in 2020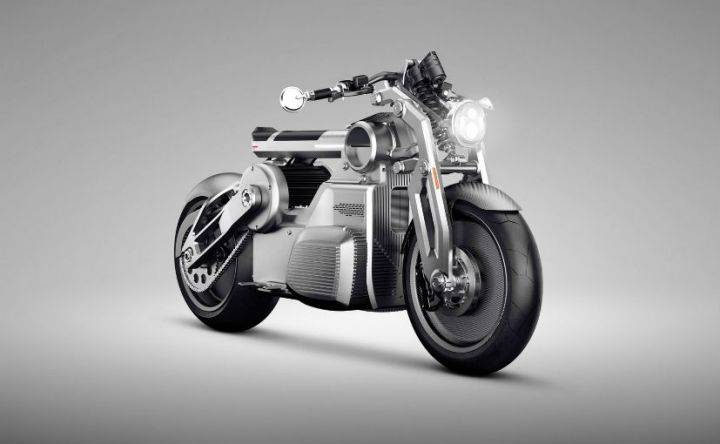 Curtiss Motorcycles, formerly known as Confederate Motors, made a name for itself designing some of the wackiest looking, V-Twin powered, petrol-guzzling motorcycles. So it was pretty surprising when the company decided to make the switch to electric motors. Now, after almost nine months of making that announcement, the company has revealed its first electric prototype, the Curtiss Zeus.
Fans of the company need not worry, as from what we can see from the prototype, the aptly named Curtiss Zeus' continues to carry the same unique design language as its fossil fuel-powered predecessors. It uses a machined billet aluminium chassis which uses bolts instead of welds. The front end of the motorcycle uses Racetech internals in a double wishbone design while the rear features a concentric pivot point with the electric motor's driveshaft.
The prototype is also seen laden with features like an iPad/tablet dash-mounted unit, LED lighting all around and a see-through panel, in case you want to see the twin electric powertrains. Speaking of which, the motors are sourced from Zero Motorcycles. These motors use what the company calls an "E-Twin" platform, which involves the dual mills feeding into a single output shaft. According to the company, this allows for around twice as much as power and torque you can get from a Zero, which is 172PS of power and 393Nm of peak torque - litre-class territory!
To control that amount of power, Curtiss has employed Beringer brakes and Pirelli-wrapped BST wheels for the Zeus. Currently, it uses a 14.4kWh battery pack. However, the company states that the figure should increase before its launch in 2020.
While the prototype may seem to sport a unique design, just like every Confederate bike, we expect a tamer version of the motorcycle to hit the streets in two years.
Add Your Comments