Confederate Motorcycles Switches To Electric
by Niraj
Aug 31, 2017
Views : 16932
---
The American bike manufacturer will build 13 more bikes under the Confederate Motors banner before going all-electric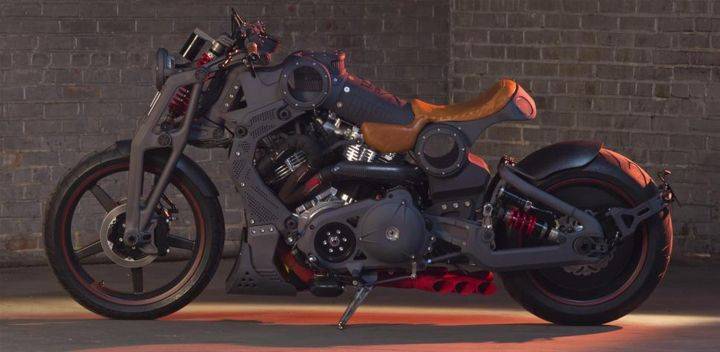 If you've ever come across a wacky motorcycle that looks straight out of a sci-fi movie, there's a good possibility that you had the rare chance of seeing one of the last remaining Confederate Motorcycles. The company has earned a reputation for designing and manufacturing some of the meanest looking bikes on the streets. The unique aesthetics and big block engine have garnered them many loyal customers. However, with the displacement battle exploding (pun intended) in recent years, there is no room left for substantial improvement. This has led many manufacturers to switch to electric motors.

Sadly, for many petrolheads out there, that means the FA-13 Combat Bomber will be the last ever bike to be manufactured by Confederate Motorcycles, before the company rebrands itself as Curtiss Motorcycles. The bike is powered by a V-twin motor that delivers 152PS and 223Nm of torque. The Confederate Combat Bomber retails for $155,000 (Rs 99 lakh) in the US market. The new name is a nod to aviator Glenn Curtiss, an avid motorcycle builder and racer, who was also a fierce competitor of the Wright Brothers.

Curtiss Motorcycles has collaborated with Zero Motorcycles to design and manufacture the Hercules - the first ever electric motorcycle in the company's history. The bike is said to produce 175PS of power and 393Nm of peak torque. Given the fact that all that gargantuan 393Nm of torque is delivered from the word go, expect the Hercules to demolish many gasoline-powered superbikes. The Hercules will be manufactured at Zero's California headquarters. If earlier reports are to be believed, the bike will sport low and sporty cruiser aesthetics, similar to the B120 Wraith. It still remains to be seen how loyal customers of the brand will react to the sudden paradigm shift of the company.
Recommended read:
- Confederate X132 Hellcat Speedster unveiled
- Confederate unveils P51 Combat Fighter Motorcycle