Yamaha's BS6 Lineup Launch Is Like Christmas Come Early
Oct 25, 2019
Views : 15663
---
The Japanese manufacturer is expected to launch some or all the models in its BS6 lineup on 19 December. And we hear the new Fascino might just be the star of the show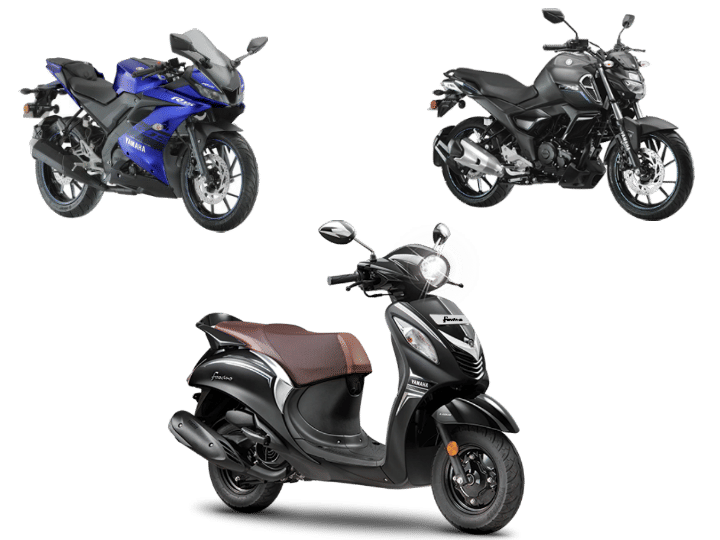 Yamaha motorcycles as well as scooters could be launched in BS6-compliant form.
Chief suspects are the Fascino, R15 and FZ.
The Fascino has been spotted testing while specs for the R15 and FZ have been leaked.
You might want to update your Christmas shopping list, because Yamaha is expected to unveil its BS6-compliant lineup on 19 December in Chennai. This comes hot on the heels of spy shots of an updated Fascino that we came across a few weeks ago, as well as leaked documents revealing the specs for the R15 and FZ. Hence, we expect the updated lineup to comprise both scooters and motorcycles.

Aside from the 113cc engine receiving fuel injection, the new Fascino will also get revised bodywork and likely an external fuel filler. That should create more underseat storage space, which at 21 litres for the current model is pretty decent. Front wheel size should be upped to 12 inches as well. It should improve the scooter's stability over bad roads. The rear seems to carry over the same 10-inch wheel. We expect the updated motor to have numbers similar to the current motor's 7.2PS and 8.2Nm. However, thanks to fuel injection we can expect fuel efficiency to improve.

Unlike the Fascino, the BS6 R15 and FZ are expected to carry the same bodywork, maybe with revised graphics. Both the BS6 Yamaha FZ-S FI Version 3.0 and FZ FI Version 3.0 make 12.3PS, which is 0.9PS less than the current BS4 models. However, the power is made 750rpm lower down so maybe Yamaha could have tuned the motor for better low down grunt.
It is the same case with the BS6 R15 V3.0. Its tech-heavy 149cc liquid-cooled powerplant takes a performance hit and now makes 18.63PS, which is 0.67PS less than the BS4 model. Like the FZ models, the R15 V3.0 is expected to get new graphics as well. The MT-15 could quite possibly be updated to BS6 as well.

Price-wise, the BS6 scooters are expected to cost substantially more than their BS4 counterparts. The BS6 Fascino with its new bodywork and new features is expected to cost Rs 6,000 to Rs 7,000 more than the current BS4's price of Rs 57,523 (ex-showroom Delhi). The BS6 FZ-S FI V3.0 is expected to cost around Rs 9,800 more than the current price of Rs 98,680. Its more affordable variant, the FZ FI V3.0, cost around Rs 9600 more than the current Rs 96,680 retail price. We expect the flagship R15 V3.0 to cost around Rs 14,000 more than the current Rs 1.4 lakh.