BMW X7 vs Rivals: Spec Comparo
---
With BMW launching the X7, the full size luxury SUV segment is set to see some intense action.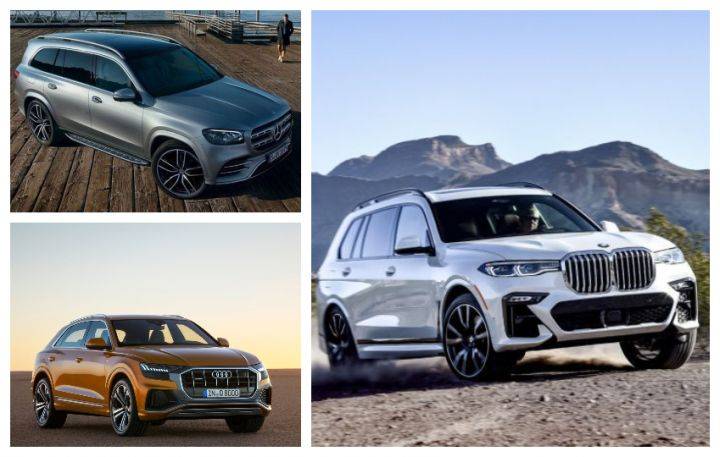 The Mercedes-Benz GLS was the only choice for those looking for a big brawny luxury 'German' SUV in the Rs 1 crore bracket. Yes, there was the Audi Q7 that offered similar space and almost as much luxury but it wasn't really a flagship. So the GLS enjoyed a long period of success. To create a stir in the segment, BMW has now launched the flagship X7 SUV at a price of Rs 98.90 lakh (ex-showroom). But with the third generation GLS and the flagship Audi Q8 inbound, should you sign the cheque for the BMW or wait it out?
Note: Since the Audi Q8 and 2020 Mercedes-Benz GLS haven't been launched in India, we've taken their international-spec models for the comparo.
Styling and Dimensions:

Let's start with the BMW X7. Yes, the huge kidney grille does split opinions. But take that out of the equation and the X7 comes across as a neatly styled SUV. It features a very sleek design. The slim headlamps with the twin ring DRLs is very much BMW. In profile, the size does make its presence felt, considering the long overhangs and wheelbase. At the rear, the X7 is undeniably BMW with split LED tail lamps and sporty bumpers.

Audi is one manufacturer who manages a clean and sporty design. And that's what the Q8 is all about. The front-end is dominated by the single piece Audi-esque grille that are flanked by stylish LED headlamps. Below them are a set of aggressive airdams that give it some much required sportiness. In profile, the Audi looks more like an coupe-SUV thanks to it being the shortest. But, two muscular haunches over either wheels give it the much required oomph. Then there's the connected LED tail lamps that top up the look.

The 2020 Mercedes-Benz GLS defines the word butch here. Yes, Mercedes might have toned it down but the typical Mercedes grille with the XXL-sized tristar logo screams attention. These are flanked by chunky LED headlamps. At the side, you'll notice that it gets muscular wheel arches and two sharp creases for added character. At the back, the 2020 GLS gets sleek split-LED tail lamps and chrome exhausts for that extra bling.
Styling kept aside, these SUVs need to flaunt their attitude with size as well. Let's see how they fare against each other when you take the measuring tape out.
| | | | |
| --- | --- | --- | --- |
| | BMW X7 | Audi Q8 | 2020 Mercedes-Benz GLS |
| Length (mm) | 5151 | 4986 | 5213 |
| Width (mm) | 2000 | 1995 | 2157 |
| Height (mm) | 1805 | 1705 | 1823 |
| Wheelbase (mm) | 3105 | 2995 | 3135 |
Longest: Mercedes-Benz GLS
Widest: Mercedes-Benz GLS
Tallest: Mercedes-Benz GLS
Wheelbase: Mercedes-Benz GLS
The X7, measuring above 5 metres in length, 2 metres in width and 1.8-metres in height, is a mammoth. It is beaten only by the Mercedes-Benz GLS, which has the class leading figures here in all measures. The sporty looking Q8 is the smallest in all dimensions, especially in height, where it looks more coupe-SUV rather than SUV. The Q8 also comes as a 5-seater only unlike its 7-seater rivals.
Features:

These flagship German SUVs come with all sorts of features that one expects while putting down a crore of money. Standard features on all include three zone climate control, an infotainment system with the respective manufacturer's trademark software, ambient lighting, powered front seats with memory function, panoramic sunroof, digital driver's display as well as cruise control. They also come with all LED headlamps and tail lamps.
Audiophiles' needs are also catered for and the Audi comes with a Bang and Olufsen, the Bimmer with a Harman Kardon and the Merc with a Burmester sound system. Neat!

As usual with all top-end Germans, these models come with a host of unique features to woo you. The Audi Q8 comes with features like adaptive cruise control, lane assist, garage door opener via Homelink, Audi's pre sense safety system and traffic sign recognition. It also comes with heated rear seats.
The BMW X7 can be had with a 5-zone climate control system, laser LED headlamps, temperature controlled cup holders and BMW's display key

But, the Mercedes-Benz packs in the most to provide the best bang for your buck. It comes with driving assistance (semi-autonomous driving), trailer assistance, massaging seats, blind spot warning as well as active speed limit assist. The Mercedes also comes with connected-car tech which packs in some cool features like online navigation, live traffic information, parking space information, pre-heating and pre-cooling, remote vehicle search and a whole lot more.
| | | | |
| --- | --- | --- | --- |
| | BMW X7 | Audi Q8 | 2020 Mercedes-Benz GLS |
| Unique Features | BMW Display Key and 5-Zone climate control | Adaptive cruise control and Audi's pre sense safety system | Driving and Trailer Assistance, Connected-car tech |
Safety Features:
| | | | |
| --- | --- | --- | --- |
| | BMW X7 | Audi Q8 | 2020 Mercedes-Benz GLS |
| Airbags | 8 | 6 | 8 |
| ABS with EBD | Yes | Yes | Yes |
| 360-degree camera | Yes | Yes | Yes |
| Front and Rear Parking Sensors | Yes | Yes | Yes |
| ESP | Yes | Yes | Yes |
| Traction Control | Yes | Yes | Yes |
| Electric Parking Brake | Yes | Yes | Yes |
| Tire Pressure Monitoring System | Yes | Yes | Yes |
All these models come with a plethora of safety features like ABS with EBD, 360-degree camera, front and rear parking sensors, ESP, traction control, electronic parking brake and tyre pressure monitoring system. While the X7 and GLS comes with 8-airbags as standard, the Q8 comes with six which is a bit of a let down.

Petrol Powertrain Options:
Note: 2020 GLS comes with a diesel engine only
| | | | |
| --- | --- | --- | --- |
| Petrol | BMW X7 | Audi Q8 | Mercedes-Benz GLS |
| Displacement | 3.0-litre | 3.0-litre | ----- |
| Cylinders | 6 | 6 | ----- |
| Power (PS) | 340PS | 335PS | ----- |
| Torque (Nm) | 450Nm | 500Nm | ----- |
| Gearbox | 8-speed | 8-speed | ----- |
| 0-100kmph | 6.1 seconds | 5.6 seconds | ----- |
Most Powerful: BMW X7
Torquiest: Audi Q8
Fastest: Audi Q8
The X7 and Q8 discharge power from a 3.0-litre 6-cylinder petrol motor. The X7's engine produces the most power but makes the least torque. It's vice versa in the Audi. Both models come with an 8-speed gearbox. If it's spirited driving you're looking for, the Audi Q8 is the one to go for as it is the fastest to 100kmph.

Diesel Engine Options:
| | | | |
| --- | --- | --- | --- |
| Diesel | BMW X7 | Audi Q8 (UK-Spec) | Mercedes-Benz GLS |
| Displacement | 3.0-litre | 3.0-litre | 3.0-litre |
| Cylinders | 6 | 6 | 6 |
| Power (PS) | 265PS | 286PS | 330PS |
| Torque (Nm) | 620Nm | 600Nm | 700Nm |
| Gearbox | 8-speed | 8-speed | 9-speed |
| 0-100kmph | 7.0 seconds | 6.3 seconds | 6.3 seconds |
Most Powerful: Audi Q8
Torquiest: BMW X7 & Mercedes-Benz GLS
Fastest: Audi Q8 and Mercedes-Benz GLS
Just like their petrol counterparts, the diesel models come with a 3.0-litre 6-cylinder unit. The X7's diesel engine produces 265PS which is the least here. Its 620Nm of torque just beats the Q8 by a small margin. Boasting class-leading figures in this comparison is the Mercedes Benz GLS . The 330PS and 700Nm figures beat its competitors by a significant margin. But while the GLS boasts the best power figures, it posts a similar 0-100kmph time as the smaller Q8. The X7 is the slowest of the lot.

Price:
| | | | |
| --- | --- | --- | --- |
| | BMW X7 | Audi Q8 | 2020 Mercedes-Benz GLS |
| Prices (ex-showroom Delhi) | Rs 98.90 lakh | Rs 90 lakh (Expected) | Rs 90 lakh (Expected) |
The BMW X7 which is priced at Rs 98.90 lakh is indeed a good choice at present. While its looks might split opinions, the Bimmer is loaded with technology and comes with a set of powerful engines as well. But if you aren't in a hurry, we suggest you to wait for a bit as the next-gen GLS and the Audi Q8 is expected to launch in India soon. Expected to feature a similar price tag as the X7, they could be an alternative worth considering.

More on BMW X7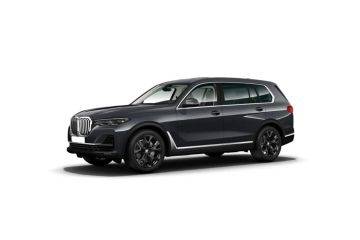 Rs. 93.00 Lakh Onwards
Ex-showroom, Delhi
Contact Dealer
View On Road Price