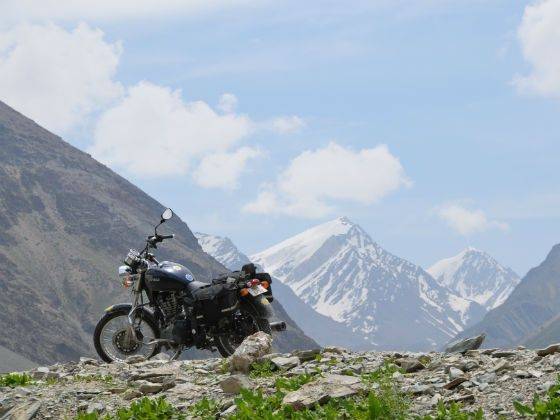 At the outset, let me tell you a very clichéd desire I have harboured since a long time. A ride to Leh is like those pilgrimages every biker hopes to undertake at least once in his lifetime and I wasn't any different. So when my name was called out for the 2013 Royal Enfield Himalayan Odyssey, my happiness knew no bounds…of course, as expected there was a catch! The crazy schedule in office meant that bossman allowed me only a half trip, which I gleefully accepted. After all, even the half trip was a full 11-day affair, which was more than I could have even dreamt for.
In the run up to the ride, I consciously began avoiding reading about earlier Odysseys or looking up their photos in a bid to maintain the excitement. On my flight to Delhi – the originating point of the ride – a plethora of thoughts ran through my mind ranging from concerns about the terrain, weather, altitude, etc. At one point I even began having doubts on whether I will be to make this journey at all. My biggest concern was that prior to this ride, the most I had ever clocked on a bike in a day was 150km and now I had signed up for a 1,300km journey in one of the most testing conditions a biker could ever face!
The perfect harmony of a typical Delhi morning was broken with the thump generated from over 100 Royal Enfield motorcycles lined-up for the Odyssey bursting to life. Even before I could ride from the hotel to the flag-off point at India Gate, there was trouble. The fuel tank of the Thunderbird 500 given to me by Royal Enfield for the Odyssey began leaking. Luckily, the Himalayan Odyssey mechanics were on hand and they fixed the problem in a jiffy. So after this not-so-perfect start, I set off for the first re-group point in the outskirts of Delhi where we were divided in groups of two with 50 riders each. As we made our way to Chandigarh, the second group left for Parwanoo. The roads were arrow straight (read boring) and by afternoon we were in 'the city beautiful'.
The ride from Chandigarh to Manali provided us with some beautiful winding roads through the mountains and was just the dose we needed to kill the boredom we faced enroute to Chandigarh. At the halfway mark, I rode into yet another hitch with the rear disc falling off its bracket! The ride from Chandigarh to Manali provided us with some beautiful winding roads through the mountains and was just the dose we needed to kill the boredom we faced enroute to Chandigarh. At the halfway mark, I rode into yet another hitch with the rear disc falling off its bracket! But as they say 'everything in life happens for a reason' and while waiting for the mechanics to arrive and fix my bike, I met Martin and Raghav who hanged around me till help arrived and from then on became my riding buddies for the trip. The fact that I had covered more than 250km without much strain further boosted my confidence for the journey.
The next day all of us gathered for the early morning briefing ahead of the ride to Keylong. "The ride here on won't be so straightforward," said group leader Sachin Chavan from Royal Enfield to the pack much to everyone's glee. However, little did we realise at that point how taxing every ride from then on was going to get. The first re-group point for us was Rohtang pass and as we made our way up to the pass, the roads were covered in dense fog and visibility was hardly 10 feet. It was scary negotiating our way past the tight twisties with hardly any visibility. Once past Rohtang, bad and broken roads became our ally as our machines hopped and skipped over them till Tandi.
As we braced ourselves for Sarchu, I sensed that not everyone was thrilled about this chapter of the ride as it is notorious for high altitude sickness. The ride to Sarchu was the most challenging for me as it really tests your riding skills and mental strength to the hilt. It was also during this journey we encountered one of the many water crossings dotting the route. It is one of the most difficult situations a biker can face mind you and when the ice-cold water seeps through your shoes it gives you a massive jolt.
En-route we passed through Baralach La, where we had an amazing experience of riding between ices as we carved our way to our destination. Pursuant, we fought through the broken tarmac, gravel, mud, slush and more river crossings before we reached our camp in Sarchu. My colleagues had warned me about the altitude sickness one faces at Sarchu and had suggested me to drink plenty of water and conserve my energy. These tips helped me immensely as the next morning I was one of the few fellow riders who weren't affected by it.
But the other riders looked worn out and jaded, and were in two minds about whether they can ride till Leh since they hadn't had much sleep owing to their sicknesses. However, the moment the engines were fired, all discomfort vanished as we began our 250km journey to Leh. The highlight of this ride was More planes –a single stretch of perfect tarmac cutting past barren flat lands with stunning mountains and valley around you. It was a delightful experience to waft past the road absorbing the beauty of nature. After passing Gata loops, we reached La Chung La, which is the second highest motorable road after Khardung La, and this boosted the spirits of the sick riders and everyone made it to Leh safe and sound.
After a much-needed rest day, both for the riders and their beloved machines, it was now time to ride to Hunder. The prospect of passing through the highest motorable road in the world got everyone excited. Khardung La was 40km from Leh and after a steep climb we finally reached there. The riders spent the next 20 minutes shooting pictures of themselves next to the board that proclaimed their achievement.
From there, we commenced our journey to Nubra Valley and en-route travelled through some of the best twisties one can encounter with banked corners which everyone enjoyed to the core. The landscape of Hunder was a far cry from what we had been witnessing all throughout the trip as the whole area was covered in sand! After an overnight stay at the camp, we headed back to Leh after which my memorable ride came to an end. Suddenly 11 days just didn't seem enough and I wanted more! I was filled with a deep yearning to go the whole hog and complete the journey by riding back to Delhi. But alas, I would have to wait for some other opportunity to quench that desire.
Many people say that riding to Leh has become a cakewalk now since roads have improved over the years. I agree that it has become easier but a ride to Leh can never be undemanding. More and more people make to the summit of Mt. Everest with each passing year due to improved equipment and other bits but that doesn't make climbing the Everest effortless. And so is the ride to Leh. Any two-wheeler enthusiast with the right determination and willpower can accomplish Leh and he should! Because it is beyond words to express this adventure and can only be understood after one experiences it.