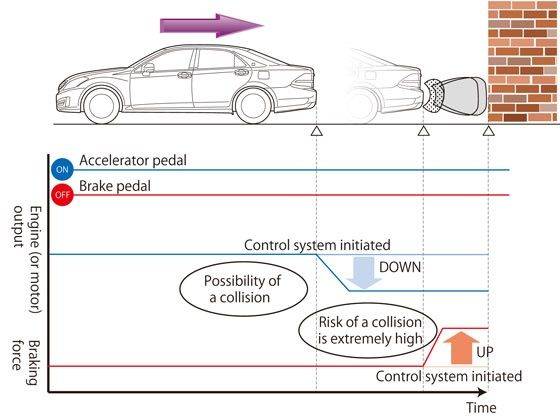 At its annual Safety Seminar held this week in Japan, Toyota has revealed a new technology that uses sonar waves to detect obstacles on a vehicles path at parking speeds.
Parking in increasingly tight spaces in urban environs can get tricky and low obstacles are not always visible to a driver. Toyota's new technology called Intelligent Clearance Sonar detects obstacles in a vehicle's path while parking. The system sounds an alarm while reducing engine power and automatically applies the brakes if there is a risk of collision.
Another system called Drive-Start Control is used to detect if a wrong gear has been selected when the driver uses the accelerator pedal (eg, selecting forward gear instead of reverse while parking). The system flashes a warning and reduces engine output to prevent sudden acceleration.
Toyota will be introducing both these safety systems in their future vehicles.
The Japanese car maker has further developed its Pre-Crash safety system that features in a number of Toyota and Lexus models. A collision avoidance system is now integrated to reduce or prevent rear end impacts altogether even at high speeds.
The new system uses millimetre wave radar technology to monitor the risk of a collision with a vehicle ahead. If the system detects an impact it triggers an alarm to the driver to apply the brakes. Once the brake pedal is depressed, the system can increase brake pressure by as much as double that can be achieved by average drivers. This can slow down the vehicle by as much as 60km/h, when the car is travelling at 80km/h and the car ahead is at a distance of 12.5 metres.
If the driver fails to step on the brakes on time the system can provide deceleration between 14km/h and 30km/h when the car is travelling at 50km/h and the car ahead is at a distance of 12.5 metres.
Toyota has opened a new proving ground at its Higashi-Fuji Technical Centre to test and evaluate its Intelligent Transport System technology. The site extends over 3.5 hectares and simulates a city centre road system, complete with traffic signals to provide a realistic testing facility.
Once proving grounds are fully operational, Toyota will accelerate its research and development for increasing fuel efficiency and work on driver support systems.