Tata-Skoda Alliance Called Off
August 11, 2017
Views : 5180
---
This isn't a nasty breakup. And, no, there's no name-calling involved either. In fact, press releases issued by both manufacturers insist that the brands are on really good terms and wouldn't hesitate to collaborate again in the future.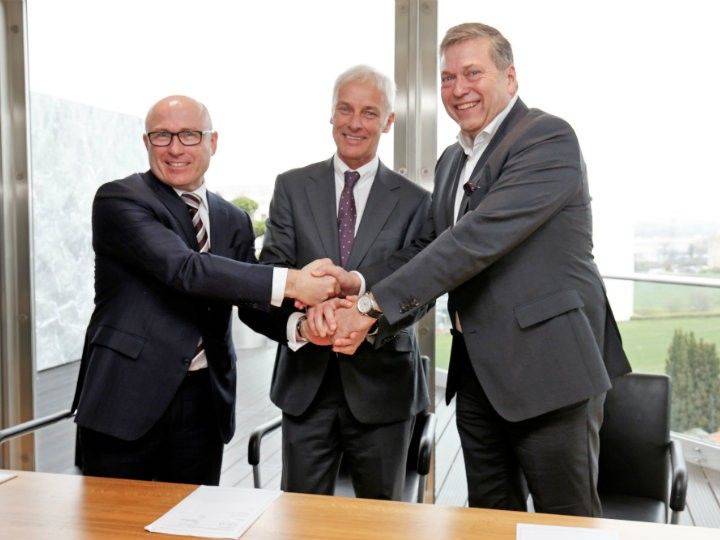 Here's a quick walkthrough in case you're wondering how (or why) Skoda and Tata were supposed to be bedfellows. Earlier this year, we were greeted by a picture of Guenter Butschek, CEO and MD of Tata Motors, Matthias Mueller, CEO of Volkswagen AG and Bernhard Maier, CEO of Skoda Auto involved in a very complicated looking handshake. We've added that picture in here - complicated - see?
The alliance was supposed to be mutually beneficial, as the VW group wanted to take advantage of Tata's upcoming AMP (advanced modular platform) to develop a localised version of their own MQB platform for future products. In return, Tata would gain access to the know-how and expertise of the VW family. Logic says, two car companies undertaking development jointly will always be financially viable compared to a solo shot. Sadly, the two automakers haven't been able to reach a consensus, and the deal stands cancelled.
Here's what Guenter Butschek had to say, "We have evaluated the technical feasibility and degree of synergies for the envisioned partnership. We have concluded that the strategic benefits for both parties are below the threshold levels. However, we remain positive of exploring future opportunities with the Volkswagen group, given the relationship of mutual respect that we witnessed during the phase of our cooperation discussions."
Skoda's statement isn't very different either. "The Skoda brand has assessed and evaluated a potential strategic collaboration with Tata Motors Ltd over recent weeks and months. In doing so, both companies have concluded that at present, neither the technical nor the economic synergies are achievable to the extent desired by both parties. As a result, a planned strategic alliance will no longer be pursued for the time being. Both companies would like to emphasise that following the intensive and constructive discussions of the last few months, they are not ruling out possible future collaborations," read the release.
Recommended Read: 2017 Skoda Octavia Review
While not confirmed, rumour mills quipped that at the given cost of collaborating with Tata, VW-Skoda could develop a localised version of the MQB-A platform in India. This obviously is a bonus for the German group, as they aren't bound by third-party obligations and more importantly, any form of royalty.
It's too early to say if this counts as a "setback" for Tata Motors as they've proved their knack in delivering well-packaged products in the form of the Tiago, Tigor and the Hexa. Their big bet, the Nexon, had us impressed as well. As far as their AMP goes, we're expecting a premium hatch to err..hatch out of it. But, that's a good two years away.
Recommended Read: Tata Nexon Review: First Drive