Mahindra Mojo North East Trail Diaries: Day Eight
May 25, 2017
Views : 2898
---
The 2017 calendar of the Mahindra Mojo Trails starts with a visit to the pristine trails of the North East and we are one of the lucky ones to be on it. The twelve-day ride takes us to some of the most remote and desolate locations of India. Today is mainly riding in the mountains with waterfalls thrown in for good measure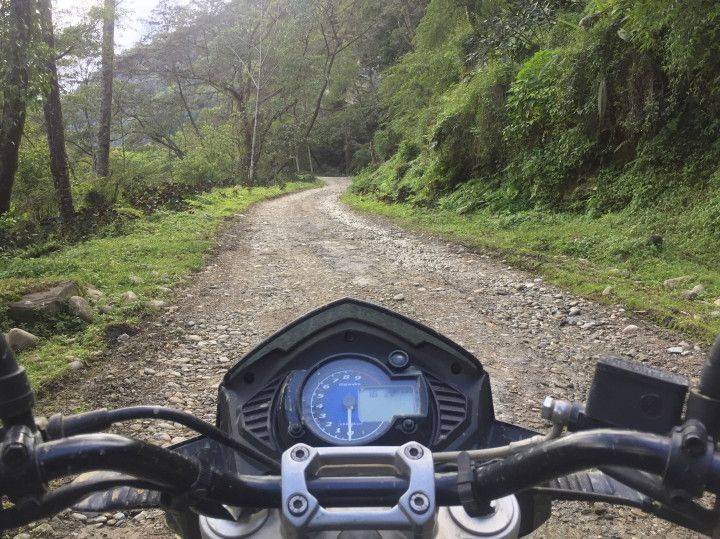 Day Seven: Aalo to Menchukha (187km)
Today's ride is to one of the north-easternmost villages of India. The 187-km ride consists mainly of mountain roads. The start of the trip takes us through small hamlets set between paddy fields thanks to the large tributaries flowing close by. The rest of the route is a single lane barely wide enough for two cars to pass through.

The narrow road snakes through the mountainside twisting and turning every 20 metres. There are a lot of blind corners and you have to be cautious about oncoming traffic. Honking before a corner works best here. Arunachalis are hands down the most well-mannered drivers in India. If you come up behind a slow moving vehicle, they will find a place wide enough to stop and let you pass. Patience is the key here; you just need to make sure the driver has noticed you.

The route to Menchukha is peppered with a lot of waterfalls and some of the more adventurous riders among us decide to stop and take a refreshing shower in the icy cold water. Parts of the road are carved through the mountain and can feel quite unnerving to ride through after seeing landslides for the last few days.

The roads are in good shape for the most part though you have to look out for fallen rocks and trees that might lurk just around the corner. As we reach closer to Menchukha, we notice a lot of abandoned houses. At one point there is an entire village that looks empty. It seems a bit strange but I'm sure we shall get an answer to this once we reach Menchukha.

It is close to sundown when we are greeted by the signboard that says 'Welcome to Menchukha (Switzerland of Arunachal Pradesh)

Stay tuned for more updates of this twelve-day ride.
Click here to read about Day One- Guwahati to Bomdila (338 km)
Click here to read about Day Two- Bomdila to Tawang (170 km)
Click here to read about Day Three- Tawang
Click here to read about Day Four- Tawang to Bomdila (170 km)
Click here to read about Day Five- Bomdila to Seppa (211 km)
Click here to read about Day Six- Seppa to North Lakhimpur (239 km)
Click here to read about Day Seven- North Lakhimpur to Aalo (242 / 307 km)