Mahindra Mojo North East Trail Diaries Day Four
May 18, 2017
Views : 1810
---
The 2017 calendar of the Mahindra Mojo Trails starts with a visit to the pristine landscapes of the North East and we are one of the lucky ones to be on it. The twelve-day ride takes us to some of the most remote and desolate locations of India. The ride included a visit to the Jaswantgarh War Memorial.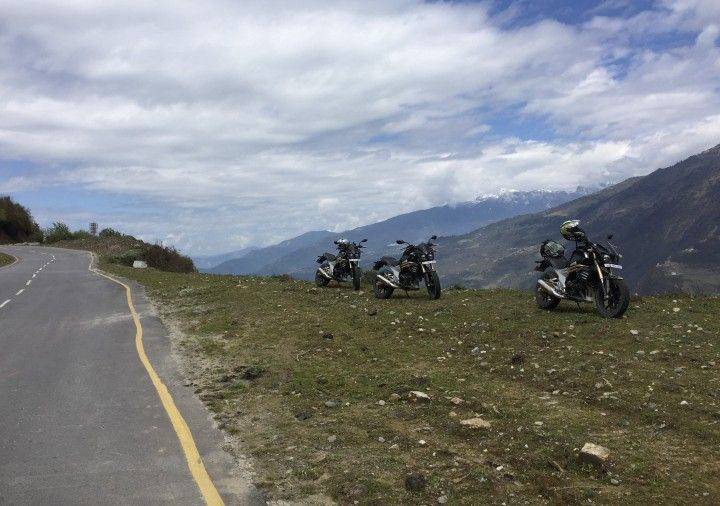 Day Four- Tawang-Sela-Bomdila (170 km)
Clear skies mean the ride back to Bomdila is quick and relatively relaxed. There as slushy patches to contend with as melting snow flows onto the road. No matter how much the good guys at BRO make roads (and they make some really good ones at that) the snow and ice destroys freshly laid tarmac in a matter of days. The highlight of the day was the climb up to the lofty Sela pass and a visit to the Jaswantgarh War Memorial built to honour the war heroes of 19 Garhwal Rifles. The courtyard of the memorial has a statue of a lone soldier resting on his rifle looking yonder.

The inner sanctum has plaques dedicated to fallen soldiers and inside a glass case lies the meagre belongings of a soldier. They include a simple blanket and a few items of clothing, which is hard to fathom given the harsh weather here. Up ahead is the viewing post which still has bunkers overlooking the valley. The soldiers manning these posts had just a small hole in the wall to shield them from the icy winds. It is easy to forget how much our fellow soldiers sacrifice for our comfort. That's one of the reasons why you should visit this memorial the next time you come this way: to remind us how much we owe our comfort and peace to our brave fellow countrymen.

Stay tuned for more updates of this twelve-day ride.
Click here to read about Day One- Guwahati to Bomdila (338 km)
Click here to read about Day Two- Bomdila to Tawang (170 km)
Click here to read about Day Three- Tawang